Review: 39 Days to Mars – a uniquely charming co-op puzzle game
I'm never making tea again.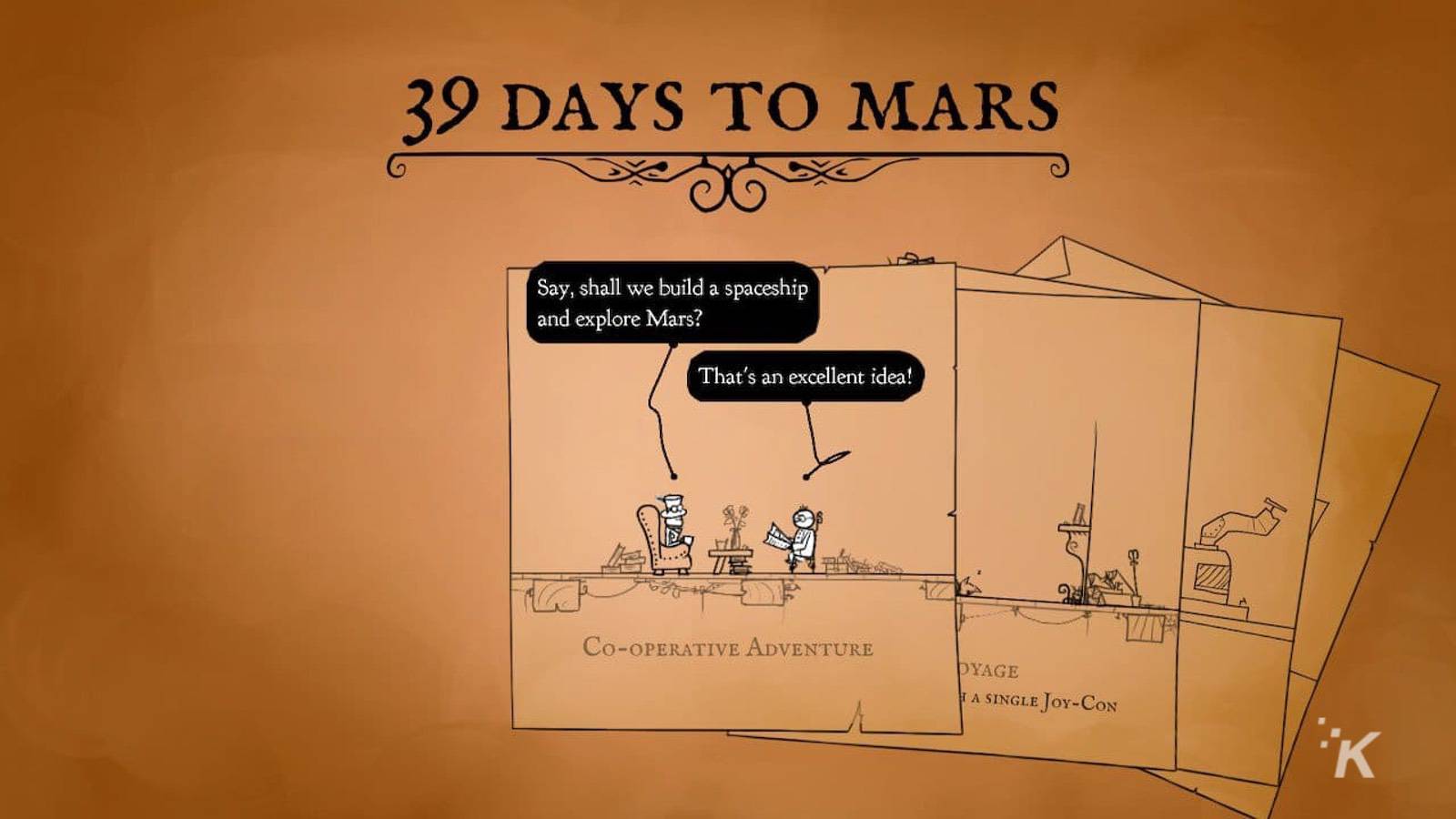 The Good
Excellent character and theme
Absolutely stellar piano soundtrack
Completely unique, fresh puzzles that keep you thinking
The Bad
The worst puzzles are extremely frustrating
Repetition that feels tedious and annoying
"I swear to god if I have to make one more scone I'm gonna fucking scream."
39 Days to Mars is a cute, co-op puzzle game about two charming, British gentlemen making their way to Mars in a makeshift spaceship from the retrofuturist late-1800s. Sometimes it's a pleasantly bewildering experience, but other times it asks me to make tea. Again. And oh my goodness, if I never have to make tea in a video game again it will still be too soon.
The game unfolds one puzzle at a time. You start at your house, learning the basic controls and how puzzles work, and I found the tutorial experience to be smooth, intuitive, and well done. 39 Days to Mars is played with two players (there is a single player mode, but I am reviewing this as co-op per the developer's recommendation) and each of the puzzles splits control among the two of you.
In one of the early puzzles, for example, you have to use a fishing rod to fish up a key, but it plays out like a claw machine
In this puzzle, one of you controls the left-right motion of the line and the other controls the up-down motion of the hook
Together you have to work to hook the key and reel it through obstacles, all of which is physics-driven and playfully wonky. It sets the tone for the rest of the game's puzzles, which are all somewhere on the gradient between physical and cerebral, testing both your brain and a bit of your dexterity.
Shortly after leaving your house, you reach your makeshift spaceship and that's where the bulk of the game takes place
Once on board and en route to Mars, things quickly start to go wrong. You run out of food, you need more fuel, the ship becomes overrun with flying space jellyfish, so on and so on.
Each problem becomes its own puzzle mini-game. When you run out of food, you have to pursue and then hunt space fish. In this mini-game, each player gets a thruster attached to the side of a circular pod, so firing one or the other rotates the ship clockwise or counterclockwise and firing both together moves you forward.
It creates this wonky environment where trying to pursue this fish is sometimes hilarious and sometimes frustrating, seeing that two players each get to play as half a brain.
At its best, 39 Days to Mars is charming, engaging, hilarious, and magnetic
The sepia, retrofuturist aesthetic is complemented wonderfully by a gorgeous piano soundtrack from composer Chris Zabriskie. The characters are both fully voice and full of cheeky, witty dialogue. Some of the puzzles are excellent and none of the ship's problems are alike, constantly keeping you on your toes.
The game is also extremely digestible at only a few hours long, and a great fit for any co-op pair looking for something to do for a night.
All of that said, 39 Days to Mars is a game that very much gets in its own way. You might want to grab some tea while I paint this picture for you. Imagine the following:
You're on your ship heading to Mars. Suddenly, something somewhere on board explodes, spewing black smoke everywhere. Which thought do you have?
A) WE HAVE TO FIGURE OUT WHAT'S WRONG AND FIX IT RIGHT NOW, OH NO!!!
B) This looks complicated. It should probably wait until after I've had a cuppa.
If you answered with the first one, congratulations, you're a reasonable human being. If you answered with the second, you're one of our protagonists in 39 Days to Mars.
This is fine the first time. It's funny. It's in character. You get to do a tea-making puzzle where your demands are randomly generated (e.g. warm, sweet, milky tea) and you have to figure out how to make that kind of tea (hint: In this game, salt and sugar neutralize each other). You have to hilariously tandem-manipulate teapots and a bottle of milk, comically spilling ingredients all over the place as though you're playing Surgeon Simulator with one person on the keyboard and the other on the mouse. It's funny.
The second time it happens: okay, fine, I get it, you like tea. I've already done this puzzle, but okay, I guess we can do it again.
It's not funny the third time. Or the fourth time. Or the time after that. Or any time after that. It's even less entertaining when you have to do this same shit again, except with the much more difficult, much more frustrating scone-making mini-game.
When, puzzle after puzzle, we had to do the tea/scone mini-game yet again in order to proceed, I wanted to quit the game, delete it from my Nintendo Switch, and never come back to it again. I'm not exaggerating in the least when I tell you how common this is, because almost every puzzle in the game is preceded by a goddamn scone or cup of tea.
Think of it this way. Imagine a movie that you enjoy. It's not incredible, but it's fun, it's charming, and you're enjoying yourself. Now imagine that between every scene is a clip of Jim Carrey from Dumb & Dumber making The Most Annoying Sound In The World for several minutes at a time. Is it still a good movie? Is that still an experience you want to have?
Of course, everyone has a different tolerance for this sort of thing. I was angry the first time I had to repeat this nonsense. My co-op partner laughed on the first repeat, but by the end of the game, she was also screaming at them. Maybe the scone and tea games won't bother you at all! That's certainly possible. They annoyed the ever-living fuck out of me, however, and I'm the one writing this review, so here we are.
Still, 39 Days to Mars does a lot right. Some of the puzzles are extremely clever and kept me quite engaged. The presentation and character are an utter delight. Plus at the end of the day, it was a memorable experience and one I can laugh about in retrospect.
I think if it was a single player game and I had no reason to share this one, I'd be inclined towards a 5 or a 6, however, it's co-op and that alters the experience, so:
39 Days to Mars is a unique, cooperative puzzle game for two players. While a little rough around the edges and frustrating in its repetitive tea and scone mini-games, it was overall a memorable two hours and I'd recommend it to any pair of players looking for something different to play for an evening. Bonus: If you're a streamer who plays co-op games with friends, definitely blind stream this one.
Jake reviewed 39 Days to Mars with a Nintendo Switch code provided by the developer, It's Anecdotal. He played through the entire game with a friend and they spent equal time screaming and laughing at it. It is available May 16th, 2019 for Nintendo Switch, Xbox One, and currently available via Steam for Windows and Mac OSX. 
Curious what our scores mean? Find out more in our comprehensive guide to Understanding KnowTechie's Game Review Scoring.
Editors' Recommendations:
The Good
Excellent character and theme
Absolutely stellar piano soundtrack
Completely unique, fresh puzzles that keep you thinking
The Bad
The worst puzzles are extremely frustrating
Repetition that feels tedious and annoying