Review: Adata XPG SX8200 Pro 512GB NVMe SSD
Fast doesn't begin to describe it.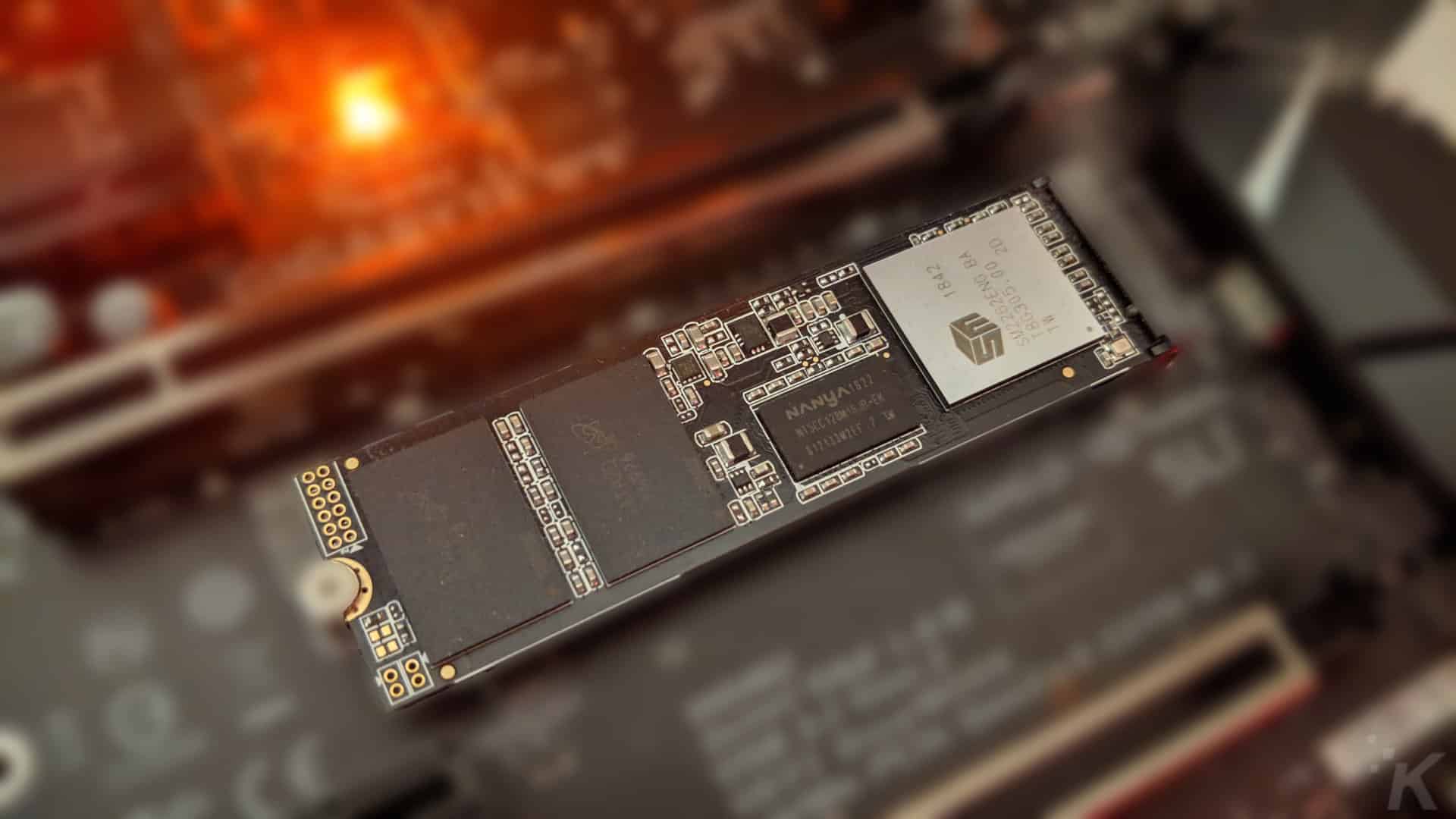 The Good
Fastest NVMe drive we've tested to date
Budget pricing no longer sacrifices performance
Included heatsink is a nice touch
The Bad
Adata SSD Tool software isn't great
Adata is fast approaching its 20th birthday, and in that time its risen to the number 2 worldwide for DRAM sales, behind only the behemoth of Kingston. We'll be looking at some of their RAM soon, but today it's the turn of its latest NVMe drive, the XPG SX8200 Pro. Is this the Samsung killer that we've been waiting for?
The model we're testing is the 512GB capacity, but you can also get the same drive in 256GB, 1TB, or even 2TB. It's the usual 80 mm long form factor for m.2 NVMe drives that we've seen in everything from high-end gaming desktops to laptops. Adata's spec sheet rates the drive at 3.5 GB/s (reads) and 3 GB/s (writes) with up to 390K random 4K IOPS, which on paper at least, puts it right up there with the best of Samsung's offerings, the EVO 970 and EVO 970 Plus.
The SX8200 Pro is a rework of the SX8200 from last year. The controller is updated to an 8-channel Silicon Motion SM2262EN chip, paired with Micron's latest 64-Layer 3D TLC NAND flash memory and some NANYA DRAM for cache. It's got a PCIe Gen x4 interface, with support for the NVMe 1.3 specification. It also has SLC caching to speed up burst writes, end-to-end data protection and Low-Density Parity Checking for minimal errors while copying data.
The mean-time-before-failure is rated at 2 million hours, and with a 5-year warranty, Adata is putting their own money where their mouth is.
The packaging includes the drive and an aluminum heatsink, which fixes to the SSD with thermal tape. I like that Adata left this off, in case the enthusiasts that are buying it want to put a third-party heatsink on, or even go crazy with watercooling.
Adata also has its own software for managing the drive, SSD Toolbox. The UI could do with a revamp as it's very early '00s, with skeuomorphic buttons and lots of colors, but functionally it works well.
Performance
Just a quick note: All testing was done on an AMD platform, with a Ryzen 1800X, and one of the best X370 motherboards – the Gigabyte GA-AX370 Gaming K7. Windows 10 Pro is installed on a different SSD, with the Adata drive installed as a secondary drive. Unfortunately, my usual Intel testbench is out for repairs currently.
CrystalDiskMark
The ever-dependable CrystalDiskMark is usually the first point of call for any drive benchmarks. It's free, accurate and measures both sequential and random data transfers. The XPG SX8200 Pro almost lived up to its full specifications while measuring 1GiB data transfers, with especially impressive figures for the 4KiB Random tests.
I also reran the testing with the datafile dropped to 50MiB, which got very close to the specs, with 3416 MB/s (reads) and 2100 Mb/s (writes).
ATTO Disk Benchmark
ATTO is another free benchmark that's used to show performance across a range of file sizes. As you can see, anything under 32KB barely even makes the SX8200 Pro sweat. With all the other file sizes up to 64MB, the SX8200 Pro posts very similar results to the prior testing, with a max of 3.12 GB/s (reads) and 2.22 GB/s (writes). Still speedy, still no sign of slowing down.
PCMark 8
PCMark's storage test is structured to resemble real-world usage in both Adobe and Microsoft's software suites, plus some gaming with World of Warcraft and Battlefield 3. The XPG SX8200 Pro posted a respectable 5043, with 447.92 MB/s of bandwidth. This is a little low for what I'd expect for a top NVMe-based SSD, and this was the best of multiple runs. I can only guess as to why, perhaps the m.2 slot on my Ryzen motherboard isn't performing as well as it should be, and once I get my Intel platform back I'll be re-running the testing to check.
So should I buy it?
In a word – yes. If you have a modern motherboard with a spare m.2 slot, it's the best non-Samsung NVMe drive on the market today. It's actually faster than the latest 970 Pro, at least on paper (I'll be testing this as soon as I can source the Samsung drive).
Add the fact that it's half the price of a similarly-sized Samsung NVMe drive and that makes the Adata the clear winner for most people. For less than $90 currently, the SX8200 Pro NVMe is a virtual steal.
A sample unit was provided for the purpose of this review.
Editors' Recommendations:
The Good
Fastest NVMe drive we've tested to date
Budget pricing no longer sacrifices performance
Included heatsink is a nice touch
The Bad
Adata SSD Tool software isn't great
Follow us on Flipboard, Google News, or Apple News