Review: The Datacolor Spyder5Capture Pro
All the tools you need for consistent post-processing of your images.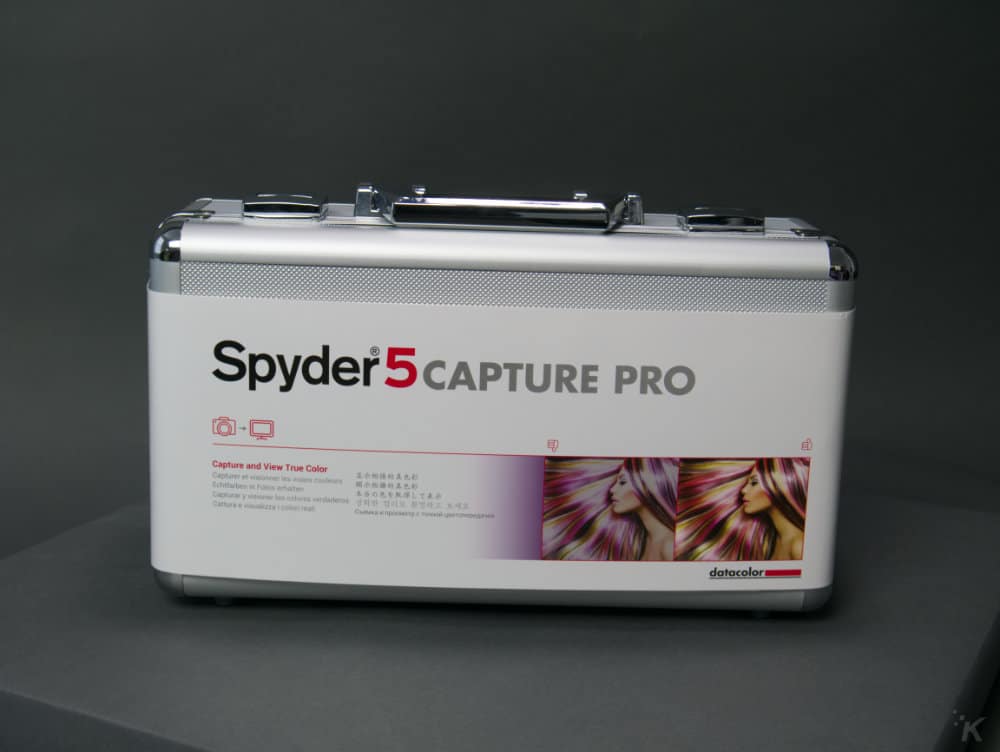 The Good
Easy to use
Tons of tutorials
I love a good flightcase
The Bad
Lenscal slightly superfluous as it only works with some cameras
Color is one of the most important parts of any visual professional's workflow. Whether for print, new media, or video, accuracy and consistency are key. That means what you see on your monitor should be the same as when you print or upload. You can't control the devices on the other end of the equation consuming the content you create, so you're forced to control it on your end so you know your edits are accurate.
Datacolor sent over its Spyder5Capture Pro kit, which contains the Spyder5Elite calibration tool, the SpyderCHECKR color chart, the SpyderCUBE helps with white balance, and the SpyderLENSCAL which helps you fine-tune the focus of your camera. All of that is bundled in a sturdy padded flight case, and you get a license for the Spyder5ELITE software.
Calibrators, mount up!
A good calibration tool for your monitor is the most important tool to aid in fine-tuning. You can use it on your screen with the accompanying software and calibrate it to rule out saturation and other issues. A good one, like this Spyder5Elite that's part of their Spyder5Capture Pro kit, also lets you use that calibration on all your screens, whether desktop or laptop based. That way, you can be reasonably sure that what you see on one system when editing will look the same. It also means that if you run multiple monitors, you can calibrate them all to the same point, so they match.
The calibration tool also monitors room light, helping you find the optimal brightness for your setup.
It's super easy to use, the software package walks you through it step-by-step. It's not completely automated, partway through, you need to use the monitor controls to adjust brightness depending on the luminance value you're aiming at. On my AHVA panel, I could calibrate to 100% of the sRGB standard and 86% of the AdobeRGB.
This model is aimed at gamers, so more color-accurate panels would get better results. The noticeably oversaturated reds disappeared, and now it's much more neutral in tone.
Color your world
Every combination of photographic equipment has a unique color signature, which might also change in different lighting conditions. Adding to the confusion is that our cameras don't perceive or record color in the same way as our eyes. We need a reference tool for adapting to these variations to ensure color control and consistency across our shoots.
The SpyderCheckr helps us profile our equipment, helping all our shots obtain consistently accurate color. It's really easy to use for how powerful it is, first grab a face-on shot of the color chart while fully open. It's important to ensure that the camera is centered on the color chart both on the x and z-axis and that there's sufficient light on the target.
Import that image into Lightroom, make some adjustments based on the neutral gray, white and black squares and export as a TIFF file. Then open that file with the SpyderCheckr software which will create a custom profile for use in Lightroom and other programs.
Shades of gray
The SpyderCube is the next evolution of the photographer's neutral gray card. It's small enough to fit into most scenes and has a few tricks up its sleeve. It has two 18% gray faces and two pure white faces that are opposing so you can also compare two different light sources. The black face has a hole that acts as a light trap, something unique to Datacolor, as you can still get a pure black even in direct sunlight. It also has a chrome ball, that shows up spectral highlights in your lighting so you don't confuse those values with your white highlight value.
Using the Cube is easy, simply place it in the scene you'll be shooting in and take a snap. Be careful that there's no reflected color cast on the black face, something that will skew the results later.
Then, you load that image into your image editor (I'm using Lightroom here) and start adjusting. First up is the white balance, set by using the dropper to select one of the neutral gray faces. Once that's done, take a look at the RGB readings for that 18% gray face. They likely won't read 50-50-50, which is what we want, so adjust the Exposure slider until they are.
Then you want to turn on white clipping and adjust the White point slider until the RGB readings for one of the white faces on the Cube are around 94%. It could be less than this, what we want to avoid is any loss of detail.
Now, turn on black clipping and adjust the Black point slider so the area in the light trap is close to 0%. You might want this higher, depending on if clipping is happening elsewhere in the scene.
The last step is to save the information as a custom profile, so you can easily apply it to the rest of your images from the shoot.
Keeping focus
The SpyderLENSCAL from Datacolor helps you measure the focus performance on your camera and lens combos. Now only a small number of DSLRs support the lens adjustments that this helps with, so check if yours is one of the supported before buying. In my case, my Lumix G7 doesn't support it so I can't speak to how well it works.
It uses the tried-and-tested method of an inclined plane with markings and a target which you take a photo of. Then you zoom in to see if the zero point or the points before or after are the most in-focus. If it's not the zero, you then input the number of millimeters into your supported camera to hopefully get everything tack-sharp again.
Conclusions on the Datacolor Spyder5Capture Pro kit
The Datacolor Spyder5CAPTURE PRO kit is an essential tool for photography pros, hobbyists, or those wanting to take their skills to the next level. The tools for color control and calibration included in the kit help you be consistent while realizing your artistic vision. I've had a lot of fun learning how to use the tools in the kit, and I know it will make me a more consistent photographer, if not a better one.
Sample units were provided from Datacolor for the purpose of this review.
For more reviews, make sure to check out:
The Good
Easy to use
Tons of tutorials
I love a good flightcase
The Bad
Lenscal slightly superfluous as it only works with some cameras
Follow us on Flipboard, Google News, or Apple News