Super Smash Bros. Ultimate is the fastest selling game on Nintendo Switch
Even flaky netcode couldn't slow it down.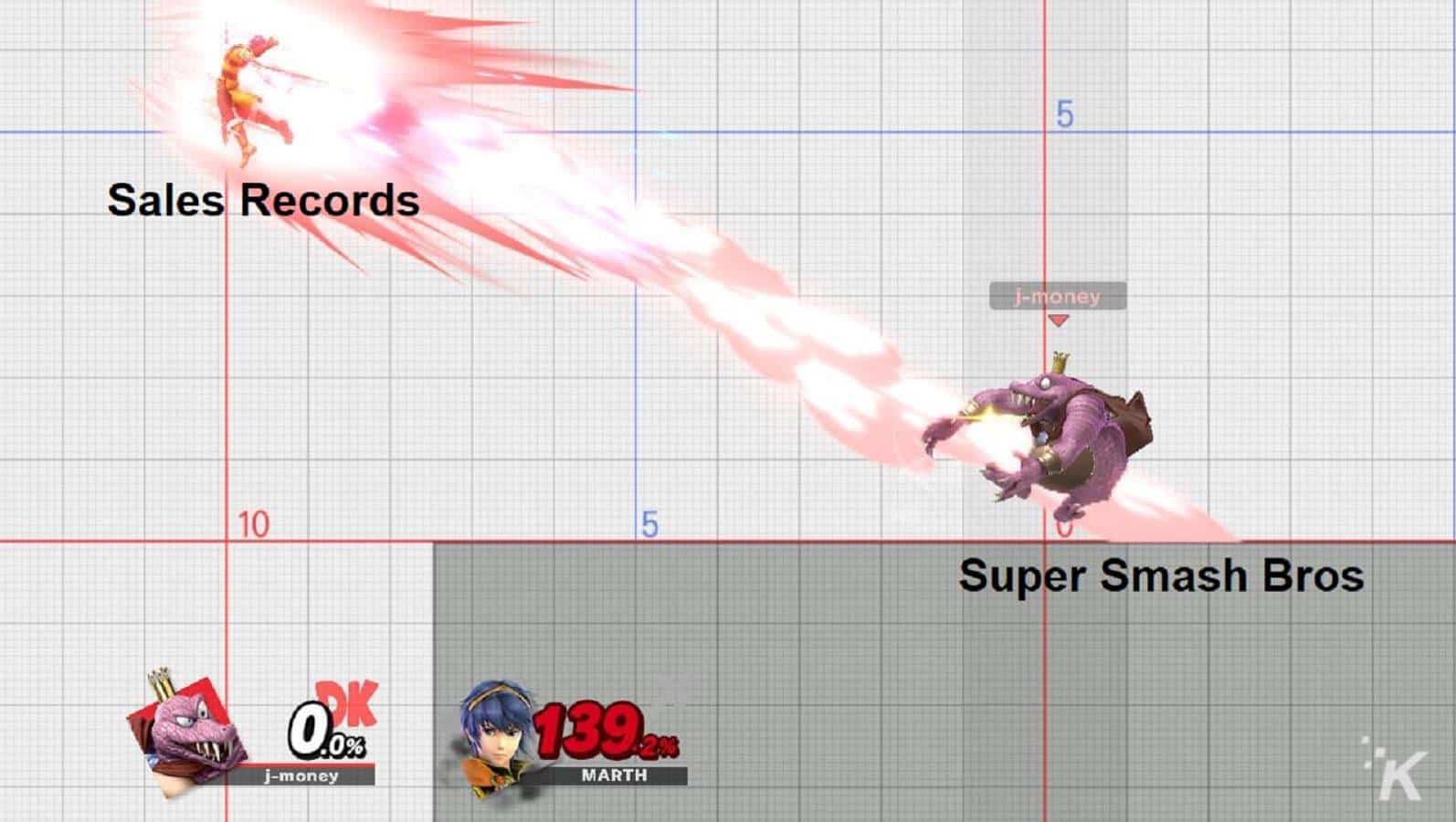 It's official, Smashing sales records is confirmed for Smash! Super Smash Bros. Ultimate is the fastest-selling title in the Nintendo Switch catalog and also in the Smash series. According to Nintendo's internal sales data, SSBU smash attacked itself into the record books, posting U.S. sales of over 3 million units in just 11 days.
That towering achievement is overshadowed by the console itself. The Nintendo Switch has sold over 8.7 million units since its release back in March of 2017. That makes it the fastest-selling console of this generation. No wonder PlayStation and Xbox fans resort to only name-calling each other, Nintendo has them beat (at this point of their life cycles).
"We are thrilled to see such a strong reaction from consumers in the second holiday season for Nintendo Switch," said Doug Bowser, Nintendo of America's Senior Vice President of Sales and Marketing.
Wait. Hold up. Bowser is in charge of Sales and Marketing? That must be awkward when he takes holiday time to go kidnap Princess Peach.
Nintendo must have found a mushroom powerup
Nintendo's strong sales figures go across its catalog, with the NPD Group declaring that they are the "top-selling US publisher" so far in 2018. The uptake of Nintendo Switch consoles also shows that gamers are buying more digital games, as sales in the Nintendo eShop grew 105-percent this year.
First-party published games like The Legend of Zelda: Breath of the Wild (4 million copies) and Mario Kart 8 Deluxe (5 million copies) are also selling like hotcakes, as is one of the best Mario games for years, Super Mario Odyssey, whose hat-flinging antics helped to shift over 4.7 million copies.
Don't forget about Pokemon
Other recently-released games like the dual Pokemon epics of Pokémon: Let's Go, Pikachu! and Pokémon: Let's Go, Eevee! sold a total of 2 million copies when added together, and the online-enabled Super Mario Party, which posted sales of 1.4 million copies.
Nintendo's hardware unit and dollar sales for this year are the highest totals since the 3DS was released in 2011. With both the NES Classic and SNES Classic unit posting over 10 million in sales, driven partly by retro fever, it's clear to me that Nintendo has won this console generation.
Let Sony and Microsoft fans attack each other, I'll be over here watching Mario rescue Princess Peach in his boxers.
Enjoying SSBU? What Nintendo Switch games are you excited for in 2019? Let us know down below in the comments or carry the discussion over to our Twitter or Facebook.
Editors' Recommendations:
Follow us on Flipboard, Google News, or Apple News