Facebook is making it WAY harder to buy opioids on their site
Cuuuuuurse you, Zuckerbergggg!!!!!!!!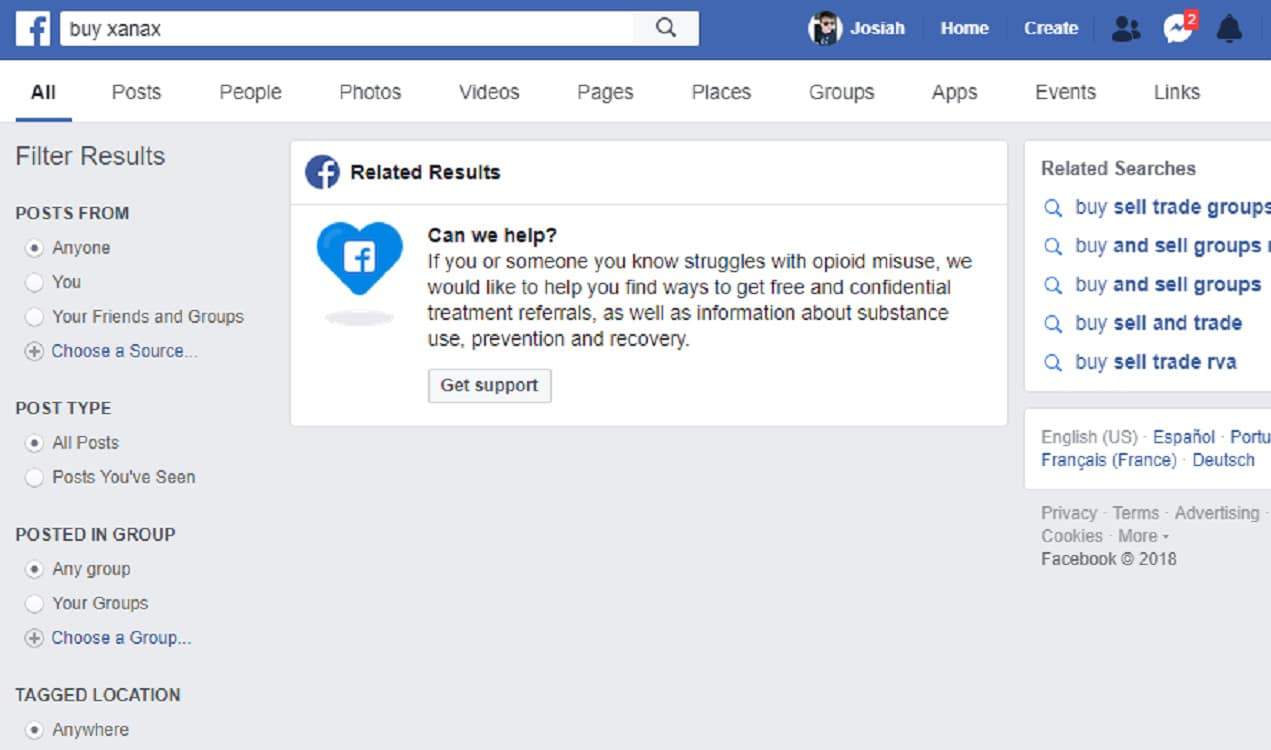 Facebook may be holding strong to its belief that everyone, even Holocaust deniers, deserves a voice on its platform (point Amazon), but it turns out that the social media juggernaut is actually capable of drawing a line in the sand when it comes to hot-button issues after all.
That line? Opioids.
Facing growing concerns over its role in abetting (or at least, not preventing) the sale of illegal opioids such as Xanax, OxyContin, and Fentanyl on its site especially after Facebook's internal search engine stopped returning posts, Pages, and Groups for drug-related searches this morning. The site even began returning searches for requests like "Buy Xanax" with a "Can we help?" box, which a Facebook spokesman told TechCrunch will soon be rolled out on Instagram as well.
We recently launched the "Get Help Feature" in our Facebook search function that directs people looking for help or attempting to purchase illegal substances to the SAMHSA national helpline. When people search for help with opioid misuse or attempt to buy opioids, they will be prompted with content at the top of the search results page that will ask them if they would like help finding free and confidential treatment referrals. This will then direct them to the SAMHSA National Helpline. We've partnered with the Substance Abuse & Mental Health Services Administration to identify these search terms and will continue to review and update to ensure we are showing this information at the most relevant times.
The decision came just hours after the Center for Disease Control revealed that there were nearly 30,000 synthetic opioid overdose deaths in the US in 2017, a figure that nearly doubled that of the year before. Just a few months ago, in fact, West Virginia Rep. David McKinley grilled Facebook CEO Mark Zuckerberg on the very same issue during the latter's now infamous testimony before Congress.
"Your platform is still being used to circumvent the law and allow people to buy highly addictive drugs without a prescription. With all due respect, Facebook is actually enabling an illegal activity and in so doing, you are hurting people. You'd agree with that statement?" he asked.
While Zuckerberg was quick to point out that Facebook had already begun eliminating drug-related hashtags from both platforms — a move that itself only came as a result of a campaign led by activist Eileen Carey — this latest crackdown represents the firmest stance the company has taken on the opioid issue to date.
So basically, if the only reason you're using Facebook is to find an oxy dealer and binge out on the insane ramblings of Alex Jones, you might want to start looking elsewhere.
Happy that Facebook is finally addressing this, or is it long overdue? Let us know in the comments below.
For more tech news and opinions, check out:
Follow us on Flipboard, Google News, or Apple News