Hexbot fits on your desk and acts as both a 3D printer and drawing tool
Hexbot can 3D Print, draw, play games, laser engrave, and probably more.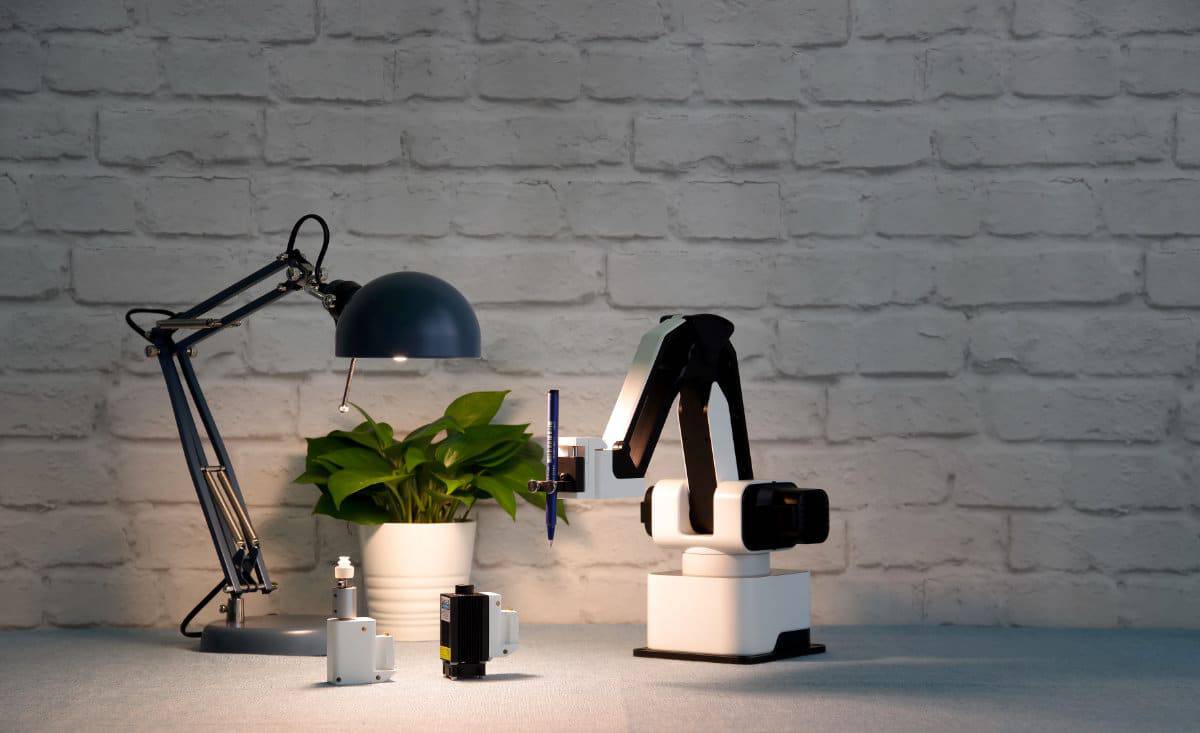 Decades of science fiction has promised us at-home, useful robotic buddies to help with our daily tasks. That promise has really only been part-fulfilled, with toys like Nintendo's ROB, while actual useful robotic arms have been kept on production lines or other environments like high-tech medical fields.
Hexbot Robotics wants to change that, with its Hexbot modular robotic arm, currently raising funds on Kickstarter. The desktop-sized arm can turn your desk into a production line.
Here at Hexbot, we love doing things differently and this all-new robotic arm will simply bring ideas to life like never before.
One of the main differences of the Hexbot arm is that the modules on the end effector can be changed with one-click, without needing to use any screws. That means modules for things like engraving, writing, 3D printing or even a grabbing arm to let you play chess against the robot can all be swapped at will.
Check it out
Hexbot is also accurate, with a 0.05mm repeatability rate, perfect for your production line desires. It can hold up to 500g, has a 500mm/s high-speed (probably only this fast for the drawing arm, but it's still impressive), and apparently "a noiseless design." I've never heard a noiseless anything in robotics so I can only assume this means it'll be quieter than the competition.
Hexbot promises that the software to control the arm is simple to use, a welcome change from the often lackluster (or missing) software for low-cost 3D printers or robotics kits. Blockly is integrated to make programming as easy as drag-and-drop, with the API allowing programming in Processing, Python, and G-code for more experienced developers.
More about the Hexbot
Hexbot's CTO told DigitalTrends that, along with the existing API, the company is working on voice assistant compatibility, so Google Assistant could be used to control the arm in the future. That sounds a lot like the future promised by those decades of Scifi and I want it now.
It seems that I'm not the only one, as the Hexbot is currently at $703,519, from a conservative goal of $50k. That means 1,362 desks awaiting their Hexbot shipments later this year.
As always, remember that pledging to a crowdfunding campaign is a way to bring the product to the market, and as such it might run into problems like delays or even not ship at all in some (fairly rare) circumstances.
If you still want a robotic arm for your desk, the campaign is running for another 4 days. Pledging for the basic kit will currently set you back $299, which includes the Hexbot robot arm, pen-holding module, power supply, and high-speed USB-C cable. Assorted add-ons — including modules for laser engraving and 3D printing, 3.5-inch touchscreen display, pneumatic kit, conveyor belt, and sliding retail — cost anywhere from an extra $50 to $869. Shipping is planned for October 2019.
What do you think of the Hexbot? Interested in one? Let us know down below in the comments or carry the discussion over to our Twitter or Facebook.
Editors' Recommendations:
Follow us on Flipboard, Google News, or Apple News