Review: Arctic Freezer 33 eSports Edition CPU air cooler
Is it eSports ready?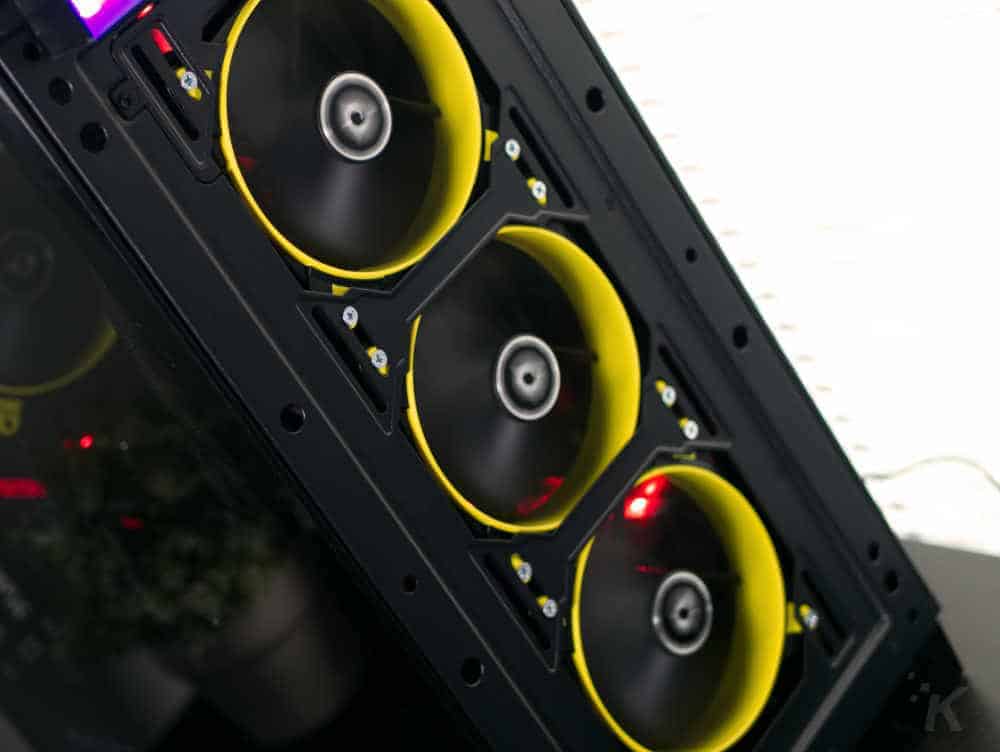 The Good
Good thermal performance
Easy to install
Quiet fans with PWM
The Bad
No lighting (okay this is personal preference)
Today we're having a look at a new CPU air cooler from long-time industry stalwart Arctic Cooling. The Freezer 33 eSports edition is a dual-fan air cooler with the standard configuration of heat pipes and fins to wick away heat from your CPU. Arctic also sent along four additional of the BioniX F120 fans that come with the cooler; we're going to be using those in the test bench to provide airflow to the case.
The included BioniX F120 fans are PWM controlled for motherboard control of fan speeds according to temperature and come with a 10-year warranty against defects. It's always good to see when a company will stand by its products like this. They're predominantly black and come in a variety of accent colors, yellow as we have here, green, red and white. The PWM range is from 200 to 1800 RPM.
The four heat pipes on the Freezer 33 eSports edition help to give the cooler a total TDP dissipation rating of 200W. That's enough for most overclocked chips, and there's even a Threadripper version of this cooler as it can keep the 16-core monster in check. Let's see how it stacks up with the two CPUs we have on hand.
Installation procedure
All the different manufacturers have various changes to the standard mounting kits. Arctic's solution here consists of a backplate for use with Intel motherboards and a reversible pair of mounting arms that screw onto the cooler itself. Then there are four screws that you have to align and screw into either the Intel or AMD's standard backplate. This fixes one usual issue (the awkward pressure plate holding the cooler down) and introduces a new one – trying to line up the screws into the backplate with a small room to maneuver.
I must say I prefer this method; I don't like having to hold pressure over an expensive motherboard while trying to fasten small screws, so this method takes away my usual pain point.
The fans clip back on once the cooler is secure, and it is ready for use. Pretty simple, right?
Testing overview
Test Rigs:
We used a Ryzen 7 1800X plugged into a Gigabyte AX-370 motherboard, paired with 32GB of 3200mhz Ballistix Elite DDR4, as well as a Samsung EVO 960 NVME drive and an 850W G2 EVGA PSU to power it all. The Intel test rig was an Intel i7-8700K with an ASRock Z370 Fatality M-ITX, 16GB of 3466mhz Ballistix Elite, A 240GB Apacer NVME drive and the same 850W G2 EVGA PSU. This was all done with the motherboards installed in an Antec P110 Luce case with the supplied 4 Arctic BioniX F120 fans installed. Arctic MX was used on the cooler.
Test Procedure:
Testing coolers involve taking multiple temperature readings per cooler. First, we measure the idle temperature of the Ryzen 1800X at stock speeds, before measuring its temperature under load at stock speeds. Then we repeat the procedure with the Intel setup. The figures we present are temperature deltas – meaning we take each temperature reading and subtract the ambient temperature from it. This allows us to test in an environment that is not temperature-controlled.
Where possible, each cooler's fans are plugged directly into the motherboard using the CPU_Fan or CPU_Opt headers. Some AIOs, however, ship with their own fan controllers or PWM hubs. If we are unable to plug the fans directly into the motherboard, it will be specified in the performance section of the review.
An idle reading comes from leaving Windows on the desktop for 15 minutes after a cold boot. A load reading comes from running Prime95's (version 29.4) Small FFTs test for 15 minutes – enough time for temperatures to plateau.
Noise Reading:
Unfortunately, I am unable to properly measure the sound output of CPU coolers using a digital sound meter. This is because my apartment has high ambient noise levels and I'm also not testing at the same time every day. Using a sound meter is, as such, not possible. I will endeavor to subjectively describe the sound output in a manner you may find useful.
Performance
Thermals:
The Arctic Freezer33 eSports edition performed well in our testing, keeping the Ryzen 7 1800X under a deltaT of 43.8C after 15 minutes of Prime95 small FFTs. That's a couple of degrees cooler than the Raijintek cooler that we looked at recently, probably helped on by the dual fans vs the single on the Raijintek.
On the Intel i7-8700k, it also performed well, keeping the chip under a deltaT of 48C. Both chips were kept pretty close to ambient while idle.
Acoustics:
The Arctic BioniX fans that were both on the cooler and mounted as case fans are quiet, even when moving lots of air under load. PWM helps them to be even quieter when temperatures are low. They also don't have any harsh characteristics to the noise.
Conclusions on the Freezer 33
The Arctic Freezer33 eSports edition is a well-made, well-performing air cooler. It's solid, has aesthetic appeal and most importantly – keeps your CPU cool under pressure. Coming in at $49.99 there's a lot of competition in this price bracket, so let me say this: The Arctic Freezer33 eSports edition has earned the right to be in that competition. It's worth checking out when you plan your next build.
The Arctic BioniX F120 fans are PWM controlled, quiet, and move a lot of air. All things you should look for when deciding on your fans. They come in a few colors to match the rest of your build, and at $12.85 each, they're a compelling choice.
A sample unit was provided for the purpose of this review.
For more reviews, check out:
The Good
Good thermal performance
Easy to install
Quiet fans with PWM
The Bad
No lighting (okay this is personal preference)
Follow us on Flipboard, Google News, or Apple News