Review: BlitzWolf Wireless Projector – Helluva bargain at only $90
If you're looking to get your feet wet in the world of projectors, this little guy from BlitzWolf is a great option for $90.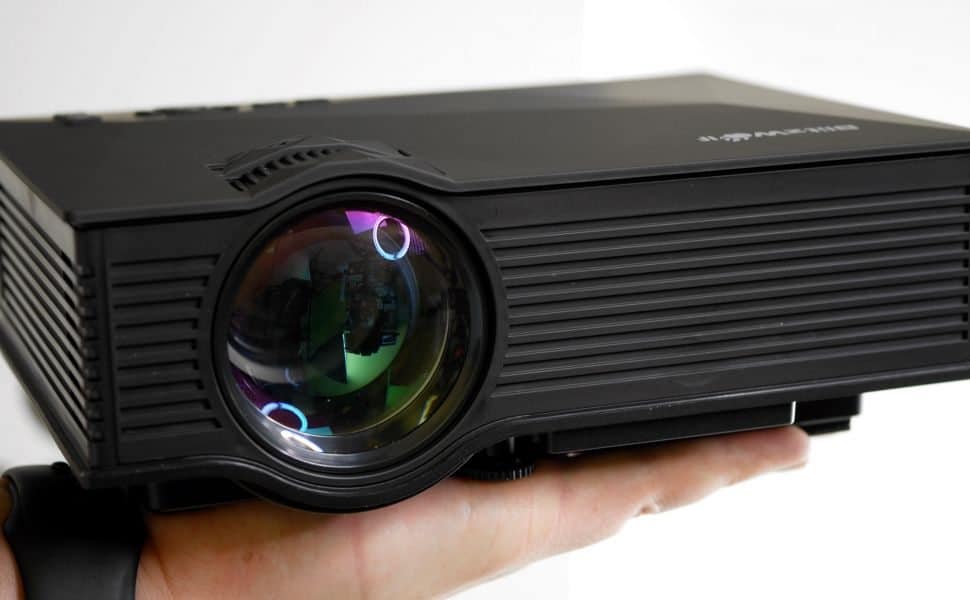 I'll be honest, when it comes to projectors; I'm not the biggest expert. Shit, I'm not even an amateur. However, I'm not an idiot when it comes to knowing if one is good or not. Whether it's something that costs $100 or $5,000, the result is pretty simple. Either you have something that does its job or something that doesn't.
The one I'm reviewing today is something that I can say it did what it was expected and some, especially for its price.
What makes a good projector these days? Truthfully, I don't know. Living in a time when we have a 4K and 3D TV's, what's the purpose of having one? Well, if you're someone who enjoys having people over your house for the local sports game (sports!) and don't neccirilary enjoy guests raping the in's and out's of your home, projectors are the perfect solution.
I recently got my hands on this BlitzWolf projecter and honestly, I didn't know what to expect. Given that this was my first experience with a projector, I really didn't know what I was getting myself into.
Don't get me wrong, I know what they are and I know what they're supposed to accomplish, but telling the difference between the quality differences of something costs a lot of money and something that doesn't will be hard for me, so take everything I say with a grain of salt.
The Key Features
Enhanced LED Technology, 20% Brighter than ordinary LED – BW-MP1 adopts the lasted upgraded LED technology and provides more brightness per watt than ordinary LED projector systems. The long lasting lamp  can operate for more than 20000 Hours.
BW-Link WiFi Connectivity – Connect your iPhone/iPad/Android device/Mac/PC with the projector via Miracast/Air-Play. (Supports: Windows  8.1 or above / android smartphone & tablet version 4.2 above/ iPhone & iPad IOS version 7.0 above)
Large Screen Experience – With a native resolution of 800*480 you can create a screen with an image size of 34-130 Inches(Recommend Distance 8.0 ft). The image produced has a contrast of 800:1, and can project an aspect ratio of 4:3 and 16:9.
Keystone Function 15° – Adjust the image manually with keystone to create a perfectly square distortion free screen.
Multiple Input Interfaces – You can watch your favorite programs with bigger screen via VGA/HDMI/USB/SD card;connect an external speaker via the 3.5 mm headphone jack, or via the AV port, connect PC / Laptop via VGA or HDMI(press "Windows"&"P" and select extend), connect chrome cast / fire stick via HDMI & USB 5V ports, connect DVD / cable box via AV cable, connect playstation PS3 PS4 or X-Box ONE Wii via HDMI cable to enjoy games on so big screen.
After some time with the BlitzWolf Projector, I found myself enjoying it.
After playing around with it for a couple of weeks, I can honestly say I like this projector a lot, especially given the fact the project only costs $90. One of my favorites features that comes to mind is that it's wireless. Don't get me wrong, you'll still have to keep it plugged in for power, but you can actually airplay content from an iPad or iPhone, giving you a screen size of 130″.
Something I really like about this device is its size. It's really small, just about the same size of a book. So if you're not a fan of oversized hardware, this sucker has your name written all over it.
When it comes to the picture quality, this projector only has a resolution of 1080P HD, which isn't bad for its price. With my time testing it, I found that this projector doesn't do really well in the day, so plan on using it in a dark room for optimal performance.
There's also a Keystone correction slider to help you line up the picture angle on your wall, a headphone jack, an AV in, an HDMI port, a USB port, an SD port and finally, a VGA port.
Final Verdict
Overall, this is a really great projector. Seeing that this was my first time with one, I thought it handled pretty well. So if you're in the market for a projector, try this one for size. What do you have to lose? $90 seems like a safe bet when you compare it something that can go for over $2K.
The Good
Amazing features for the price
Wireless
Easy setup
The Bad
Doesn't perform well in a well lit room.
Follow us on Flipboard, Google News, or Apple News