CAT S48c rugged smartphone lands with a hearty splash on Sprint, Verizon in the U.S.
Yes, like the bulldozer, ma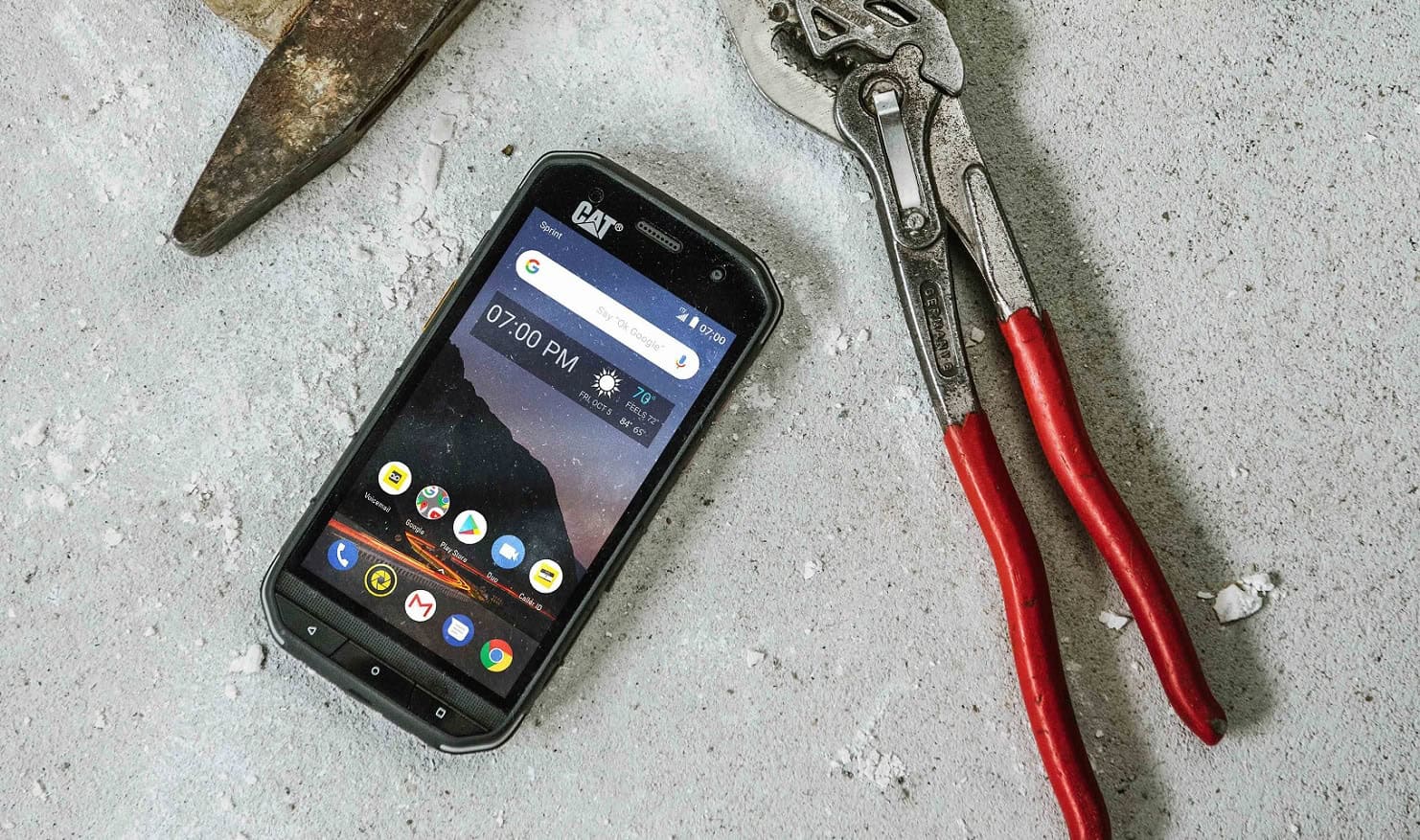 The CAT S48c, the first CAT phone available through an American cellular carrier is the fourth CAT phone I've personally held in my hands. I've reviewed the CAT S60, its successor the CAT S61 and the more consumer-friendly CAT S41. The CAT S48c is a slightly different form factor than these previous versions, yet shares many of the same features. This is why I've stalled on this review, because there isn't much to be said that I haven't already said about a CAT phone.
There are a few physical differences that immediately stood out though. The CAT S48c is the first CAT phone that I've reviewed that feels more like I'm holding a phone in a case, rather than just a phone. I often have to explain that no, my phone (the CAT S41) is not a phone in a case. Rather, it is a military-spec badass piece of communication equipment. The S48c however, has sort of a plastic feel to it, like it is a phone in an Otterbox or something similar. The horizontal ridges on the back might assist with keeping it in your hands or gloved hands during extreme conditions, but they seem odd and out of place compared to a fully textured exterior.
The power button is high on the left side, above the much larger and more prominently placed programmable key. This leaves the volume buttons alone on the left side above the heavy flaps for the SD and SIM cards. The programmable key is a great feature of the CAT phones, but is limited in what apps it can access or features it can activate. For instance, it can be used to hop straight into the camera, or send an SOS, but it can't be used to switch to glove mode or turn off all notifications. It seems that it should be able to action on anything you can find in settings.
The CAT S48c runs Android Oreo and has an impressive battery, but not as strong as the S41. It has a 4000mAh lithium-ion battery with up to 30 hours talk time and 22 days standby. The S41 rocks a 5000mAh battery and 38/44 talk/standby. Still, who talks on the phone for 30 hours before charging their device? The 5-inch FHD (1920 x 1080) IPS display is bright and about as comparable as you'll find with most phones on the market. It might not have that fancy retina display but it works great with wet fingers or with gloves.
The CAT S48c is constructed by Bullitt and branded by Caterpillar. It comes with a Corning® Gorilla® Glass 5 display and a Military standard specification rating of MIL-SPEC 810G. The phone is beyond IP68 certified (for comparison, most of your so-called water resistant phones on the market are IP67) and is waterproof up to 4ft for about 35 minutes. Long enough for you to take pictures underwater. I have not found a time when I've needed to take pictures underwater, but you can perform more normal water based tasks, like sexting from the shower.
The one thing that really differentiates this phone from all the CAT phones reviewed before it isn't some new, amazing feature buried deep within the operating system or suite of hardened apps it's that it's the first CAT phone to be offered to the American audience through a cell phone carrier. Previously, if you wanted a CAT phone in the United States you'd have to buy it directly from the manufacturer or off eBay. Now, you can go to Sprint or Verizon and get one. That's kind of the point here.
There are rugged phones on the market and have been for a while. Yet, there is something janky and unfinished about these phones. While locking the S48c to Sprint's LTE service (or to Verizon starting this month) might limit the long-term exposure of the CAT phone brand in the states, it's a start and makes sense with the brand. Sprint has always kind of been known as the worker's brand of phone. Remember the Nextel walkie-talkie phones? That was a thing people seemed to enjoy (and the CAT S48c is push-to-talk ready) using and kept Sprint alive long enough to be the ones hearing us now. And now both carriers are offering the same phone for the very first time. It's all a work.
Listen, you might be skeptical of these CAT phones and they might not fit within your adorable, plastic, serene, cultured lifestyle. If that's the case, then these phones are simply not for you and you can buzz off and go polish your iPhone a bit more, or tell everyone how great the photo quality is on your Google Pixel even though your eye for photography is like a drunk pirate pissing in his own eye patch. These are phones for those of us who live life, who chose to have one less thing on our person to worry about breaking or scratching. There is no time for fragility in our day-to-day when it comes to our communication devices.
The CAT S48c is available now at Sprint and retails for $480 (or you can do one of those lease plans). It will be available on Verizon on January 31st for $599. I am not sure why there is such a price difference between the two networks, but I'm sure Verizon will lower its price after pre-orders to directly compete with Sprint. A review unit loaner was provided by the manufacturer.
Editors' Recommendations:
Follow us on Flipboard, Google News, or Apple News