Review: DroneMobile – remote start, security, and tracking from your smartphone
DroneMobile is basically a souped-up version of LowJack, but with a remote car starter and an intelligent alarm system.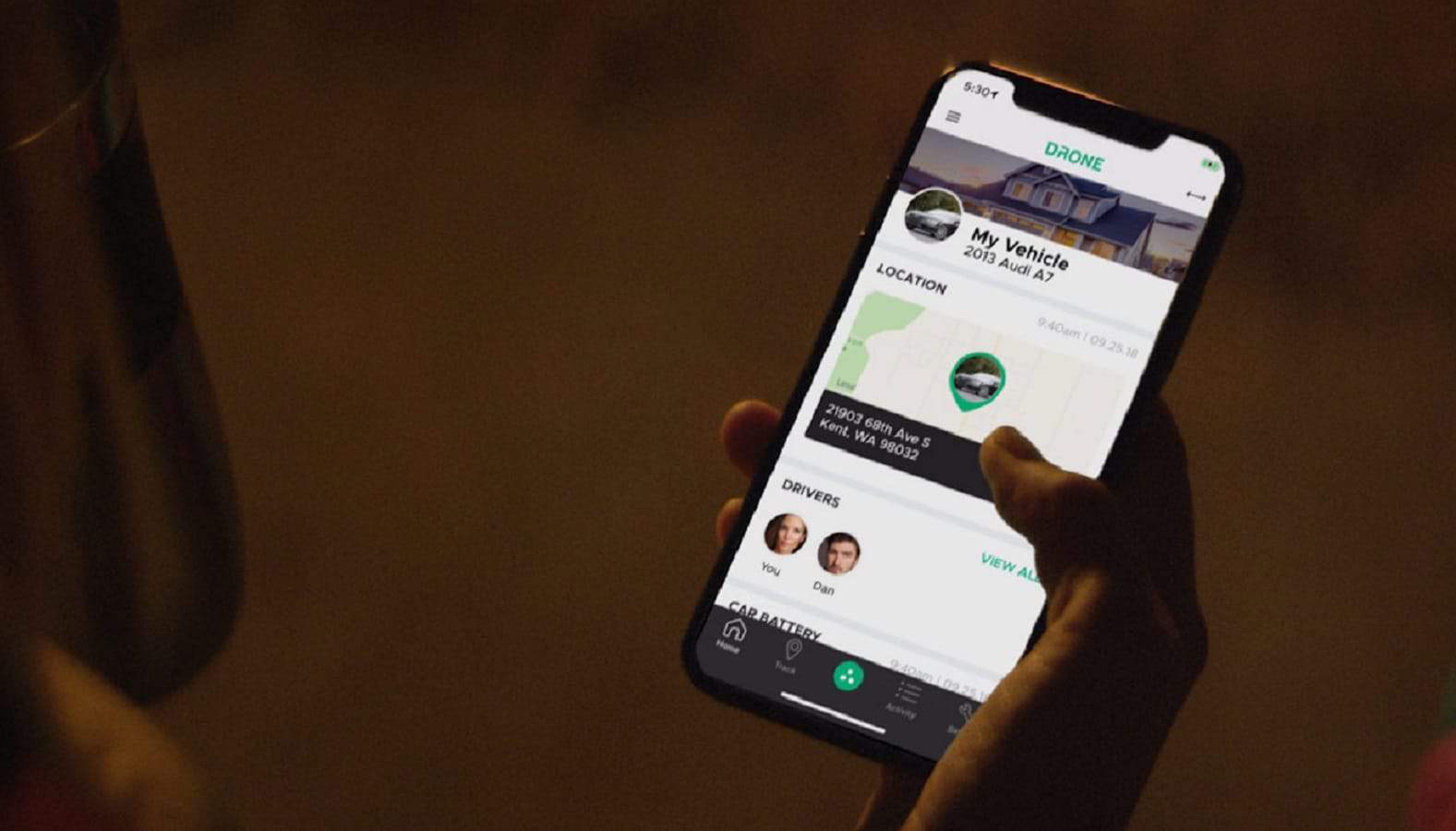 Living in Massachusetts in the winter is no joke. It gets cold. Like, really cold. On top of that, it snows. It rains. Sometimes you get a combination of both. And that's not to mention some gnarly wind gusts and snow squalls, as well. If you own a car in this great state, in most cases, you have to battle these elements to start your car. Yea, it's not fun.
This is where a remote car starter comes into play. For those of you who never had to think about a remote starter (and count your blessings that you never have to), these are basically devices that allow you to start your car anywhere within 500 to 3,000 feet. This is especially clutch for people who live in cold or hot regions and want to get their car at least somewhat comfortable before braving the elements.
It's honestly the best part about having a remote starter on your car.
Pretty useful, right? Totally. But to be fair, remote car starters have been around for a while, and it's time they got the upgrade they fully deserve. Well, that day is here, and it's bundled in a new system called DroneMobile.
For starters, yes, DroneMobile is a remote car starter, but it's packed with a whole lot of other useful features. You get a remote car start, a souped-up alarm system, and some interesting tracking and geofencing features. Oh, I forgot to mention, all of this can be controlled from either your smartphone or an Apple Watch. It's essentially like a Swiss Army knife for your car.
I've been testing out DroneMobile for the past couple of months, and I have to say – it rules, and I wish I had this on my car when I originally bought it. 
Installation & Setup
So, for a guy who writes words all day on the internet, you can imagine that I'm not technically inclined to install something like this by myself. I mean, obviously. And that's precisely the point. DroneMobile isn't intended to be self-installed. Instead, the company directs you over to a licensed installer (there is a fee you are required to pay) and has them do all the work for you instead.
Really, the only laborious thing you have to do is drop it off to an installer and pick it up when it's ready. Once you're all set up, all you have to do is install the app and register the device as a new account. Once you have completed that, scan the identification of the device with your smartphone's camera (or you can manually enter it in). Once all the required info is put into the app, the device is ready to go. Honestly, I was actually surprised at how easy it was to get up and running.
If you know how to set up a new email, then getting the app and device up and running will be a breeze.
First Impressions
Once I picked up my car from the installers and got the app up and running, I initially tested the remote start feature with the included remote that comes bundled in with DroneMobile. It worked without any issues. From there, I started the car via the DroneMobile app, and to my surprise, it worked flawlessly.
I have to admit; there's something weird about starting your car via a mobile app. For me, it's a foreign thing to do. I've never done it before DroneMobile. So, it's safe to say it takes some getting used to. When I first got the remote starter, I found myself using the actual remote as opposed to starting the car from my smartphone.
The only thing with using the physical remote is that you're limited by distance. You can start or unlock the car from a mile away from the vehicle whereas the mobile app can do it from anywhere in the world thanks to its onboard LTE module.
The one feature that really sticks out to me is the ability to control the app from my Apple Watch. Like, this by far is one of my favorite features. Instead of fumbling around for my keys or having to whip out my smartphone, I can quickly launch the app on my wrist and tap to start. This is insanely clutch, and I use this more often than I use the physical remote.
DroneMobile is a whole lot more than a simple remote car starter
Sure, remotely starting your via a mobile or Apple Watch is great and all, but DroneMobile offers a handful of other useful features too. Here's a quick rundown of all the other helpful features DroneMobile has to offer:
Security Monitoring & Alarm Alerts: This is pretty self-explanatory, but DroneMobile will provide you with 24/7 alarm monitoring. Meaning, Anytime your alarm goes off, you'll get an alert pushed straight to your smartphone. I experienced a few false positives with this, but again, it's helpful to know when your alarm goes off.
Car Finder: This basically works like a "find my phone" feature. If you forget where you parked your car or want to snoop in on your car's whereabouts, DroneMobile's car finder will pinpoint your car's exact location on a map, which is powered by Google Maps.
Points of Interest: Great for any parent, this allows you to set up a geofence on any area of a map. If the car enters or leaves this area, an alert is sent to your phone.
Curfew & Speeding Alerts: If you have a child who's not supposed to be driving the car after a certain time, curfew alerts send you a notification anytime the car is out past its curfew.
Vehicle Status and Maintenance Reminders: DroneMobile offers a quick snapshot of the status of your vehicle. Things like if the door is locked or not, as well as if the engine is still running, along with the status of your battery. You can also set up notifications mileage-based service reminders too.
I didn't get a chance to tinker around much with a couple of the features mentioned above – like curfews/speeding alerts and points of interest – but I was able to set a few up in the app and it was pretty much all self-explanatory and simple to set up.
Pricing & Availability
Depending on whether you have an existing alarm and want extra features like remote start, DroneMobile can get up there in price. However, if you're looking for just basic tracking and monitoring features, all you'll need to get is the DroneMobile module, which costs around $250 with installation fees. All of the tracking and monitoring capabilities are built-in to the DroneMobile module itself.
But if you're looking for an alarm, remote starter, along with the DroneMobile module and installation, you're looking at a starting price of $400, depending on your vehicle's type.
DroneMobile Premium subscriptions cost $11.99/month. DroneMobile Basic subscriptions cost $5.99/month. If you purchase a prepaid yearly plan, the price per month drops down.
DroneMobile systems can be purchased and installed at over 2,000 retailers in North America, including Best Buy. For more info on pricing, installer location, and your car's compatibility, our best suggestion is to head on over to their website here.
DroneMobile works with both iOS and Android, though an updated Android version is being rolled out very soon. In addition to iPhone and Android, users can control DroneMobile with the Apple Watch, Android Wear, Amazon Alexa, and Google Home.
Truthfully, I haven't had a chance to test this out with Amazon's Alexa or Google Home, because honestly, how much more convenient can it get. Well, apparently a whole lot more if I can bark a command to Alexa to have my car started. What a time to be alive, huh?
Final Verdict
It's totally worth it. For me, what makes it work so well is that it's a remote car starter, alarm system, and a souped-up LowJack. It makes my somewhat-outdated car smarter. I can see where the car is at any moments notice, remotely lock/unlock the doors from my phone if I ever forget my keys in the car, and uh, I can remotely start my car from my Apple Watch. It's really great and I can't tell you how many times I've thanked the heavens all the times I stepped into my warm car.
I really like DroneMobile, and for the most part, it's for my own selfish reasons. But I can see where this would be highly beneficial to someone with a family, especially for those whose children just got their drivers license. DroneMobile is perfect for keeping tabs on their activity.
But for me, the most significant selling point is definitely all the smart control features that I'm able to use from my smartphone or Apple Watch.
A sample unit was provided and installed for the purpose of this review.
Editors' Recommendations:
The Good
Smartphone control
Remote start
Keyless entry
Car finder
The Bad
Depending on your vehicle, pricing can get a little expensive
Smart watch controls are finicky at times
Sensitive alarm
Follow us on Flipboard, Google News, or Apple News