Review: Edifier QD35 Tabletop Bluetooth Speaker
Come for the looks, stay for the sound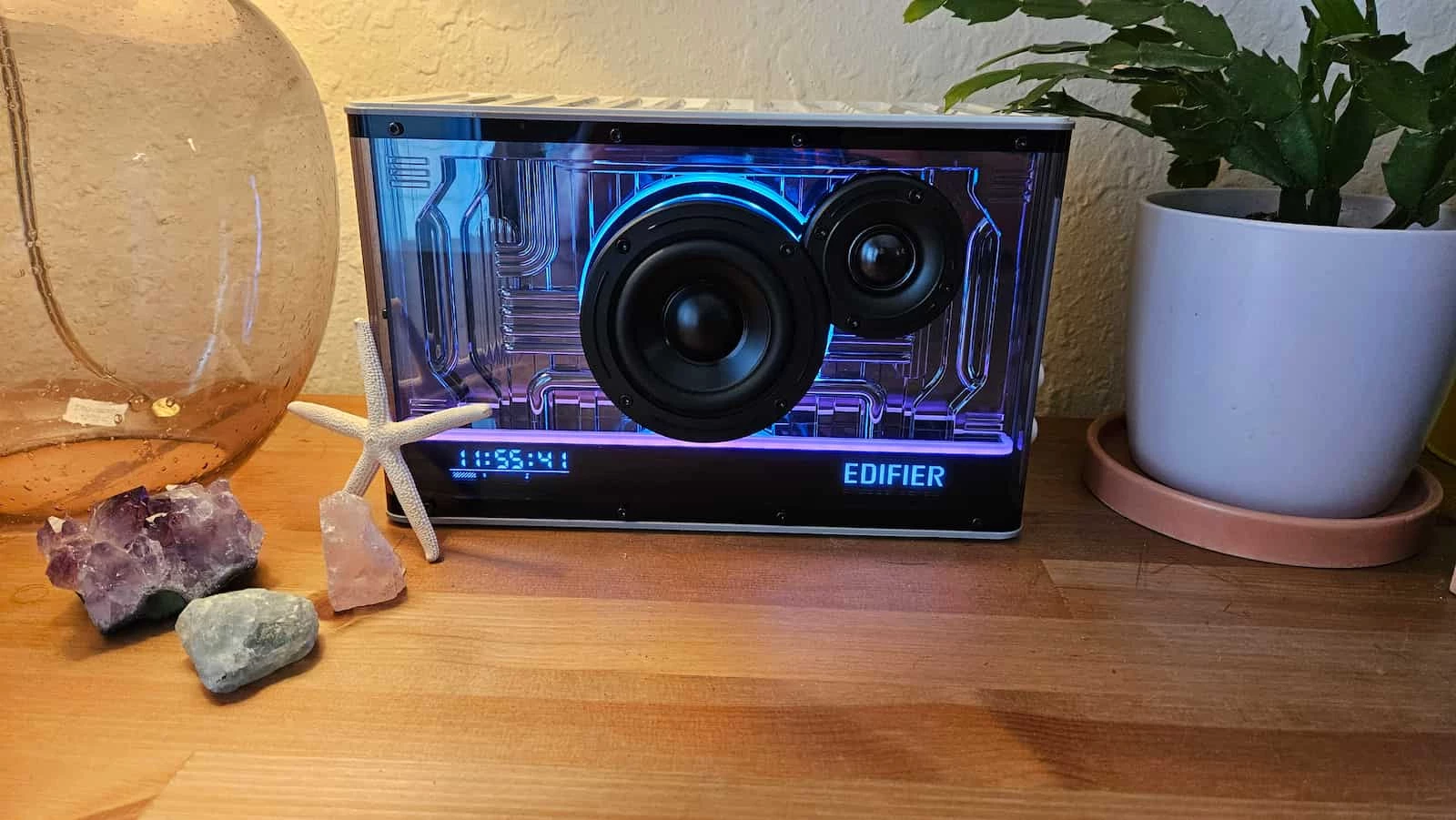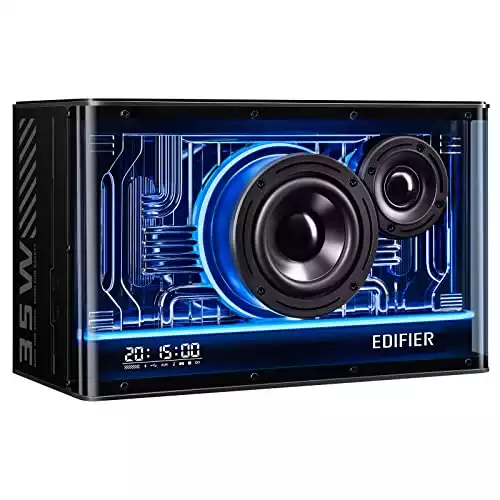 Edifier QD35 Tabletop Bluetooth Speaker
Quick Verdict: Edifier made a few odd choices with the QD35, but this is otherwise a great Bluetooth speaker. As long as you can get past the polarizing design, it has good build quality and sounds fantastic.
Pros:
Fantastic sound quality

LED lights look great

App is easy to use
Cons:
Polarizing design

On the pricey side

Front is a fingerprint magnet
KnowTechie is supported by its audience, so if you buy something through our links, we may get a small share of the sale.
LED lights can routinely be found in mice, accent lighting, and even earbuds. LED lights are sometimes included as an afterthought, rather than a deliberate choice.
The $200 Edifier QD35 is a tabletop Bluetooth speaker that was seemingly built around the deliberate inclusion of an LED lighting system.
The Edifier QD35 looks flashy, and I hope it sounds as impressive.
Design and features
The Edifier QD35 has a unique design when compared to other Edifier products and looks slightly out of place in its lineup.
At 10.94 x 6.49 x 5.58 inches and 5.82 pounds, this tabletop Bluetooth speaker isn't exactly portable but is easier to place in your home decor than a pair of bookshelf speakers.
Looking directly at the Edifier QD35 reveals an industrial aesthetic that exudes some serious gamer vibes.
You'll find two exposed speakers, a 3-inch mid-base driver, and a 1-inch treble dome tweeter that protrudes slightly from the clear plastic casing. Looking through the casing you'll find a metallic insert that continues the industrial feel. 
Once you plug this speaker in, the front of the device truly shines. There is an LED light strip that runs horizontally under the 3-inch speaker and another LED strip that runs around that same speaker.
The lighting is fully customizable in the Edifier Connect app or can be turned off. There's also a knob on the right side of the device that lets you quickly cycle through preset lighting modes.
The bottom left has a digital clock, which was an awesome touch.
The right edge has one button and two knobs that are stacked vertically. There is a power button that also lets you select from its various inputs, a mode selector knob, and the bottom knob lets you adjust the lighting effects.
The left edge of the device reveals a 35W GaN charger that can charge devices via USB-A and USB-C. The USB-A port can charge at a max of 18W, and the USB-C port charges at 35W, or 18W if you use both ports at the same time.
The left side has a somewhat peculiar design. There is a giant 35W text and an odd "Born For Speed, Born For Safety" tagline.
The huge text feels like Edifier was just trying to fill in the white space, and the tagline feels out of place on the speaker. I'm sure it's referring to the GaN charger, but doesn't belong on this speaker.
Speaking of odd design decisions, you can find another one at the top of the device. The top of the speaker features an oversized Edifier logo.
You can also find Edifier on the front of the device, opposite the clock. Clearly, they didn't want you to forget who makes this speaker and detracts from what is otherwise a great design.
Around the back, you will find a power switch, the plug outlet, an AUX port, and a USB-A port. You can also connect your device to this speaker via Bluetooth 5.3, which is by far the most convenient method.
The design is polarizing for sure, but I absolutely love it. The LED lighting is well done and adds to a great overall look. I especially love how the lights reflect off the metallic plate directly behind it.
It's not at all perfect though. The front can be a fingerprint magnet and the oversized text detracts from it a little bit. The Edifier QD35 can be found in either black or white.
Sound Quality
The Edifier QD35 has a 25W 3-inch bass speaker and a 15W 1-inch treble speaker. It outputs mono sound and supports 96kHz sampling when using LDAC via a Bluetooth connection or high-resolution audio when using the AUX or USB-A ports.
As a quick note, LDAC is not supported on iPhones. 
With 40W RMS, Edifier claims this speaker can cover a little over 500 square feet of space. This claim seems accurate as the Edifier QD35 had no trouble filling my apartment with sound.
The sound quality is quite good through most of the volume range, with it losing a bit of clarity at high volumes. That wasn't an issue for me because this speaker was plenty loud once you get the volume to about ten. 
At anything less than the upper volume range, the entire sound range sounded quite good. Edifier uses digital signal processing (DSP)  which results in music that is crisp and clear over Bluetooth.
The clarity improves a bit when connected directly through the AUX port. Thanks to the two passive ports on the back, this speaker puts out plenty of bass. Way more than I was expecting from its 3-inch speaker. 
Edifier Connect app
The Edifier Connect app is needed to connect to the Edifier QD35. Without the app, my phone couldn't detect the speaker. Depending on your preference, this can be a positive or a negative.
On one hand, it's another app on your device. On the other hand, this can be a huge positive for those living near other people.
I live in an apartment, and I have had the unfortunate experience of people around me connecting to my Bluetooth speakers. To say this is frustrating would be an understatement, but hasn't been an issue thanks to the app requirement.
Luckily, you don't have to create an account to use the app and the app itself is pretty basic. Just pick your speaker, hit connect, and you are all set. 
From there you can adjust the volume, change your input, play white noise in the soothing sounds section, and change the settings. Swiping right shows the light effects menu and lets you change the lighting effect, colors, and modulation rate.
Alternatives to the Edifier QD35
The Tribit XSound Mega Bluetooth speaker is great for anyone who likes the idea of LED lights but needs something more portable. This speaker gets plenty loud, has built-in LED lights, and solid bass. It's a bit heavy and lacks 360-degree sound.
The Monoprice Harmony Capsule 200 is another portable Bluetooth speaker, loud enough for outdoor use and gives you full 360-degree sound. Like the Edifier QD35, the sound quality diminishes at higher volumes and is a tad heavy. 
The Edifier MS50A is a larger and more portable speaker. The sleek wooden design has wireless connectivity and can even connect with Alexa, Spotify, and Apple AirPlay. It is a mono speaker and has no waterproofing, which limits its ability to be used outdoors.
Final verdict
Should you go out and spend $200 on the Edifier QD35? That largely depends on a couple of important factors.
With its polarizing design, this speaker isn't for everyone. The LED lights were integral to its design and I happen to love it. So does the rest of my family, but not everyone will appreciate it.
Then there's the borderline obnoxious placement of the Edifier logo on the top and the tagline on the left. 
If you can look past those shortcomings, the Edifier QD35 is a fantastic speaker.  It's compact enough to fit just about anywhere in your home.
The sound quality is quite good, as long as you aren't pushing it to its maximum volume. The app is easy to use, and this speaker offers plenty of input options.
At $200, the Edifier QD35 is a bit pricey but well worth the price for its blend of fantastic sound quality and its unique design. It can be found directly through Edifier or from retailers such as Amazon and Best Buy.
Edifier QD35 Tabletop Bluetooth Speaker
The Edifier QD35 is a tabletop Bluetooth speaker that combines an industrial aesthetic with LED lights for an intriguing, but polarizing design. If you love the look, you can look forward to good sound quality and great build quality.
KnowTechie is supported by its audience, so if you buy something through our links, we may get a small share of the sale.
Have any thoughts on this? Drop us a line below in the comments, or carry the discussion to our Twitter or Facebook.
Editors' Recommendations:
Follow us on Flipboard, Google News, or Apple News