Review: Patriot Burst 480GB SSD from Patriot Memory
It can't be beaten at this price.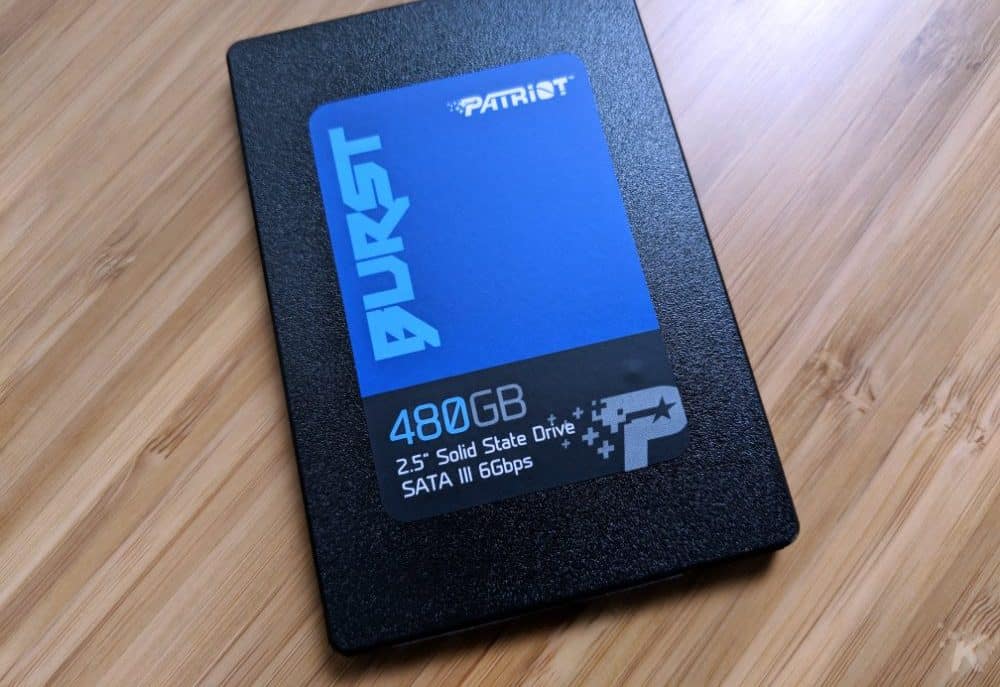 The Good
Price is great
Viable upgrade for your laptop
The Bad
Slightly slower than other SATA SSDs we've tested
Patriot Memory and their sister brand, Viper Gaming, have been around since 1985. They might not have the name recognition they used to have, but they consistently turn out high-quality products with great customer support.
With the bulk of the industry talk on technology such as NVMe, does the humble SATA SSD still have a place in our rigs? While it's true that NVMe is great for speed for both your OS and speed-dependant tasks like video editing, SATA SSDs still have a part to play.
Take gaming, for example, where your open-world games need the added boost over spinny drives to keep things smooth as you move around. While NVMe would improve things, it's a bit of a waste in this situation. With the price of NAND memory dropping, it has never been cheaper to get a high-capacity SSD for using as your game drive.
Price and Features
The Patriot Burst 480GB that we're looking at today is an insanely good deal at the current Amazon price of $61.99. It's not that long ago that 2.5″ 500GB spinny drives had a higher price tag than this, underpinning how much the price of NAND has dropped recently.
It's using a Phison S11 controller and has TLC 3D NAND, just like the WD Blue we reviewed recently. The TLC read and write speed can reach up to 550 MB/s in sequential performance and 95K-85K random IOPS. There's a 32MB DRAM cache onboard also.
The Phison S11 controller came out in early 2017 and comes with modern improvements such as Smart ECC, Smart Zip, dynamic static wear leveling and end data path protection. It's not the top-of-the-line controller, but it's just fine for this market segment. The Patriot Burst is firmly aimed at mass-market use and general consumers.
Performance
SATA connected storage has a hard cap, due to the limits of the SATA specification. Most SSD designs approach or toe that hard cap, which is about 560MB/s.
Indeed, we see the Patriot Burst getting very close to that cap in the CrystalDiskMark test, with a Read score of 513.9 MB/s and a Write score of 479.8 MB/s.
We like to test on at least two benchmarks to ensure consistency, here the Atto Disk Benchmark shows slightly higher performance than the prior test, with a Read score of up to 518.92 MB/s and Write of up to 534.45 MB/s.
PCMark 8's storage test simulates a real-world use case scenario, using simulations of office tasks and World of Warcraft playing. A score of 4687 with bandwidth of 188.53 MB/s is respectable for the price point this drive is aimed at.
So should you buy it?
The Patriot Burst is currently priced at $75 but you can find it for as little as $61.99 right now. With that in mind, it's a fantastic drive for a low-cost gaming drive.
It also performed better in some of the random tests than I'd expected, so you could quite easily use it to upgrade an older laptop or netbook that has a spinny drive in it currently. It's also a viable upgrade for anyone who bought one of the earlier iterations of SSDs. While it won't beat any speed records, it certainly breaks the cost barrier.
A sample unit was provided for the purpose of this review.
Editors' Recommendations:
The Good
Price is great
Viable upgrade for your laptop
The Bad
Slightly slower than other SATA SSDs we've tested
Follow us on Flipboard, Google News, or Apple News