Interview with Stu Grubbs, CEO of streaming software company Lightstream
From Microsoft partnerships to team diversity and how Lightstream is democratizing broadcast media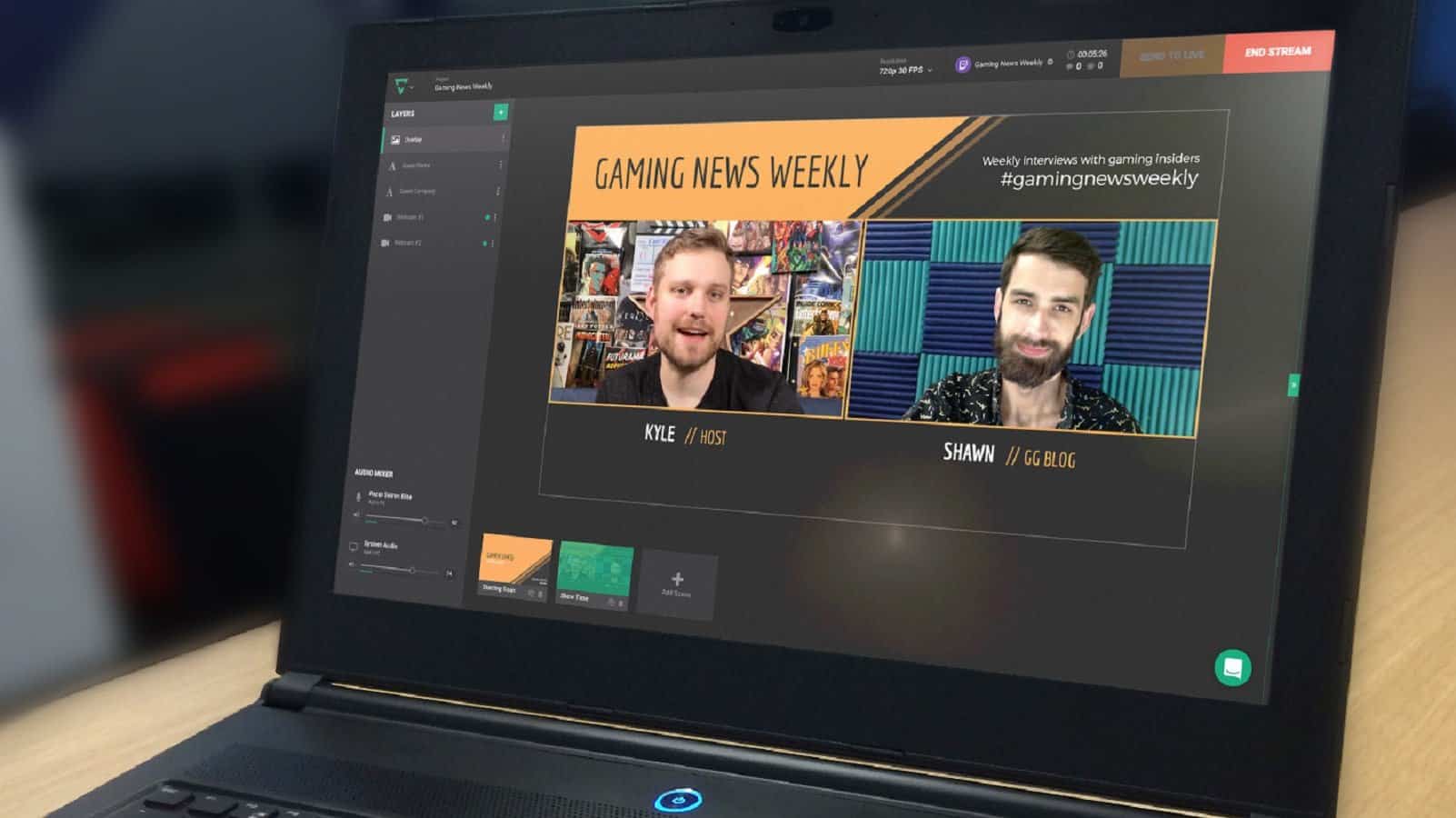 This week I had a chance to sit down with Stu Grubbs, CEO of Lightstream, a company that makes free software designed to make professionals out of even amateur streamers.
We talked about the company, the software, what Lightstream is doing to become diverse, how they keep the lights on while developing a free product, and how one goes from being an EMT paramedic to being the CEO of a technology company. What follows is the unabridged interview in its entirety.
I've got about a dozen questions for you, everything from Lightstream-specific stuff to things about you personally, but would you like to introduce yourself first?
Sure! I'm Stu Grubbs, CEO and Co-Founder of Lightstream.
Thanks for taking the time, Stu So how would you describe Lightstream to someone who knows absolutely nothing about it?
We build the creative software that you would use to produce your own live stream to Mixer, Twitch, Facebook Live, or Youtube.
Now, I understand there's a lot of software out there to help with live streaming. What would you say Lightstream does that's unique, that sets it apart from everything else?
When we got started it was extremely difficult to share your gaming experience or tell your story via live video. Big technical hurdles to understanding that you spent most of your time reading tutorials or watching videos to figure it out. So we set up to make that easier and configure much of that automatically. We strive to put advanced production tools in the hands of a beginner. Log in with your platform account like Mixer, drag-n-drop, and go live.
But being based in the cloud has certain advantages beyond that.
Like being able to produce a stream together from different parts of the world and put our gameplay side by side.
So you're democratizing advanced streaming tech. That seems like it would come with a hefty price tag, but I see that Lightstream is free to use. How do you stay competitive without consumer revenue? How do you keep the lights on?
Fair question.
Quite a bit of the technology that makes Lightstream possible is very unique. So we actually make the majority of our revenue from licensing our technology to partners. A great example of this is our partnership with Microsoft. Of course, we also benefit from investment to help supplement that revenue so we can continue to explore ways to add value to our creators' journeys.
I want to ask a little about Lightstream as a company- Inclusivity is an important part of tech, even more so when building software designed for media that's all about community. How do you proactively make sure Lightstream is a company that's intersectional in its inclusivity?
I started typing an answer, but then thought to qualify – are you referring to our impact on the gaming or streaming community or internally as a team?
Good question! Internally as a team, but I'm interested in hearing both.
Admittedly, we didn't do well at this in the beginning. Obviously, not by design, but the original four founders were white guys with beards. As we scaled with little money, we hired anyone with the right skills and willing to work for next to nothing.
After the recent successes like the big partnerships and the raise, we have been able to pay normal wages and attract talent from all places. But it all starts at the Leadership Team. And so when my cofounder came to me and said he wanted to focus on the code, we recognized it as a great opportunity to add a fresh perspective to our leadership team. Eventually, we found an awesome new teammate and CTO in Jenny Farver.
So, by starting at the top we now have a woman-led engineering organization which helps start building a team that feels much more comfortable for women to join and beyond. It's a start, but I think it was a big first step.
There are many different people that work here these days. We have doubled the size of the team in less than a year.
So, speaking of variety, you personally come from a background that includes everything from sales to computer engineering to an EMT paramedic certification. What brought you to work on streaming software? What have you learned from these disparate fields that you bring to your ideals running Lightstream?
Haha ya, I've lived an interesting life, but always in gaming in some way. Started in esports and took a break in the middle. But my focus has always been great product. I worked on product for the liquid cooling company, then at SteelSeries, and that's why I got the call from my cofounders for Lightstream.
I learned how to deal with intense situations and different people as an EMT.
Sales you learn how to understand the real needs of every customer. Now how your solution works today, but the questions they are really trying to answer so you can truly build to solve the problem and not just duct tape an existing solution.
I'm curious about your personal influences. Who are some of your favorite exemplars, in and out of tech? Influential books, games, movies, that sort of thing?
How long do I have to type it all? Ha
Give me the first few that come to mind haha
Stephen Covey's 7 Habits of Highly Effective People was a book my mom grounded me and assigned me at a very young age and it changed my life. The Four Agreements was another that I read very early on and had an impact.
In recent history… I have been very inspired by Satya Nadella and the cultural and business transformation he has driven with Microsoft. From too old to be relevant to the #1 most valuable company in the world in such a short time.
One more about you, then a few more about Lightstream and we're good to wrap up! – Running a company is pretty time intensive but it can't be all you do, right? How do you like to spend your time these days when you aren't doing CEO things?
One of my favorite activities in the world is skiing. Can't wait for every season. I joke that I start doing lunges everywhere I walk. (I don't. I'm not crazy haha) But if you want a weird activity… I do trapeze at a local place here in Chicago haha
There's a big circus scene here in Philadelphia that has some major overlap with the gamedev scene, so that actually doesn't surprise me haha – What's something about Lightstream that you're proud of? Events that went well, partnerships, anything that makes you glow when you think about it?
I'm most proud of our team and the place we have built to work. In the 4 years since our founding, only one person has ever quit. And he got an awesome offer from a big company that we all encouraged him to take.
We have built a place where you get to work on challenging, unique and interesting problems doing what you love with people you love for communities we love. And with the recent successes, we now get paid normally to do it all. I've always wanted all of that in one job and I'm glad we've created that here.
That does sound pretty great. – Now, on the opposite end of that spectrum, I'm always interested in resilience and recovery as they pertain to success. What's the closest you've come to failure or collapse and what did you do or what happened to avoid that? You can answer that personally or you can answer that for Lightstream as a company. I think both are important
We've come weeks away from the end. Way before we got that close, I was transparent with the team of what was at stake. We let go of two awesome people. I worked to try and get them new jobs (they did). I then told the team that I, as the lowest paid employee since our founding, was cutting my salary even further and anyone without a family could volunteer to do the same.
Everyone did. We spent the next 3 months in an insane push and with a few weeks left in the bank we pulled off several major wins and had everything we needed to get the team to market rate salaries, scale-up, and take a deep breath.
That sounds incredibly difficult, especially in an ecosystem of mass layoffs and instability. I'm glad the team is up to market rate and doing well! – Two more and then we're done. I promise these are easier. What are your future goals and plans for Lightstream? How would you like to see the company and the software evolve from here?
Haha, no worries. I like our story.
As I said before, our goal was to put advanced production capabilities in the hands of a beginner. How do we empower more storytellers and help them feel like a pro as soon as possible in their journey?
What you can expect to see us focus on are the next two stages of the creator's journey: 1) how to identify and grow your audience and 2) how do you create even a modest amount of economic opportunity from your hobby. I was so excited the first time I got $30 one month for my tiny blog in high school.
That's extremely relatable. I remember the first time someone wanted to buy something I made and I was just like, you want to what now? – Last question(s). If someone wanted to watch a stream of some sort, for instance on Twitch or Mixer, to see what Lightstream can do, what are some channels you'd recommend? Related to that, if someone wanted to get started using Lightstream, where should they go?
There is an awesome Mixer streamer who has had me on a couple of times and also hosts his own tutorial/teaching shows all about Lightstream.
For our own tutorials, you can head to our Youtube or we have our Streamer Handbook.
Perfect! Well, thank you so much for taking the time to sit down for an interview. I really appreciate your thoughtful answers to such a wide range of questions!
Of course! Thank you for the thoughtful questions. I enjoyed diving in a bit. Let me know if you have any others or how else I could help.
---
We'd like to thank Stu for taking the time to answer some of our questions.
Editors' Recommendations:
Follow us on Flipboard, Google News, or Apple News