The 8BitDo Gbros. adapter lets you use your favorite Nintendo controllers with the Switch
Perfect for using that old Gamecube controller with Smash.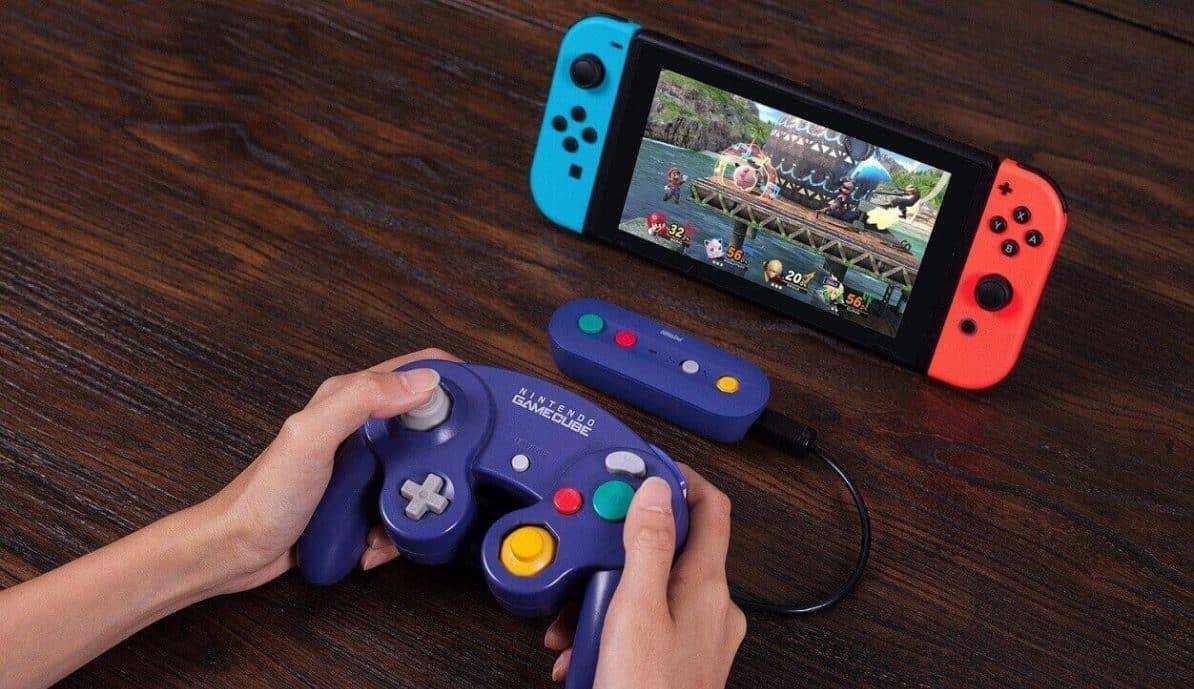 Want to make your Nintendo Switch even more epic and nostalgic than it already is? Now, with the GBros. Wireless Nintendo Switch Adapter, you can play it with traditional controllers from old consoles — the ones you probably remember playing on years ago if you've been a long-standing Nintendo fan.
Let's take an in-depth look at this new device's features and whether or not it's worth the investment.
What Can You Do With This Adapter?
You likely have some wired controllers lying around your house from years or even decades past. Maybe you had a favorite Nintendo system — most of us did — that you swear was the company's best release, with a controller that you felt fit perfectly in your hands and allowed you the deepest immersion in your favorite titles.
READ MORE: 8BitDo launches new gaming controller focused on accessibility
As long as you held onto those controllers, you can now use them on your Switch. For instance, the GBros. wireless adapter can connect your original wired GameCube controller to the Switch just like the Wiimote.
With this adapter, wired controllers from the following systems can be used:
NES
SNES
GameCube
SFC Classic Edition
Wii Classic
Each adapter comes with a USB cable, a cable band and an instruction manual. Once you get your kit, all you'll have to do is follow the instructions to connect this adapter via cable or 30-foot-range Bluetooth connectivity. It'll be just like that favorite console of yours never stopped leading the market.
Additional features of the Switch adapter
Playing with old Nintendo controllers — where the buttons, bumpers, directional pads, and other features are snugly placed just where you want them — is a great perk that many gamers are looking forward to, but it doesn't stop there with this GBros. wireless adapter.
The device also has built-in home and screenshot buttons, which will allow you to quickly and easily navigate back to your home screen along while also capturing images of your adventure. The aesthetic hardware features of the device include:
Color: The outer shell of the adapter itself is the same bluish hue as the original GameCube controller, matching perfectly if that's the controller you select.
Size: The adapter is less than half the size of an original GameCube controller, making it just as portable as the Switch itself — if not more so.
Buttons: In true Nintendo and GameCube style, this adapter features buttons with the colors you've seen on the GameCube controller — green, gray, bright red and vibrant yellow.
Should you take the plunge?
You're likely deciding whether you should put the money into this adapter now. Will it really enhance your Switch time? The bottom line, as unsatisfying as it may be, is that there's no right answer. Whether you spend the $19.99 on Amazon or another marketplace to purchase this device is entirely up to your gaming style and how much you would value and utilize the opportunity to play on one of the old controllers.
Some people likely prefer not to spend the money when their Switch controller works fine and features a number of versatile qualities. While the investment might not seem like a lot to you, remember that if you don't already own the controller you're planning to pair with the adapter, you'll have some extra costs at hand before you can start on a new virtual journey. In addition, while it's a much smaller consideration, the adapter takes two AA batteries — sold separately — for every 30 hours of gameplay.
On the other hand, many players find great value in playing with their old controllers, especially with some specific titles that have come out recently.
With the new Super Smash Bros. Ultimate released so recently — with its plethora of well-loved characters from across 20 years of history and various genres — many seasoned and new gamers alike are dying to plug in with an old controller and get smashing. The versatility offered by this adapter means if you have a few different wired controllers on-hand, it'll be like you spent just $20 for an entire collection of playable controllers.
Ultimately, the choice is yours. The only thing we know for sure is that you'll have fun either way — just boot up your Switch and get playing!
What is your favorite Nintendo controller? Let us know down below in the comments or carry the discussion over to our Twitter or Facebook.
Editors' Recommendations:
Follow us on Flipboard, Google News, or Apple News