Starting today, the Facebook Dating service is being tested in Columbia
You'll soon be able to slide in the DMs without looking like a creep.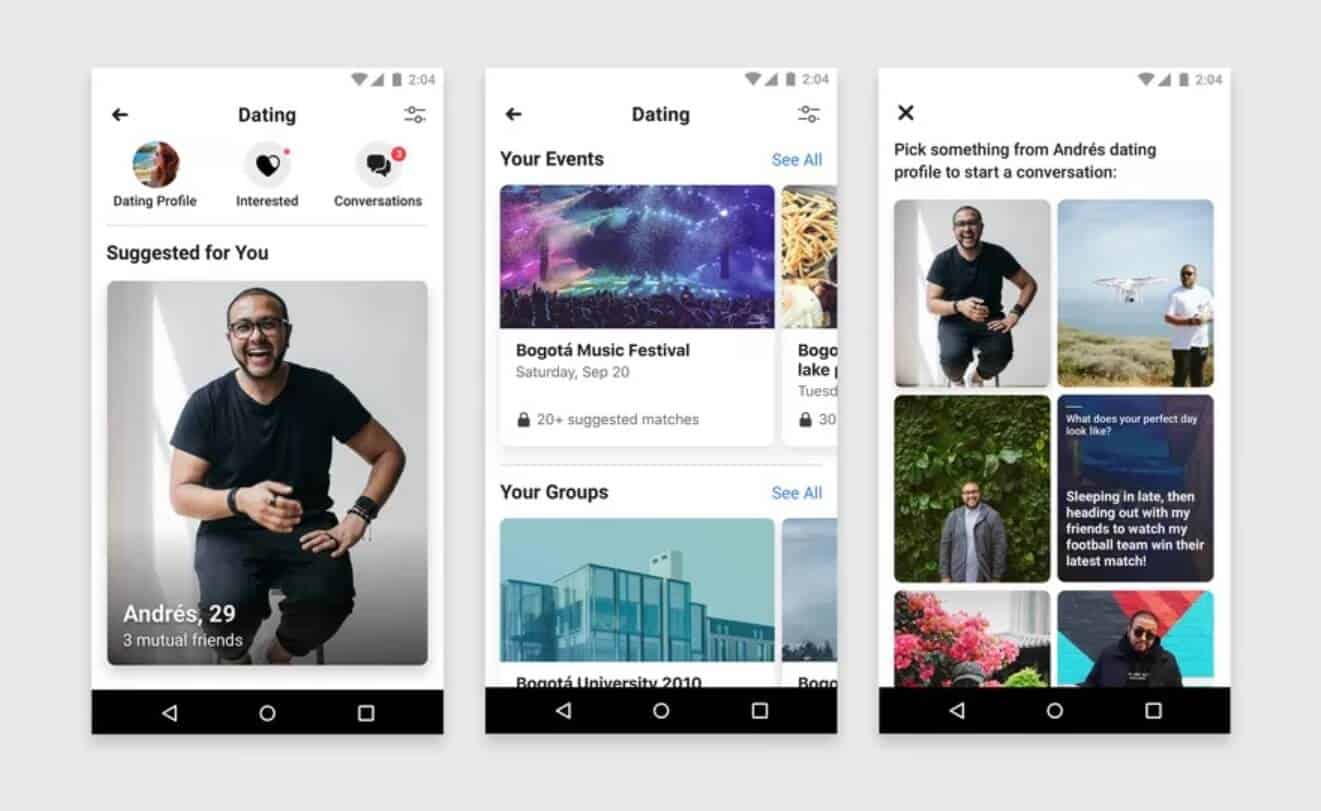 Facebook is ready to play matchmaker — at least in Columbia. The social networking juggernaut is launching its long-gestating dating product in the South American nation before it considers bringing it to other places around the world.
The Verge recently had a chance to look at the service. Here's a brief look at what it found.
Noting Facebook Dating looks a lot like competitor Hinge, the report says the new service asks users to answer question prompts and start conversations based on something in a person's profile. It's also fully integrated with Groups and Events, which encourages users to meet in public.
Facebook product manager Nathan Sharp explains:
Dating has been a behavior that we've seen on Facebook for a really long time. We want to make it easier and more comfortable for people to engage in. We just thought that now was the right time.
At least for now, Facebook Dating will reside in Facebook's mobile app and won't be available through the web. It's free for users 18 and older and at launch doesn't include ads or premium features.
If you decide to join Facebook Dating, you'll be asked to create a separate dating profile that includes limited personal information. From your Facebook account, the service will only pull in your first name and age. From there, you can add a short introduction that describes who you are and what you're seeking.
The profile can also include a mix of photos and answers to Facebook's question prompts. Photos can come from your camera roll, Facebook uploads, or Instagram.
In a move to eliminate catfishing, Facebook Dating will verify your location using your phone's GPS. In Columbia, you can search for matches within 100 kilometers.
What other details have been discovered about Facebook Dating?
Other details The Verge discovered include:
Facebook Dating excludes friends from the pool of matches; friends of friends can show up on your list, however. Blocked users are also removed.
While browsing, you'll see a selection of people you can "express interest" in by tapping a photo or an answer to a question prompt.
You can send a message to anyone using an all-new Facebook Dating interface. Messages are limited to text and emoji.
You can express interest in up to 100 profiles per day, but you can send an unlimited number of messages to people you've already matched with.
Does the world need another dating service? Probably not, although that probably doesn't matter in this case. Assuming Facebook's test in Columbia finds success, you know it's going to launch elsewhere. And when it does, no doubt it will fast become a significant player in the world of online dating if only because of the size of Facebook.
Do you plan on joining Facebook Dating if it arrives in your country? Let us know below. 
Editors' Recommendations
Follow us on Flipboard, Google News, or Apple News