Review: Harman Kardon Allure
If you don't mind its design, this is the best smart speaker with Alexa.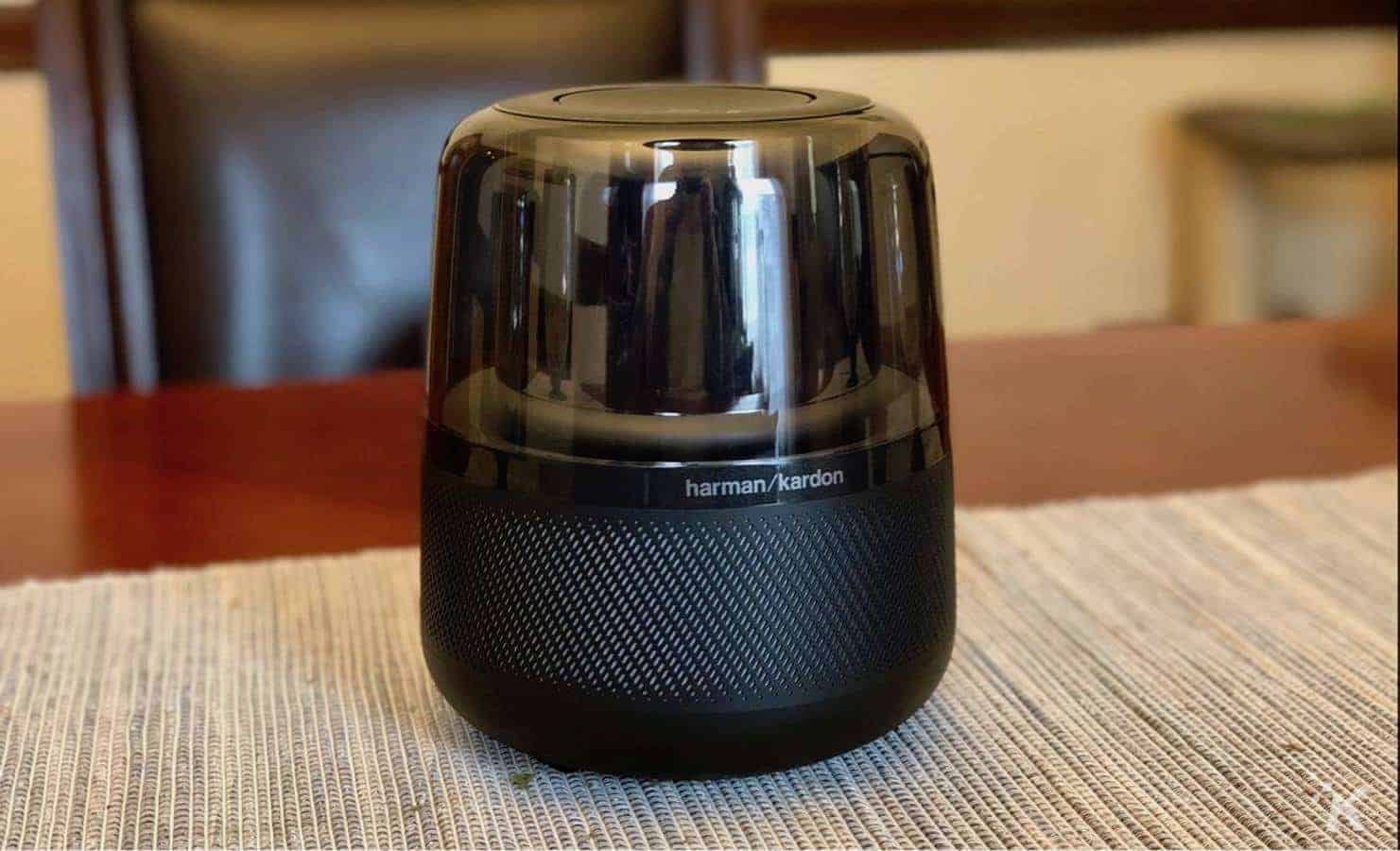 The Good
Superb sound
Alexa integration is flawless
Simple to set up
360-degree sound
The Bad
Not waterproof
No input jacks
Design can be off putting to some
There's a lot of voice-activated speakers out there these days. There's obviously the Amazon Echo and Google Home. But when it comes to something that offers more robust sound and wrapped in a bigger package, you're left with Sonos One, Google Home Max, and Apple's latest offering – the HomePod.
These are all great options, each with their own unique set of skills, but when you look at their price tags, you'll find that they are all pretty expensive, especially Google's Home Max which comes in at a whopping $399. Thankfully, another player is throwing their name in the hat, and it's considerably cheaper than ones I just mentioned. Meet Harman Kardon's Allure. It's a voice-activated speaker with Amazon's Alexa baked right into it. It's $249, and it's one of the best speakers I've ever had the privilege of reviewing.
Harman Kardon has been a long-time player in the audio world, and they make some of the audio devices you can find on the market. Seriously, I still have one of their old-school receivers from the 1970's, and it still works like a dream. So when the opportunity came across that I would be checking out one of the company's latest offerings, I was pretty excited to give it a shot. It turns out, I just met my new favorite smart speaker.
Design
One thing that's for sure is that Allure doesn't look like your average smart speaker. Harman Kardon first introduced this design with the Aura back in 2013, but the Allure adds a new modern take to it. The speaker rocks a cylinder design measuring 7.6 inches tall and 6.5 inches wide. The top half of the speaker is covered in a smokey colored transparent plastic. The bottom half is wrapped in a metal grille. Inside the speaker itself sits this dark cylinder and makes its way to the top of the speaker, which offers this really cool light ring that glows inside the speaker when you speak to Alexa or when there is music playing.
The top of the speaker has a circular multi-functioning pad that allows you to control volume as well as a microphone mute control. The Allure isn't equipped with a battery so you'll need to have it plugged in for it to work. Having said that, it's safe to assume the speaker isn't waterproof either. One thing that's noticeably missing is any form of an input jack, so the only way you can stream music or audio on the Allure is over Bluetooth or Wi-Fi.
Setup
Getting the Allure all set up with Alexa isn't all that difficult. To start, you'll have to download the HK Alexa app either on your iOS or Android device. After plugging in the speaker, a light glows around the speaker notifying you of its connection. From here, follow the instructions on the app, which include things like connecting the speaker to your home's Wi-Fi network and signing into your Amazon account to sync with Alexa. Once the speaker is connected, you're good to go.
Sound
I'm not an audio expert in any form, but my first impressions when I heard the first song being played on this speaker completely had me floored. This speaker sounds amazingly good. For a device of its size, it packs a gnarly punch. I don't think I've heard bass this good in any other speaker in this same category. The 3.5-inch downward-facing subwoofer pumps out bass like it's nobody's business.
However, too much bass can be a problem. I didn't experience too much of that with the Allure, but one thing I noticed is if you have this speaker on a particular surface, you'll find the speaker's bass can cause a lot of vibration. Other than the bass, the overall sound of the speaker is excellent.
Alexa
The Allure has four microphones that Alexa uses to listen to you. Amazon's voice-activated assistant can perform a wide array of commands and functions. Whether it's reading you the daily news, weather updates, or simple reminders, this voice-activated assistant is there assist you.
Using Alexa on the Allure works just as well as you would expect from an Amazon Echo. However, I do find at times that the speaker doesn't pick up the "Alexa" wake word when you're standing right beside the speaker. This happens probably one out of ten times. Strangely enough, when I'm standing over 10-feet away from the Allure, it has no problems picking up the wake word.
I use Alexa a lot for music, and the Allure works perfectly with Spotify, but it also works with Pandora, Amazon, TuneIn, iHeartRadio, and SiriusXM. Again, as we mentioned before, if you want to listen to music via another music service, you'll have to connect your device to Bluetooth.
Final Verdict
An Amazon Echo will run you about $99, but it doesn't offer the sound profile you would get with the Allure, plus, not to mention all the shiny lights. But in all seriousness, the Allure is a fantastic speaker made by a company that gets the basic principles of sound. Sure, there are other options out there that offer some more features, like the $300 UE Megablast (it has a built-in battery) or the $200 Sonos One, but I like that Allure isn't afraid of generating too much bass, something most speaker manufacturers tend to shy away from.
A sample unit was provided to KnowTechie for the purpose of this review.
The Good
Superb sound
Alexa integration is flawless
Simple to set up
360-degree sound
The Bad
Not waterproof
No input jacks
Design can be off putting to some
Follow us on Flipboard, Google News, or Apple News