SlideModel – The perfect tool for professional business presentations
SlideModel is a service designed to help you create the most attractive PowerPoint templates, slide designs, and themes.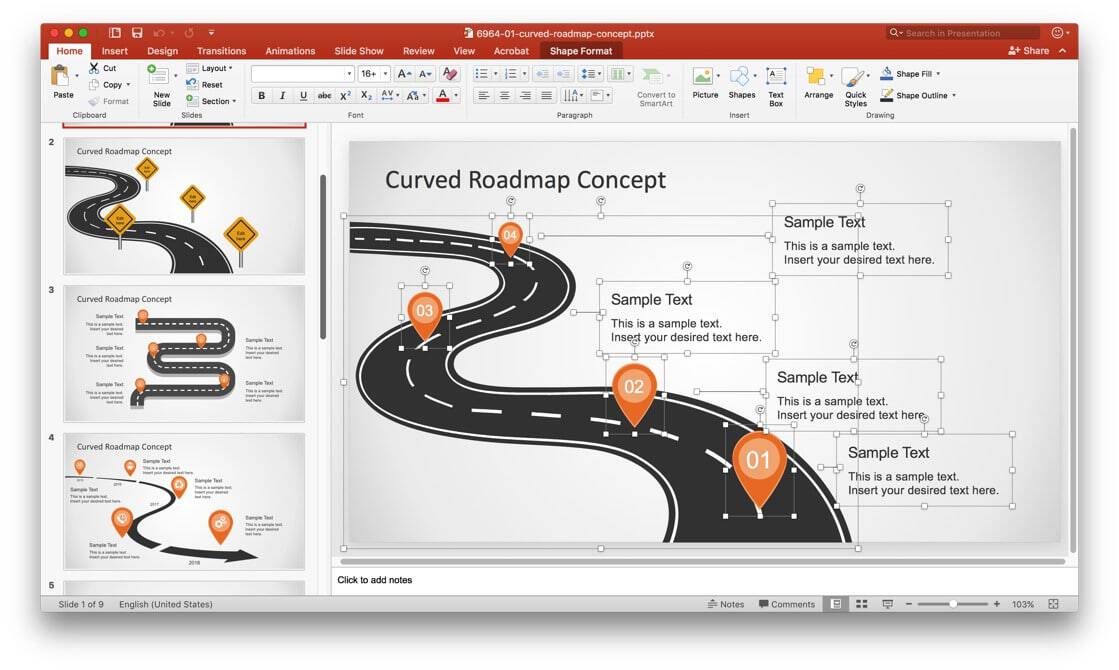 SlideModel.com is an online service targeted to professionals and executives that need to create Professional Business Presentations in little time and with a great design aesthetics. Their value proposition consists on providing users, lacking of design background, with the ability to create top of the line presentation decks, designed with modern technique in little time and without the need of special skills.
SlideModel delivers this value proposition granting their users full access to a constantly growing library of PowerPoint templates. These templates are created by guru designers; they apply best graphic design practices taken from printing, publishing and digital contexts. The presentation templates provide editable properties and placeholders for users to complete with their own content without effort.
In this post we are reviewing SlideModel.com and its value proposition through a walkthrough of their mayor offerings and services.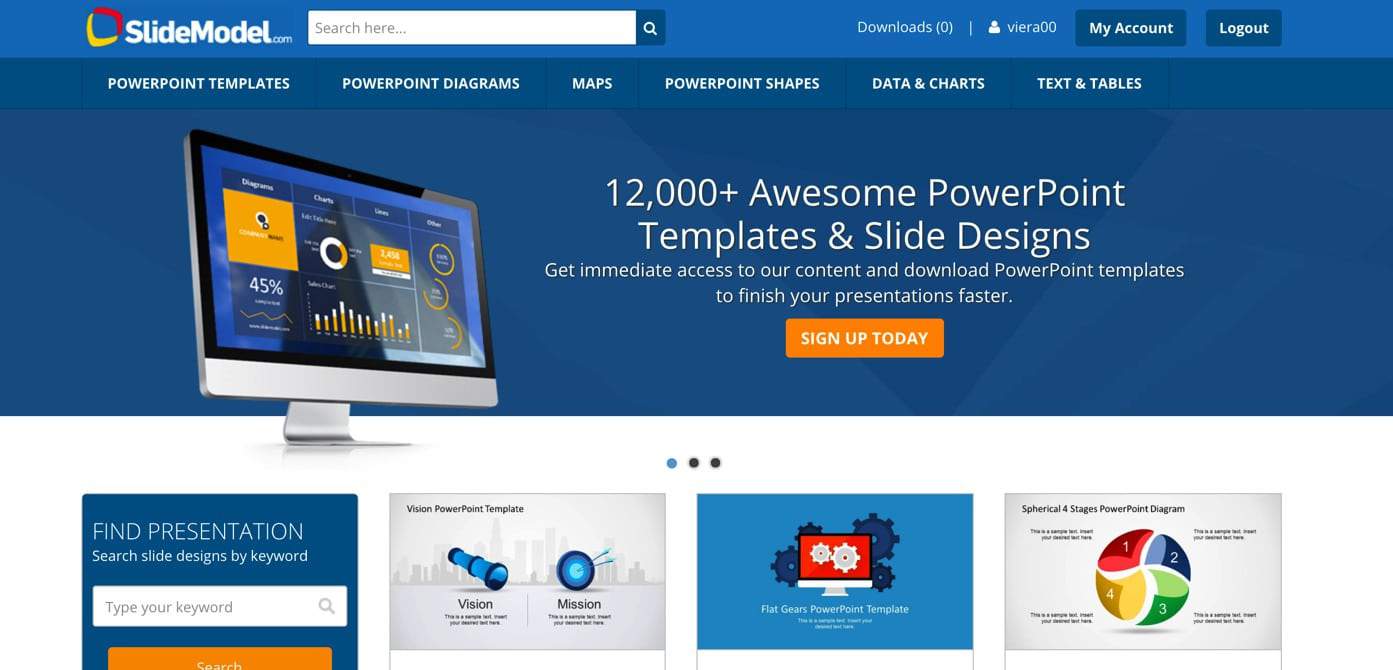 The Online Platform
As we mentioned before, SlideModel.com is an online platform, but its value proposition is delivered through an hybrid combination of online web app and downloadable assets. Users subscribe to their plans and are granted access to the PowerPoint Templates offered in their gallery. During this stages, users are interacting with SlideModel.com online gallery. They have the ability to search, browser, navigate and even interact with the SlideModel.com support team though their contact platform or call center. Depending on the users needs, the browser takes different paths. A navigational menu or a keywords based search are offered for convenient navigation.
Looking for a PowerPoint Business Template
In this scenario I decided to look for a PowerPoint Template for business purposes; the platform seems really targeted to business users not only in their theme but also in the content and navigational features. SlideModel provides an easy to look contextual menu, which expands and collapse with the mouse hover. In this case the menu entry Business PowerPoint Templates navigates the user to a gallery with specific business templates. The user can browse through the template cover slides and click in each product for detailed descriptions. In the same way I searched in the top bar search box for the keyword business template. A new paginated gallery opened, with templates to browse and also individual designs within templates, tagged with the "slide" keyword. This simple searching feature really impressed me as also showing the slides matching my search helped me decide quicker which designs were more suitable for my need, without the need of additional browsing steps.
The Product Section and Download Experience
Once I browsed gallery with my search and context menu, I opened several tabs of the products section. It described the template, its purpose, its possible uses and the designs content. I liked not only the brief of the design and how can I edit it, but also that technical details were also illustrated as apect ratio, color gamut, and PowerPoint compatible versions. An image of each slide can be opened and reviewed. In this way the user can know the content of the template.
In the bottom of the page, the platform suggests related templates, that can help the user shorten its searching path. This suggestions engine is very popular and provides the user a friendly way of looking for similar content than the one searched.
The product description page, is also the download page. With only one click, the user can download the file of the template. But the download feature does not ends there. The user can create downloads lists, and save them for future downloads, create favorites lists and of course share the lists with users of the platform. This feature are more meaningful for regular users and team users that want to share packages of related presentations.
For the advanced plans, a download to cloud accounts is also offered, so users can directly import their template into their cloud platform (for example google drive or dropbox) and later directly edit it in their editing software (Google uses googleslides and Dropbox uses PowerPoint online from Office 365)
SlideModel's PowerPoint Templates
Once I tested the platform's user experience, I decided to start testing the assets itself and their promised value proposition. I'm not a graphic designer and have little to no previous experience in using presentation tools as Microsoft PowerPoint or Apple Keynote or Google Slides. I will describe a brief of the main 5 categories I explored and my perception while using the tool.
Business PowerPoint Templates
As I described before the content of slidemodel is really targeted for the professionals and executives audience. I downloaded a company deck PowerPoint template for my business description. It provided all important sections; ranging from the mission and vision of the company to specific performance metrics. The presentation deck looked awesome, and updating it was pretty straight forward. What I value most of this template was the homogeneous theme that was perfect for company branding.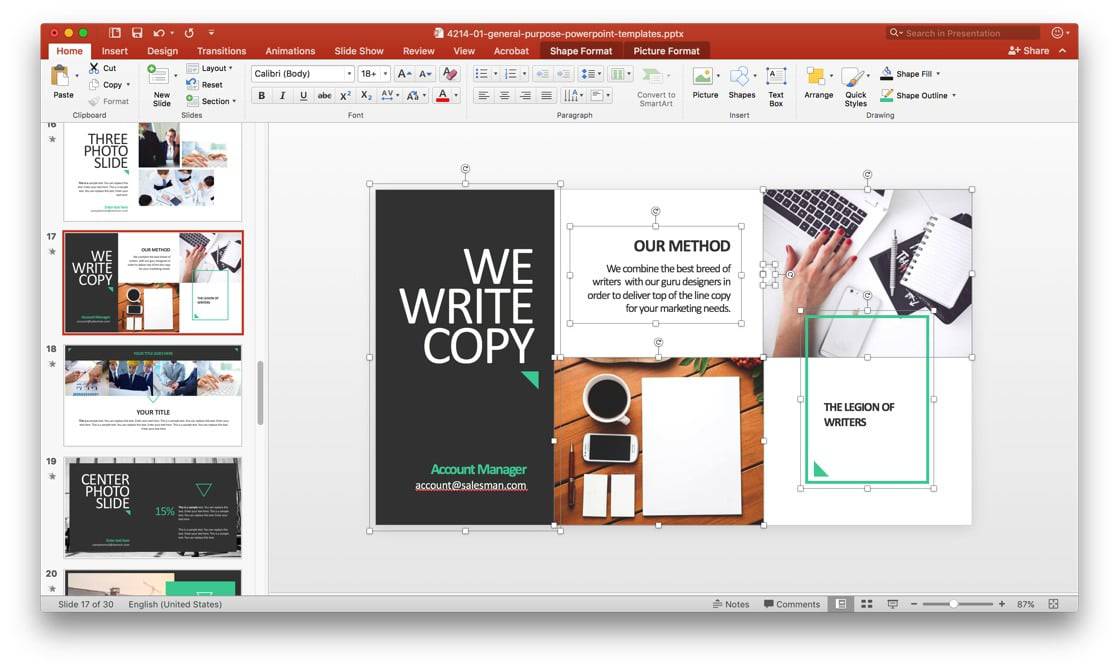 Under the same menu, users can find SWOT, Strategy and Marketing related templates. I downloaded one of the SWOT Analysis Templates (their gallery has a wide offering under this category) and tried editing it. It was simple and really liked the approach of the text placeholders. Ideal for working online and collaborating through PowerPoint Online.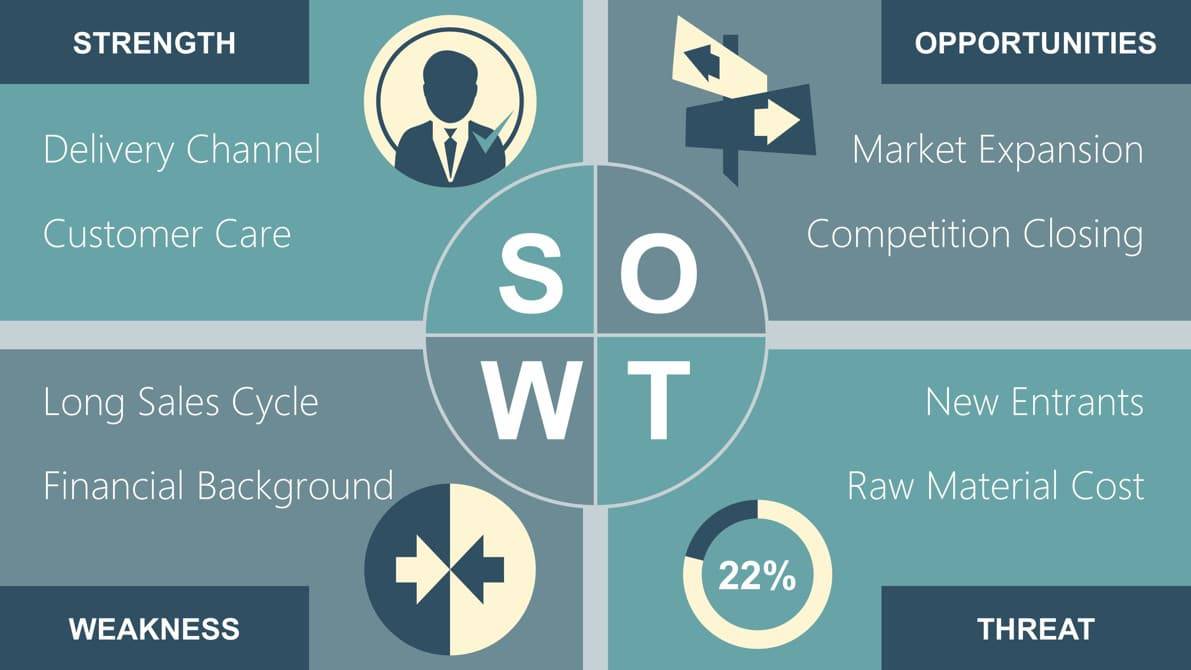 PowerPoint Diagrams
Investigating around the web and some trustworthy bibliography I realized that the diagrams are an excellent tool for focusing the audience attention and to magnify the speakers concepts. Our brain is trained to understand images rather than text, so presenters are encouraged to map the meaning of their concept into diagrams or sequence of diagrams. In this way vectors can map metaphor, and diagrams explain their semantical relationship.
Said this, I explored SlideModel diagram's gallery and I was amused of the different ways I can replace boring bullet points with amazing diagrams, to show the same information. Ranging from network diagrams, steps diagrams, layered diagrams etc. For example, I downloaded a great spoke diagrams for one of my blogs, to explain the components of an SEO strategy: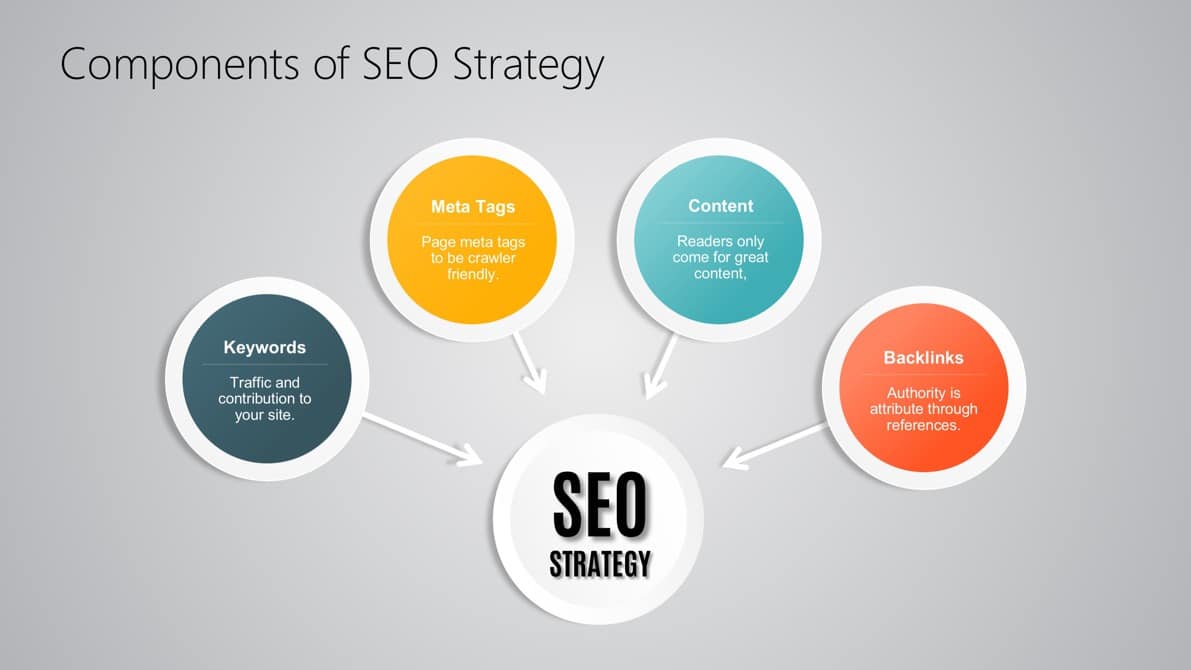 Also, concept diagrams are part of this library, for example the Funnel Diagrams. SlideModel offers a wide range of this kind of diagrams with the focus on Marketing (traditional and online)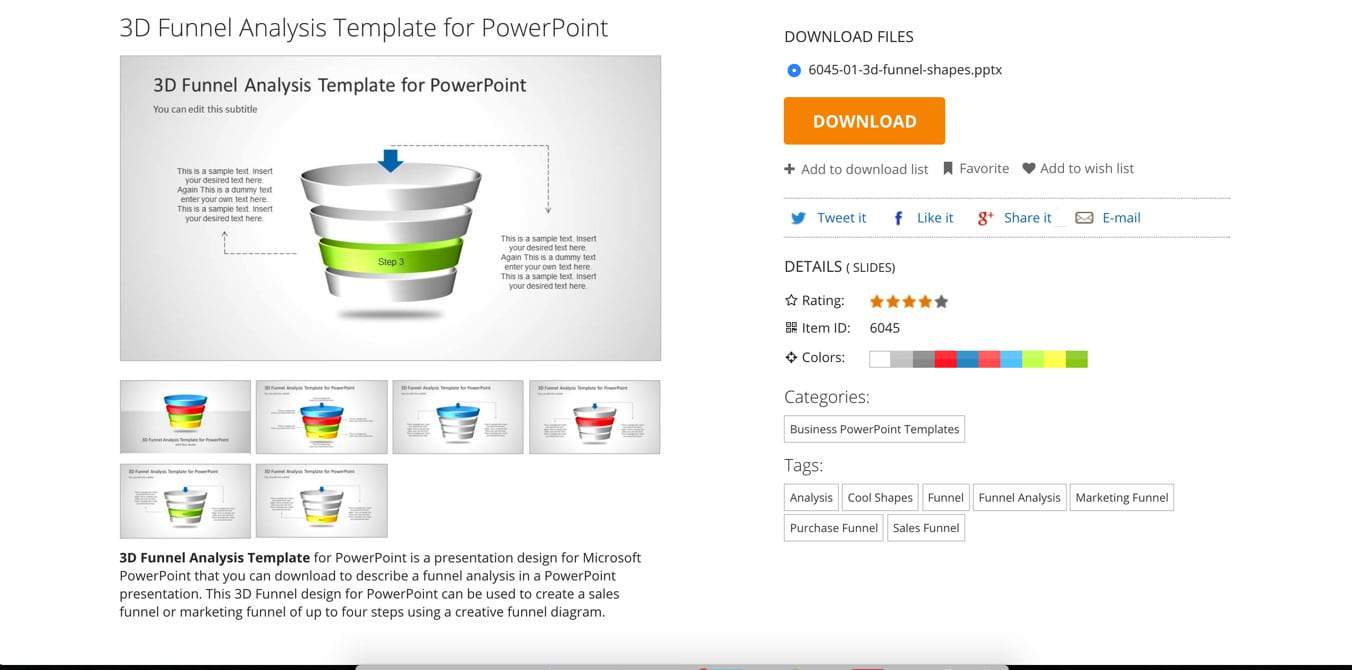 PowerPoint Maps
Maps are one of the most searched keywords in the internet, and that is not completely related to the fact that everyone uses maps for their everyday tasks, but in business maps are an integral part of every presentation of a large geo dispersed organization. Be it for sales, marketing, operations or even storage, organizations are more and more distributed. Every presentation has to show some kind of measure or statistic across geography. SlideModel PowerPoint Maps are extremely helpful for creating infographics and heatmap charts over a region. The user can select the required map, ungroup its regions and color differently each item. In this way the users is free to use the method of display he wants, just working with PowerPoint Objects.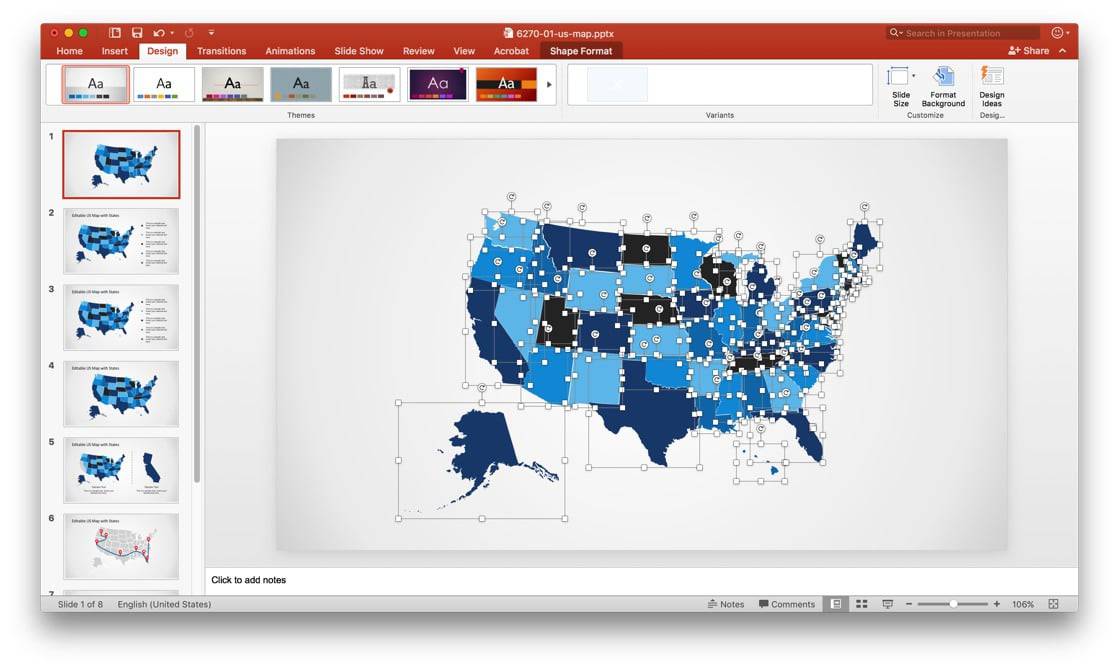 PowerPoint Shapes
An image is worth a thousand words. Never better applied. The gallery of PowerPoint Shapes is an ocean of metaphors and graphic ideas to decorate your message with cool shapes instead of using text or just pasting a photo. Every shape SlideModel provides is created as PowerPoint objects allowing the user to customize their appearance and match their own theme. For example I wanted to try if I would be able to include some shapes in my existing presentations. So I downloaded the 3D Perspective Icons For PowerPoint and created my own version of the cube metaphor: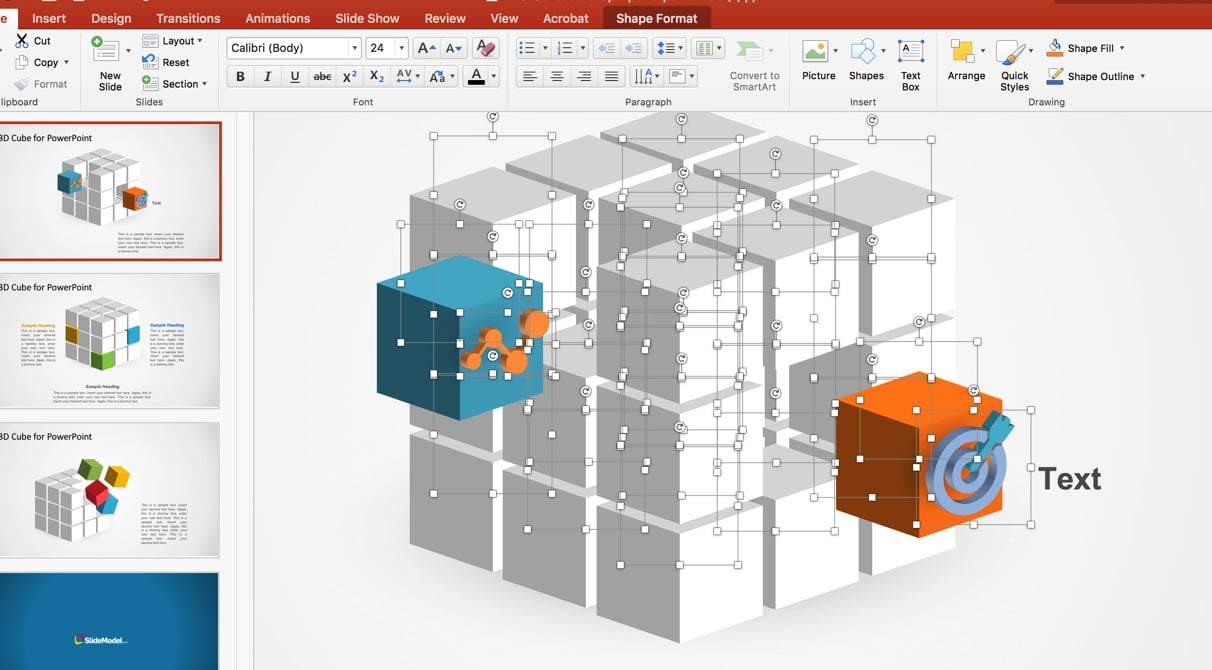 The designs of the shapes gallery are really modern, they combine material design, 3D design and flat design. The shapes look targeted for status reports, and business review meetings, but several topics are covered. For sure the user will find the concept it needs.
PowerPoint Charts
I'm not a fan of charts, neither tables of numbers, but the gallery presents a simple but powerful collection of PowerPoint Dashboards for data visualization. Users can edit each of the data driven elements in every tile. During time, the user can just update the data in the excel and it will have a fully refreshed version of the dashboard. This kind of presentations are ideal for project meetings, profit and loss analysis, business review meetings and for sharing global status of strategic KPI's.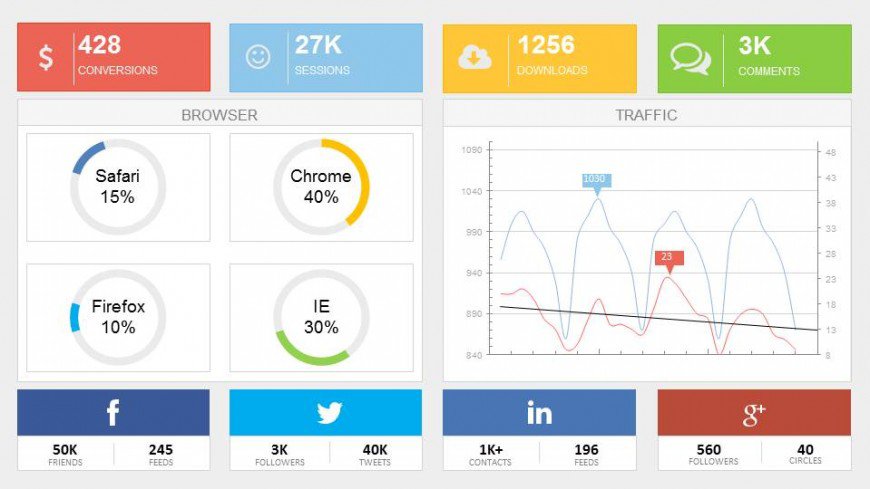 Timelines and Planning
Lastly but not least important, the timelines category brings one of the most popular templates according to the site's statistics. It's amazing designs give life to roadmaps and timelines. Users edit the milestones placeholders with their own content, and they can present a highly visual timeline in less than a minute.No trick, just simple good looking timelines designs that can fit different audiences. My experience was simple, just a road shape with GPS markers and text placeholders fitted my expectation. More sophisticated timeline template are offered, targeting project management and business roadmaps, but there are different flavors in this category for every taste.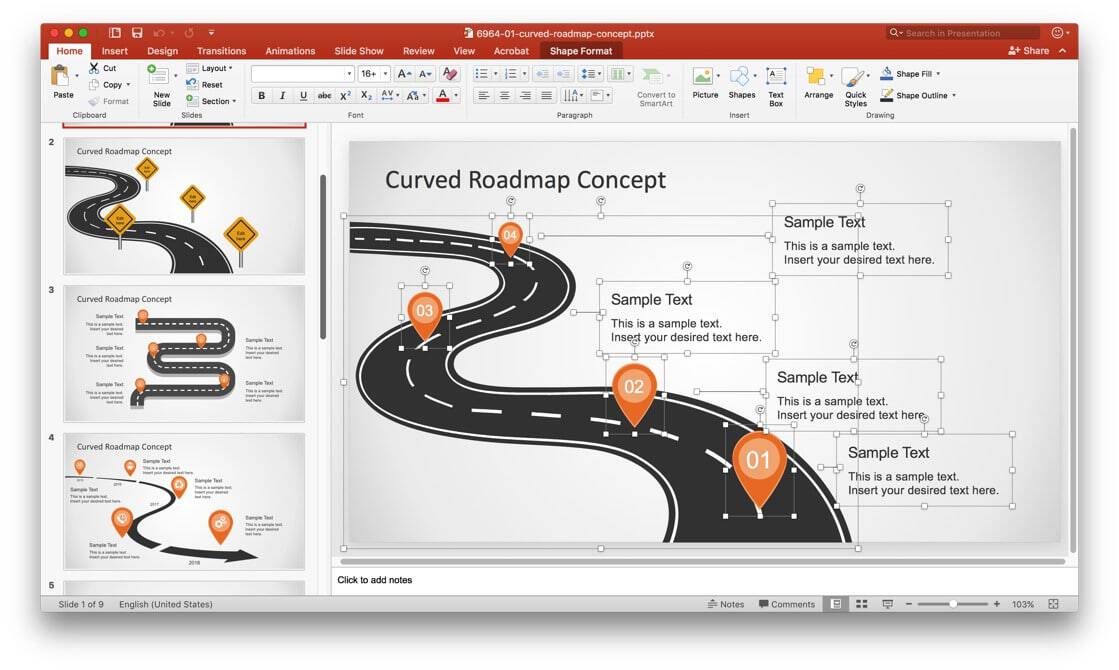 Conclusion
In this post I tested and reviewed one of the most popular options today in terms of Business PowerPoint Templates providers. SlideModel has gained important traction in the industry and keeps innovating in designs and customer support; always aiming to help users create amazing presentation decks. At the day of this review, SlideModel offers three differentiated subscriptions:
One Day Access: This plans seems directed to one time presenters; people that needs to complete only one presentation and just knows which template to download from the gallery. It has a limit of five downloads.

3 Months Basic Plan: This subscription is targeted to designers and presenters that need to create presentations within a time boundary and do not have a clear end date. In this plan users can downloads 100 templates each month. This quota is more than enough for this segment's needs. The sweet part of this plan is that if you need more time, just renew your subscription for another 3 months, without the need of yearly commitment.

Annual Basic: Clearly targeted for regular presenters, designers and consumers of all industries, the plan allows 200 downloads a month with a complete period of 1 year. Also, this plans offers priority support, which allows users to experiment an awesome personalized support experience for their product usage and needs.

Annual Unlimited Plan: Finally, this plan is designed for teams of users, with no quota restrictions and up to 10 seat licences. This users have premium support options.
Hope you have enjoyed the content and that you give a try to SlideModel. For sure the platform, their support team and its content will help you with your presentation decks needs.