Spotify has now pulled several episodes of Alex Jones' podcast for, you guessed it, hate speech
The only person to blame for this latest hit to Jones' wallet, ironically enough, appears to be Jones himself.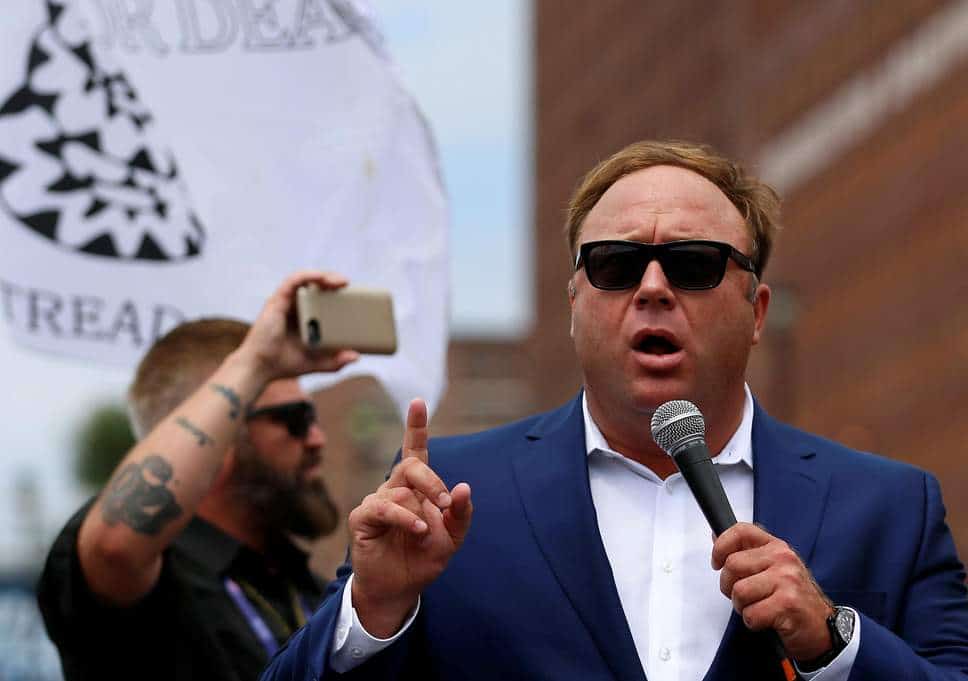 Like a member of Chumbawumba in the late 90's, Alex Jones just keeps getting knocked down. Last week, the InfoWars host received a strike from YouTube and a 30-day ban from Facebook after it was determined that several of his videos violated both platforms policies against hate speech. And now, Spotify has followed suit.
Following an upheaval from angered Spotify users over the weekend, the streaming giant has pulled a handful of The Alex Jones Show episodes from its service for violating its policies regarding (you guessed it) hate speech.
https://twitter.com/RealAlexJones/status/1023943025108627457
"We take reports of hate content seriously and review any podcast episode or song that is flagged by our community," said a spokeswoman in an email to Variety. "Spotify can confirm it has removed specific episodes of The Alex Jones Show podcast for violating our hate content policy."
The only person to blame for this latest hit to Jones' wallet, ironically enough, appears to be Jones himself. After receiving very public comeuppances from YouTube and Facebook last week, Jones attempted to dredge up a little promotion on one of the few remaining sites that would still have him, Spotify. The only problem was, Jones' detractors weren't exactly aware of his presence on the platform until he decided to do so, and launched a counter-campaign to get his podcast pulled mere hours after he attempted to promote it.
Holy shit. Really, @Spotify?

Alex Jones has been responsible for harassing parents of Sandy Hook children, Vegas shooting victims and threatening to kill the Special Counsel. And you're now hosting his podcasts?? https://t.co/dAIYiNKdXP

— Sleeping Giants (@slpng_giants) July 30, 2018
Spotify's decision to pull Jones' content should only account for a minor blip on the conspiracy theorist's radar this week, believe it or not. Jones is currently in Texas appearing at a hearing for one of four defamation lawsuits being filed against him. The suit, which was filed by the parents of Sandy Hook victim Noah Pozner, is seeking damages for Jones' knowingly false claims that the shooting was a hoax led by gun control advocates.
In the five years since the shooting occurred, Veronique De La Rosa and Leonard Pozner have been forced to relocate seven times on account of harassment and death threats sent by Jones' followers, which have prevented them from even being able to visit their son's gravesite.
https://twitter.com/MikeIsaac/status/1024505074582605824
In response to the Ponzer's suit, Jones has, in turn, filed a countersuit against the parents of a school shooting victim he claimed was fake seeking $100,000 in court costs. You know, in case you had any remaining doubts about the quality of Jones' character.
Still taking bets on which service will block, suspend, or remove Jones' from their platform next. What do you think?
For more tech and gaming news, check out:
Follow us on Flipboard, Google News, or Apple News