MediaTek launches Dimensity 9300 flagship mobile chipset
MediaTek is gunning for the top spot with CPU, GPU and AI enhancements.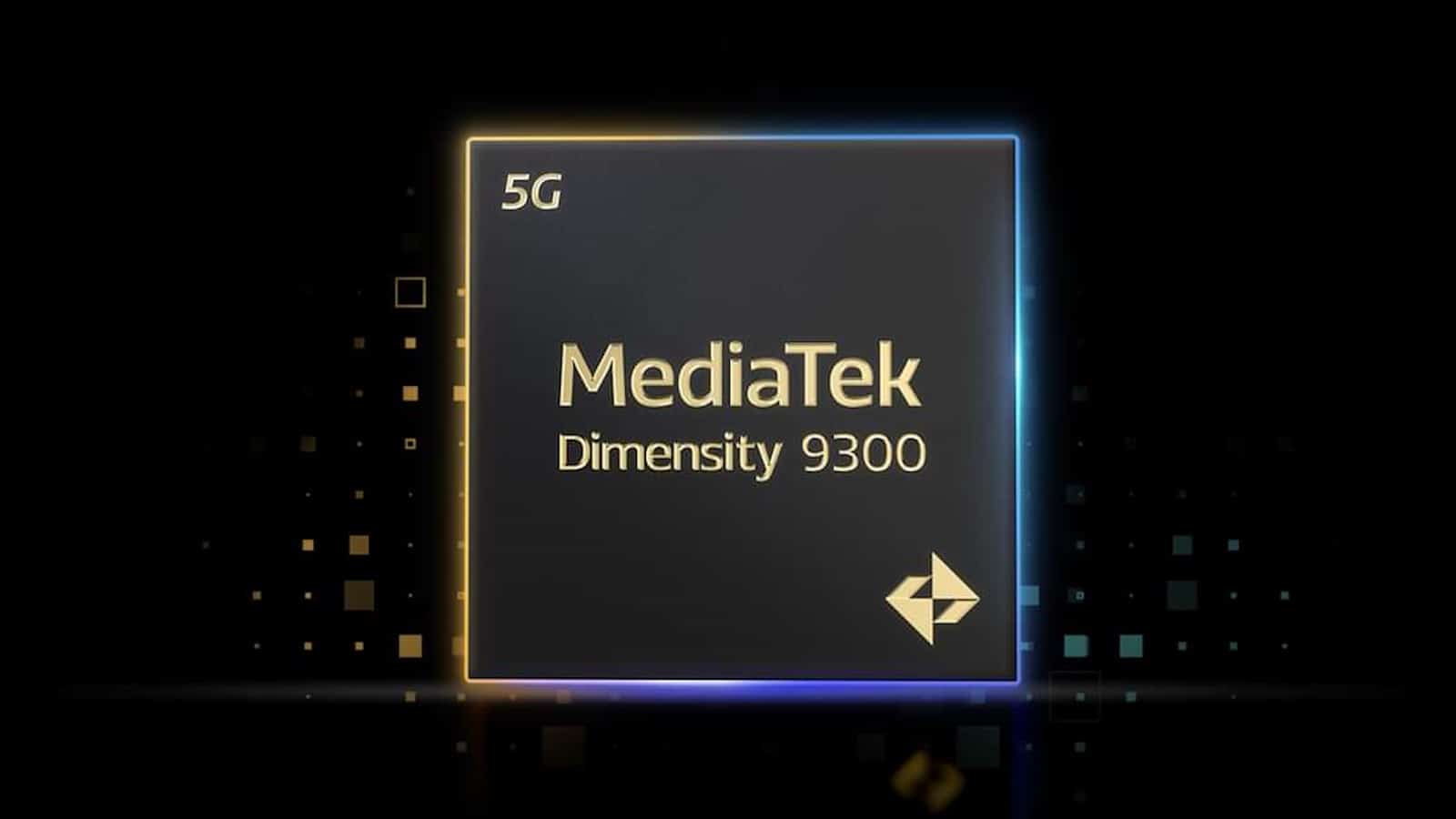 Qualcomm announced its flagship mobile chipset, the Snapdragon 8 Gen 3 recently, and on November 6, MediaTek unveiled its Snapdragon competitor, Dimensity 9300. 
The Dimensity 9300 is MediaTek's flagship mobile chipset, which we expect to see in multiple flagship smartphones in the coming year. According to the company, the new chipset offers major AI, photography, and graphics improvements.
This time, MediaTek has even changed its CPU setup with the hopes of taking on Qualcomm. Whether the company has succeeded or not, we will in the coming weeks. In the meantime, let's take a look at the new Dimensity 9300.
MediaTek Dimensity 9300 specs and CPU setup
Media Tek 9300
CPU Configuration
1x Cortex-X4 @ 3.25GHz
3x Cortex-X4 @ 2.85GHz
4x Cortex-A720 @ 2.0GHz
GPU Configuration
Arm Immortalis-G720
12-core
Hardware ray-tracing
Caches
8MB L3
10MB system-level cache
Storage
UFS 4.0 with MCQ
AI
APU 790
(INT4 support and hardware compression)
RAM Support
LPDDR5T @ 9600Mbps
4G/5G Modem
LTE/5G (integrated)
Sub6GHz and mmWave
7,900Mbps down
Fabrication Process
TSMC 4nm+ N4P
Other networking
Bluetooth 5.4
Wi-Fi 7
This time around, MediaTek is using a new 4+4 CPU setup, sporting four Arm Cortex-X4 cores and four high-performance Cortex-A720 cores.
It's a departure from the traditional layouts we have seen on Android smartphones, including the Google Tensor G3 and Snapdragon 8 Gen 3.
Unlike those chips, there aren't any power-efficient Arm Cortex-A5XX series cores, which may improve the performance vastly but could deliver questionable battery life.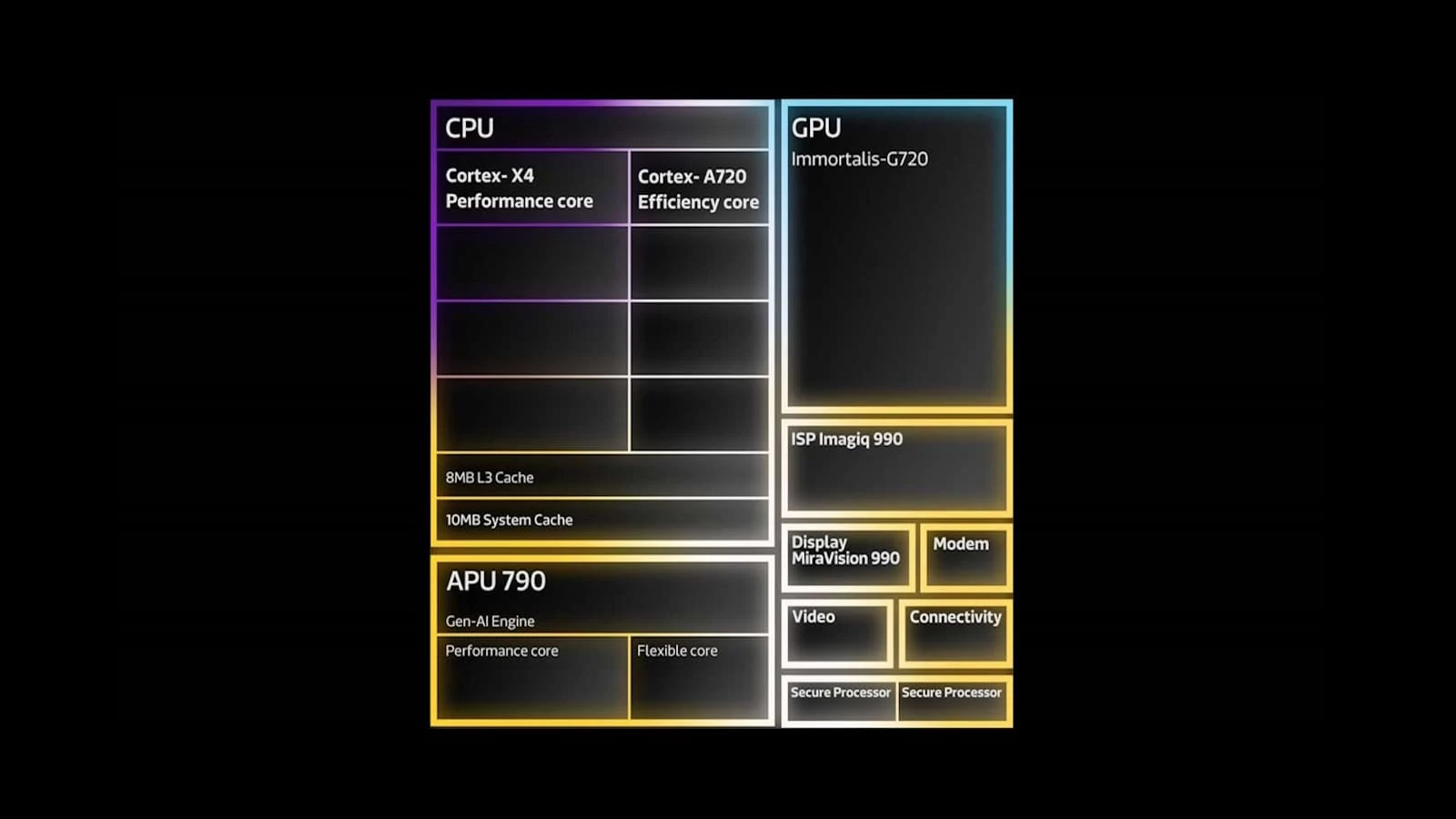 However, the Dimensity 9300 still employs a three-tier CPU approach here, more or less. There's a single larger Cortex-X4 core, clocked at 3.25GHz, while the other cores are clocked at 2.85GHz. 
According to MediaTek, all four cores have the same cache, but the core with the higher clock speed has a larger silicon area to help it get to a higher frequency.
The rest of the four cores are all identical Cortex-A720 cores with a peak cock speed of 2.0GHz.
MediaTek has also paired its CPUs with 8MB L3 cache and 10MB of system cache, resulting in a 29% increase over last year's Dimensity 9200.
Overall, the Dimensity 9300 delivers 15% more performance at the same power or 33% lower power for the same performance as the Dimensity 9200.
Dimensity 9300 is ready for generative AI
It's the trend that you cannot launch a mobile chip in 2023 without generative AI capabilities, and MediaTek has adapted accordingly. 
The company's latest Dimensity 9300 comes with an upgraded APU 790 with twice the integer and floating-point performance, which means better computing power, and 45% less power consumption. 
It is also very effective for numerous machine-learning tasks like voice recognition, image segmentation, etc.
The Dimensity 9300 also comes with specific enhancements for on-device generative AI. According to MediaTek, the new enhancements result in an 8x uplift in performance over the previous generation, the Dimensity 9200.
Regarding the applications, the APU 790 is capable of running 7 billion parameter LLM at 20 tokens per second, which is good enough for real-time AI applications. 
In contrast, Qualcomm's Snapdragon 8 Gen 3 can run a 10 billion parameter LLM at almost 15 tokens per second, which seems fairly comparable.
But there's more…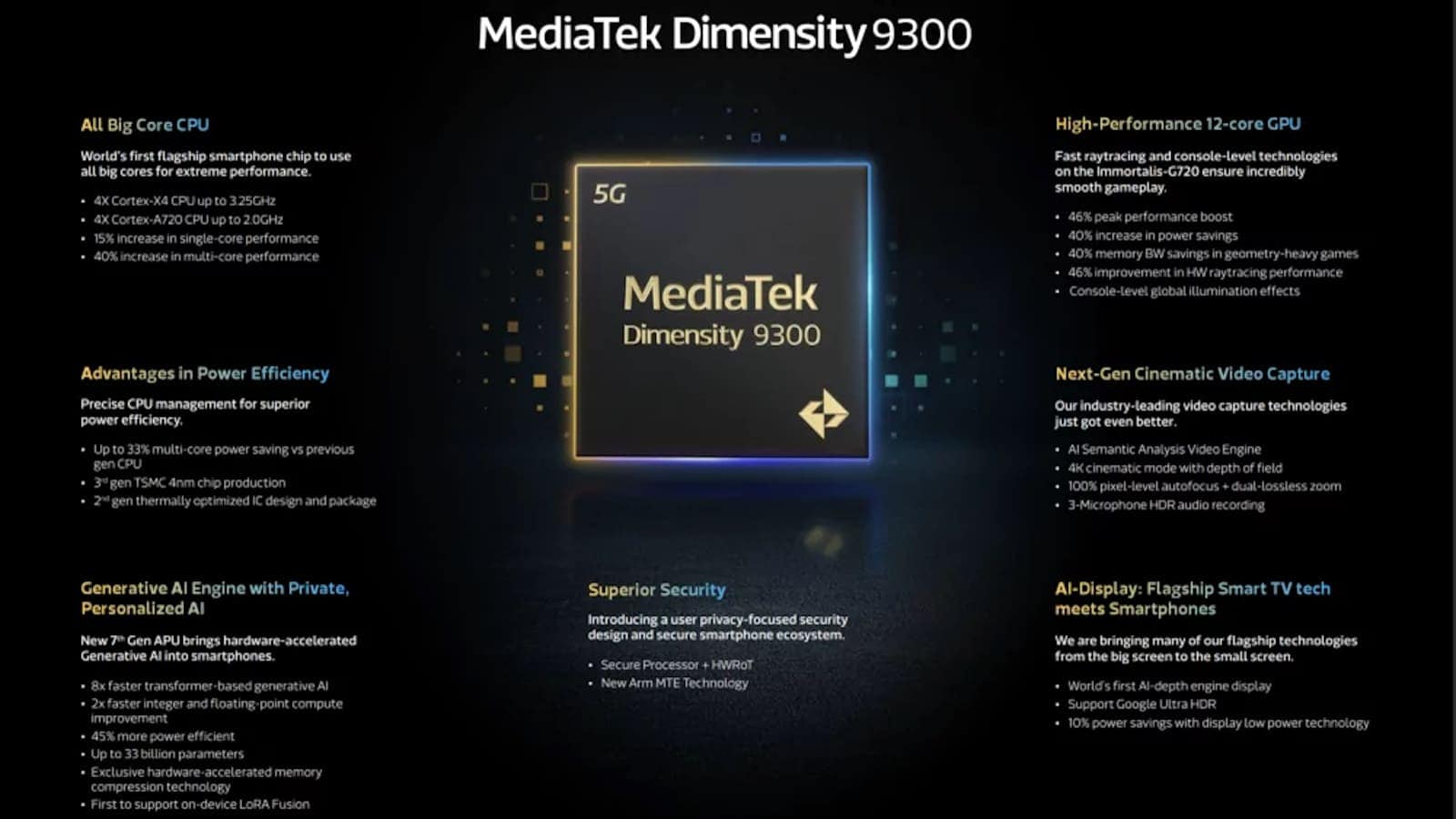 While the new CPU architecture and the AI are the two big pieces of advancements on the MediaTek Dimensity 9300, there are also numerous smaller additions.
For example, if you are a gamer, the new Arm Immortalis-G720 GPU with a 12-core configuration might interest you. The new configuration has improved the peak performance by up to 23% and ray tracing by 46%.
However, the 40% reduction in power consumption for the same level of performance as last year's Dimensity 9200 might be the biggest pro.
The Dimensity 9300 also features a new secure boot chip, an isolated secure computing environment, and Armv9's Memory Tagging Extension that helps developers avoid memory exploits to keep upcoming smartphones more secure.
A few networking upgrades are also there. You will find new integrated support for Wi-Fi 7 and 5G sub-6GHz bands at up to 7Gbps downlink.
MediaTek Dimensity 9300 availability
The US market is pretty centered around Apple and Samsung, while brands like Google, OnePlus, and others make up the rest.
While some of these brands develop in-house chips, others who don't develop their own, usually opt for Qualcomm's Snapdragon. 
So, it is unlikely we will get many smartphones powered with the Dimensity 9300. However, there could still be several Chinese brands that may employ MediaTek's flagship and make their way into the US in 2024.
Have any thoughts on this? Drop us a line below in the comments, or carry the discussion to our Twitter or Facebook.
Editors' Recommendations:
Follow us on Flipboard, Google News, or Apple News