Qualcomm Snapdragon 8 Gen 3 debuts with big performance gains
Get ready for some really powerful flagship phones in 2024.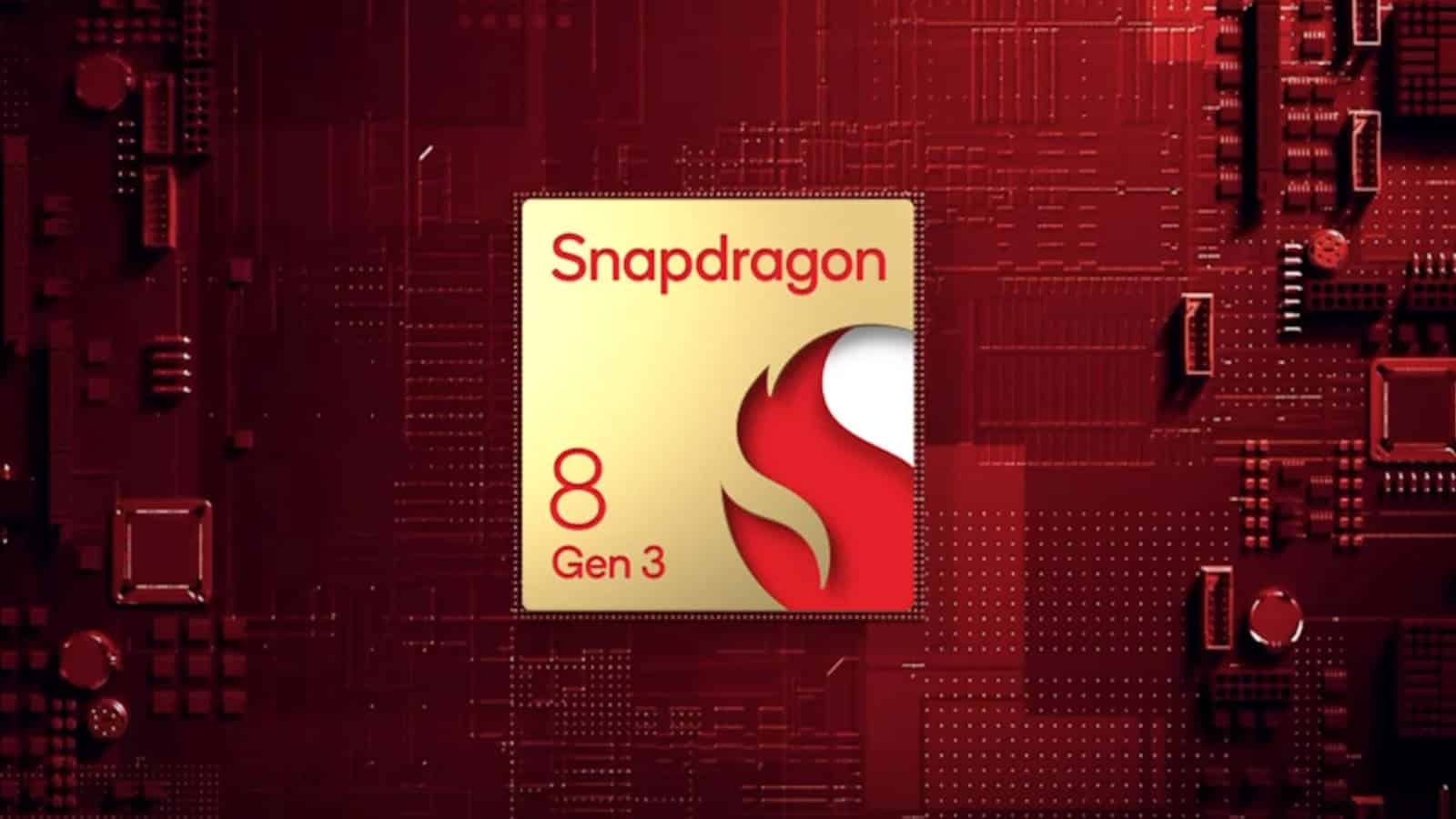 After a long wait, Qualcomm finally announced its next-generation flagship mobile chipset, the Snapdragon 8 Gen 3, during the Snapdragon Summit. The specifications of this chip had leaked only hours prior to the announcement.
So, in the coming months, we will see multiple flagship smartphones from different brands equipped with this new flagship mobile processor sporting an improved CPU, tweaked GPU, AI enhancements, new camera tricks, and more.
Snapdragon 8 Gen 3 CPU: It's all about speed
Qualcomm Snapdragon 8 Gen 3


CPU Configuration

1x 3.3GHz (Cortex-X4)
3x 3.2GHz (Cortex-A720)
2x 3GHz (Cortex-A720)
2x 2.3GHz (Cortex-A520 Refresh)
GPU
Adreno (ray tracing support)
DSP
Hexagon (fused scalar, tensor, and vector)
Mixed precision INT8/INT16
INT4 support
RAM
LPDDR5X

Camera Support
200MP single shot
108MP single with zero shutter lag
64MP+36MP with zero shutter lag
Triple 36MP with zero shutter lag
Hybrid AF
10-bit HEIF image capture
HDR video
Dolby HDR photo
Multi-frame noise reduction
Real-time semantic segmentation for photos and videos (up to 12 layers)
Video super-resolution
Video Capture
8K @ 30fps (HDR)
4K UHD @ 120fps
720p @ 960fps
Night Vision Video Capture (4K/60fps)
Charging
Quick Charge 5
Modem
X75 LTE/5G (integrated)
10,000Mbps down
3,500Mbps up
Bluetooth
Bluetooth 5.4
Other Connectivity
Wi-Fi 7, Wi-Fi 6/6E (802.11ax), Wi-Fi 5 (802.11ac), 802.11a/b/g/n
Fabrication Process
TSMC 4nm (N4P)
The Snapdragon 8 Gen 3 chipset has adopted a new 1+5+2 CPU setup. In contrast, its predecessor, the Snapdragon 8 Gen 2, had the conventional 1+3+4 CPU core arrangement.
The new Gen 3 setup consists of a single Cortex-X4 big core, five Cortex-A720 medium cores, and just two Cortex-A520 Refresh small cores.
According to Qualcomm senior director Karl Whealton's statement, the "Refresh" moniker appears due to minor differences.
Qualcomm also has finally dropped the 32-bit apps completely and has adopted 64-bit-only cores.
In addition, Qualcomm is offering some pretty impressive clock speeds. The big core clocks at 3.3GHz, while three of the medium cores are clocked at 3.2GHz, and the other two are running at 3GHz.
The last two small cores are clocking at 2.3GHz. The L3 cache has also increased to 12MB from last year's 8MB.
Now, the additional medium core, higher clock speeds, and larger L3 cache add up to a considerable performance leap, and that's what happened here.
According to Qualcomm, the Snapdragon 8 Gen 3 delivers 30% faster performance compared to the Snapdragon 8 Gen 2, and the CPU is 20% more efficient.
Furthermore, Qualcomm has confirmed that the latest chipset was developed using TSMC's 4nm fabrication process, making Apple's A17 Pro the only mobile processor developed with a smaller, 3nm process right now
Snapdragon 8 Gen 3 GPU: faster and more efficient
The Snapdragon 8 Gen 3 is using the new Adreno GPU, which is claimed to be 25% faster and 25% more efficient than the previous generation. Even Ray Tracing gets a 50% performance boost.
In addition, Qualcomm is offering two game-related features only when you output a Snapdragon 8 Gen 3 device to an external display – 8K gameplay and 240Hz support.
This is outstanding. It means you can play supported games at up to 240fps. We can expect gaming phones to get QHD+ screens now, instead of the FHD+ staple.
The AI empowerment
Generative AI is everywhere, and no wonder Qualcomm is taking advantage of it. According to the company, the new Gen 3 chipset features upgraded Hexagon NPU, which is designed for generative AI.
According to the company, the notable improvements include up to 98% faster performance, a 40% efficiency boost, a two-fold boost to bandwidth in large shared memory, and more bandwidth feeding the Tensor Accelerator.
The chipset supports large language models with over 10 billion parameters running at almost 15 tokens per second.
Also, Qualcomm intends to showcase an AI system demo running on-device during the Summit, powered by Meta's Llama 2 LLM – the demo offers "end-to-end" voice support.
Personalization is another interesting addition. According to Qualcomm, it'll use your device's sensors, like GPS, Wi-Fi, microphone, Bluetooth, and camera, to personalize chatbot queries.
It doesn't end here; there's more!
The Snapdragon 8 Gen 3 is a feature-packed mobile chipset, and here are a few notable features you need to know about.
The Snapdragon 8 Gen 3 brings generative AI to the table for video capture, allowing users to implement Stable Diffusion for creating a background for recorded videos.
The new chipset also supports Google's Ultra HDR photo format.
In addition, the Gen 3 supports Samsung's latest Zoom Anyplace tech that uses a 200MP camera to simultaneously capture a 1x video and a 4x video with object tracking.
The Snapdragon 8 Gen 3 doesn't shy when it comes to performance boost. The new chipset brings up to 3.5X with INT4 support, 30% more memory, and dual always-sensing ISPs. (A front-facing ISP and a rear-facing ISP)
You will also get sharp-looking shadows in the supported games due to the Snapdragon Shadow Denoiser.
The Gen 3 chipset also supports 24-bit 96KHz lossless audio.
When is the Snapdragon 8 Gen 3 coming?
If you are a Snapdragon fan, you don't have to wait long for Qualcomm's latest flagship mobile chipset.
According to the company, the first smartphone equipped with the Snapdragon 8 Gen 3 will be dropped in the coming weeks.
However, the first brands to adopt the latest Snapdragon silicon are usually from China, and they tend to launch the smartphone in the home country first. So, it is best not to expect a global launch.
Meanwhile, brands like ASUS, HONOR, IQOO, Meizu, NIO, Nubia, OnePlus, OPPO, Realme, Redmi, REDMAGIC, Sony, Vivo, Xiaomi, and ZTE have all confirmed Snapdragon 8 Gen 3 equipped smartphones.
However, we have also noticed Samsung is conveniently absent from this list, which isn't unusual. The Korean brand was also missing last year, and the company still launched the Galaxy S23 series with its special version of Snapdragon 8 Gen 2.
Have any thoughts on this? Drop us a line below in the comments, or carry the discussion to our Twitter or Facebook.
Editors' Recommendations:
Follow us on Flipboard, Google News, or Apple News