Review: Pengo 4K HDMI Grabber – Affordable 4K* capture card
We'll explain the * later.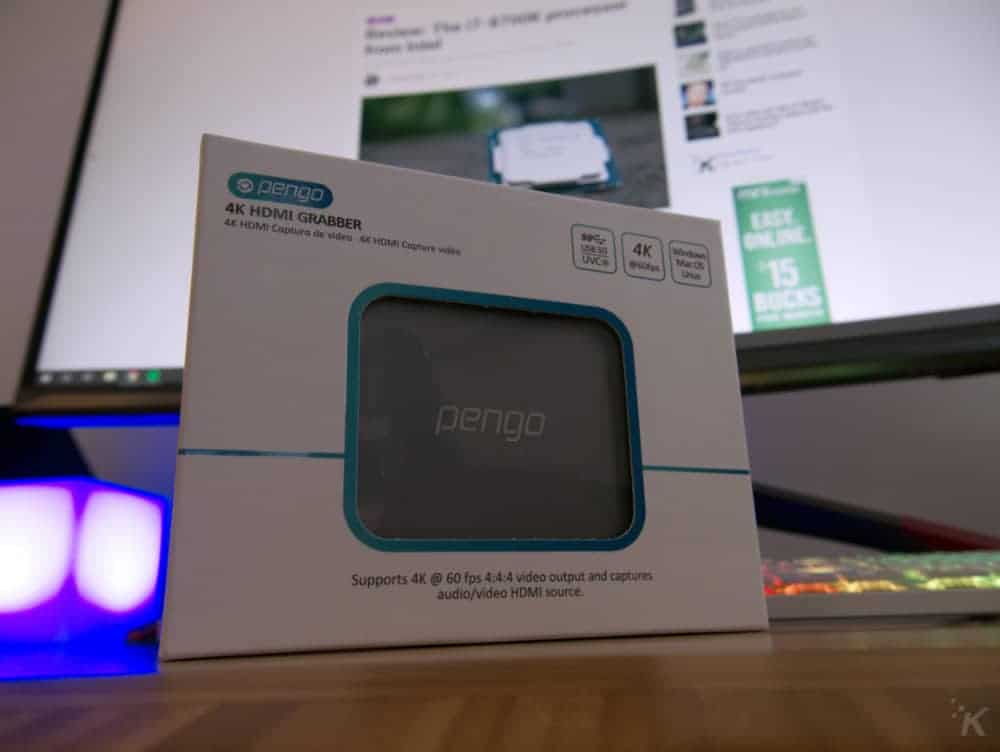 The Good
Good value
Clean output
Mic in port and headphone monitoring port are useful
UVC device so plug and play in Windows
The Bad
4K isn't 4K all through the device, just the passthrough to HDMI out
USB-A as output is just weird
Livestreaming is big business nowadays, and the quality of your content is key. Of course, your personality is also key, but we can't do anything about that. What we can do is increase your production quality, so that means lighting, on-screen elements and a better way of capturing your gameplay or camera.
Elgato and Avermedia are the current capture card kings in the arena, and now we're seeing capture cards from other companies trying to take their share of the market. One device is this 4K HDMI Grabber from a relatively unknown company, Pengo.
The HDMI Grabber is a UVC 1.0 capture device, which means that it uses the standard inbuilt Microsoft video drivers so it's plug and play with any software capable of seeing camera input from a webcam. Yes, that also means no additional software or drivers, making this a simple-to-use device to set up. Pengo also claim MacOS and Linux support, you'll have to find software that can deal with UVC devices to do so.
The box itself is pretty simple from a design perspective, which also means it blends pretty well into your setup. In contrast to similarly-priced devices, it's inside an aluminum casing. That's an important point to note, the utility of USB based capture cards like this is that you can transport them easily so having it encased in metal adds to durability. There are two HDMI 2.0 ports that are 4K-capable at 60fps, a USB-A port to connect to your computer, and headphone/mic 3.5mm jacks.
Those 3.5mm jacks let you use your headset to hear what you're playing in real time, and also use your mic to pipe into your content. This is a nice addition that most other capture cards don't have, and is likely made possible by it being a UVC device.
USB-A as an output? Unfortunately yes, and this technically breaks the USB specification. I'm not sure why a D-port or the more common micro/mini/C ports weren't used here. It'll possibly be a problem to connect to your setup. The included cable is about a foot long and you'll be hard-pressed to find a longer replacement.
So here's where I explain the * in the title. The Pengo HDMI Grabber can record up to 1080P at 60 fps max. So while the HDMI 2.0 ports are 4k 60fps, the capture device scales down internally to 1080P. And only 1080P, I couldn't change it to a custom resolution in OBS as I would in an Elgato card. Putting encoded 4k across USB is a tall order anyway (the only devices use 4K 30fps with subsampling), so you might not miss it.
That said, it feels slightly wrong to market the 4K feature when it won't output that to your recording. This happens a lot on camera monitors as well, where just the passthrough functionality is 4K. To be fair to Pengo, this is mentioned in the specifications page on their site.
That 4K passthrough works for Xbox, PS4 Pro, and PC. It's also capable of taking the output from Nintendo's Switch, and that's what I tested it on extensively. Over a several hour session on Twitch, I noticed barely any skipped frames, certainly within what I'd expect. I tested at 4500 and 6000 bitrates to see if it clogged. Now the Pengo HDMI Grabber did lose signal to my PC a couple of times, possibly due to heat. That was when I dropped the bitrate to 4500 and made it so the bottom of the capture card was in the air, as well. After that, I had no other issues for the hour that I was testing.
I had far more disconnects with my Elgato HD60 USB capture card though, so that's something to bear in mind. Really you want a PCI-E card in a dedicated streaming PC to handle the bandwidth that encoding needs, but these USB devices are handy for portability and value.

Audio capture was flawless, once I realized that OBS was seeing the Pengo as Pengo Microphone and changed settings accordingly. The audio is mixed into the HDMI signal at 48 kHz, and that also brings your headset microphone into the PC so you can mix it in. It's a far more elegant audio solution than fighting with an onboard sound card, and is great for those who don't quite yet want to upgrade to a dedicated mixer and XLR mic. The Pengo HDMI Grabber can add a lot of value to your streams in this way.
Should you buy it?
At the current price of $150 on Amazon, in a word – yes. If you're livestreaming to Twitch/Mixer/YouTube/etc you're probably only going to be sending 720p60 max anyway until you get to Partner. The Pengo HDMI Grabber gives a clean output with very good picture reproduction and minimal visual artifacts (in fact I couldn't see any in several hours, go watch my archived vids to see for yourself).
If you look over the 4K marketing, it's still a solid capture card. With UVC USB-based capture cards that barely manage 4K at 30fps costing two to three times, it's a great alternative to the Elgatos of the space. The metal casing adds value, as does the headphone monitoring port and mic in port. That makes the Pengo HDMI Grabber a viable alternative to buying a standalone mic and mixer or fighting with Windows sound settings.
 A sample unit was provided for the purpose of this review.
Editors' Recommendations:
The Good
Good value
Clean output
Mic in port and headphone monitoring port are useful
UVC device so plug and play in Windows
The Bad
4K isn't 4K all through the device, just the passthrough to HDMI out
USB-A as output is just weird
Follow us on Flipboard, Google News, or Apple News