How to download Amazon Alexa on Windows 10 and 11
The functionality is limited, but it should improve in the future.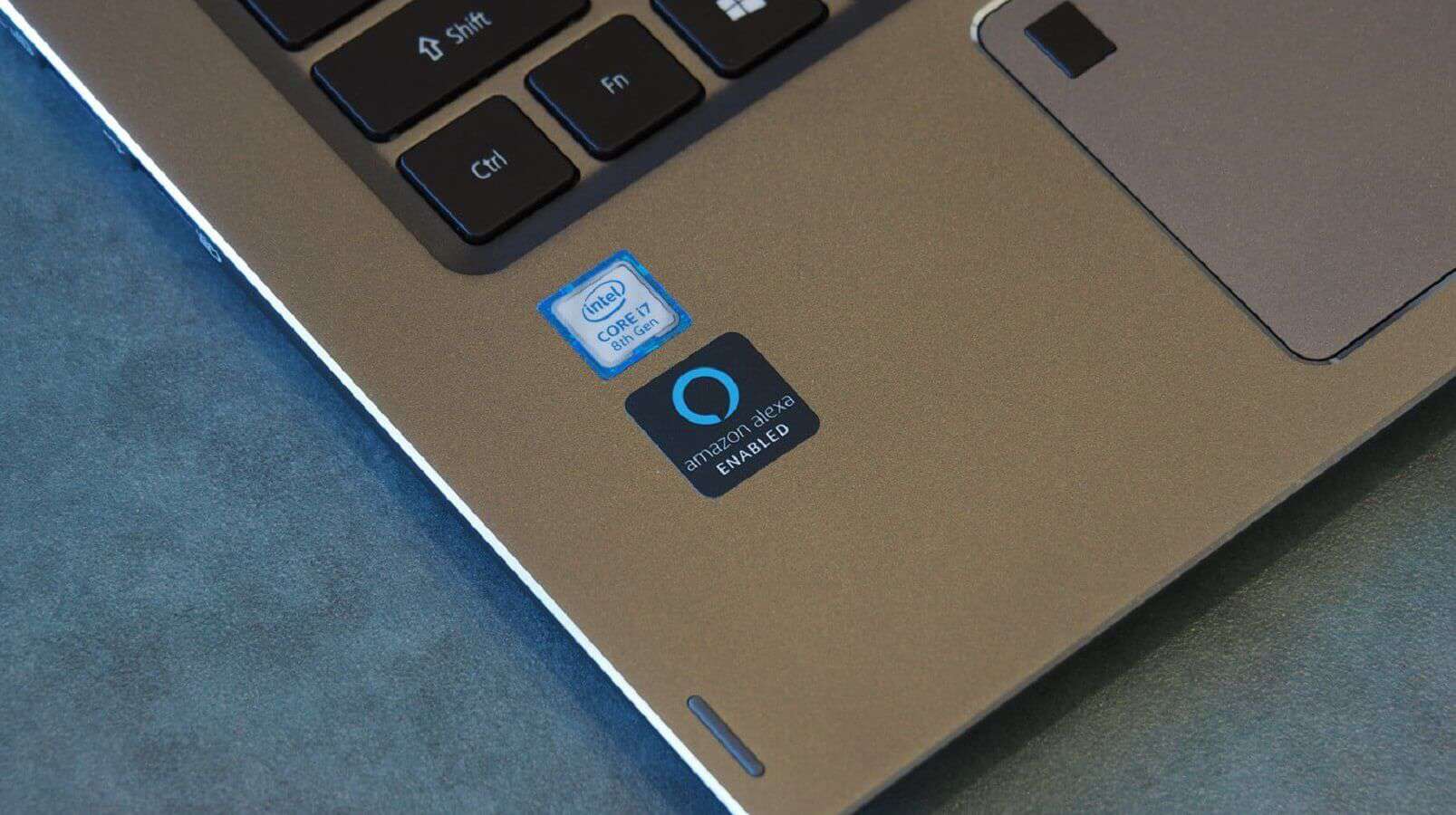 Did you know that you could use Alexa on your Windows 10 or 11 PC? Well, now you do.
Alexa has come a long way since 2018 when the voice assistant came pre-loaded on some laptop models. Now she's available to anyone with a Windows 10 or Windows 11 PC.
You get the majority of Alexa's functionality on your computer, which makes her a perfect choice to install if your home is already full of Amazon's voice assistant.
You can use her to do tasks, communicate, and more. Alexa's also a terrific way to reduce boredom, as you can talk to her when you're bored. She'll tell you jokes, and more, which is perfect to take a little break from your productivity tasks.
What can Alexa do on your Windows 10 or 11 PC?
The Alexa app for Windows isn't quite as fully featured as the one found on Amazon's own devices. You can still use the voice assistant for many tasks, including smart home tasks or multitasking on your PC.
Once installed, and signed into your Amazon account, Alexa is all ready to go. The biggest thing is that features that were locked to specific devices in the past are now available to everyone.
You can enable a wake word. You can also use Show Mode, which turns your PC into a smart display.
Alexa can play music for you, with multiple sources including Spotify, Amazon Music, Pandora, Tidal, iHeartRadio, TuneIn, SiriusXM, and Deezer. She can grab your audiobooks from Audible. She can also play internet radio.
One neat new ability is changing the volume on your computer, so you can focus when you need to.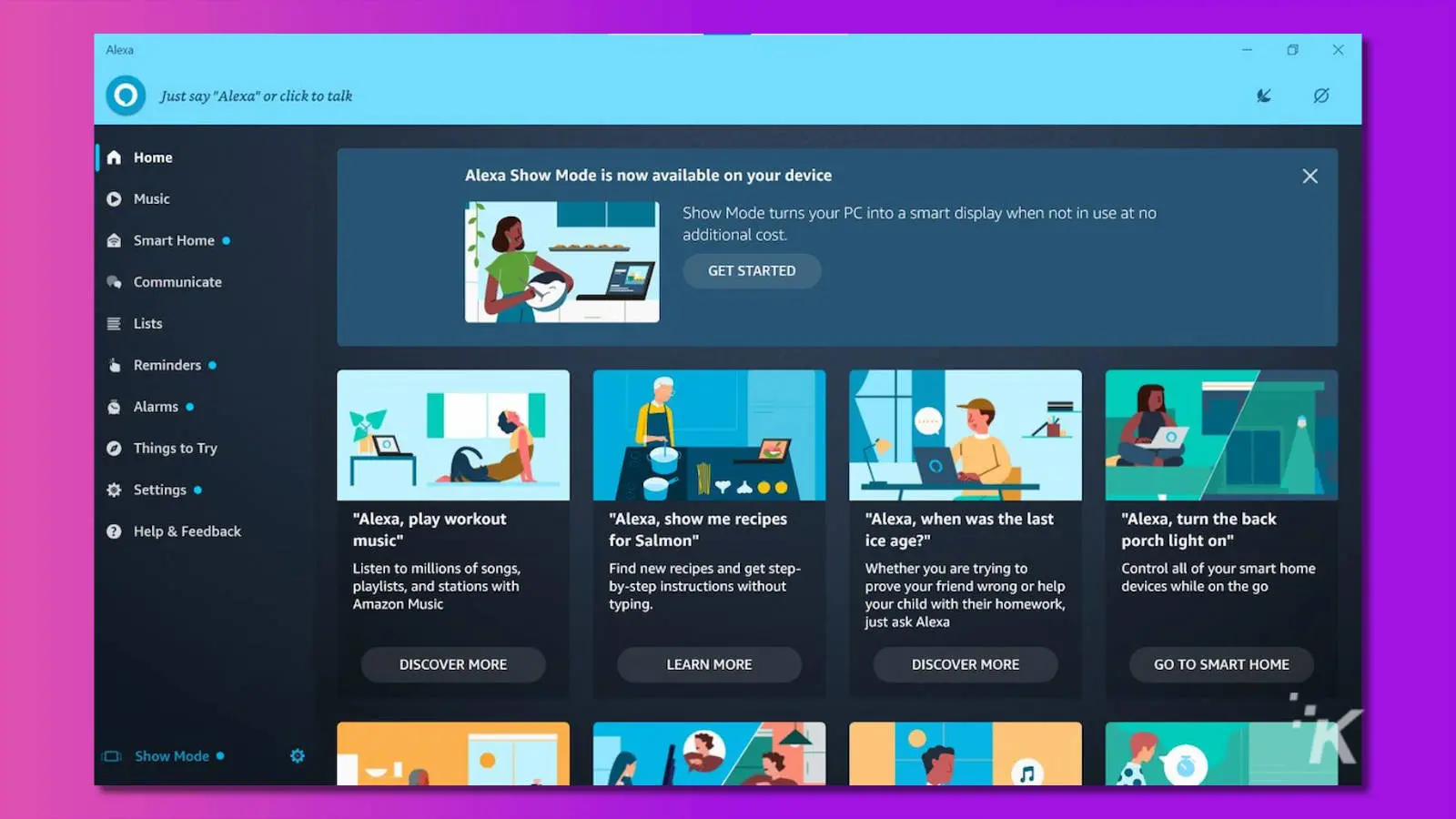 Alexa can also help you manage your Smart Home, make to-do lists, and set reminders and alarms. Those are all synchronized across all your Alexa devices.
Video communication with the Alexa app for smartphones, PC, and tablets, and supported Echo devices is also possible. Amazon has also included a Things to Try section, which will give you a whole bunch of other things to try out on your PC.
Add in Amazon's microwave and you can make popcorn from your PC without moving. It's almost like our future will be the one in Wall-E.
More about the collaborative work with Microsoft and Amazon
Amazon's Alexa app follows the cooperation between Microsoft and Amazon by putting their voice assistants on the other's systems. While Microsoft's Cortana has been relegated to tasks, Amazon keeps adding more features to the Alexa app for Windows.
Also, part of that collaboration is Alexa-enabled devices being able to control the Xbox One console. That's still a thing, and owners of the Xbox Series X or Xbox Series S can use the voice assistant to do simple tasks on their console.
To download Alexa on your Windows 10 or Windows 11 PC, head to the Microsoft store and download the app.
Have you tried Alexa on your Windows 10 or Windows 11 PC yet? Plan on it? Let us know in the comments.
Editors' Recommendations:
Follow us on Flipboard, Google News, or Apple News