Magic Leap One is another step forward in mixed reality headsets that you can't afford
Robert Scoble is taking a bath with one right now.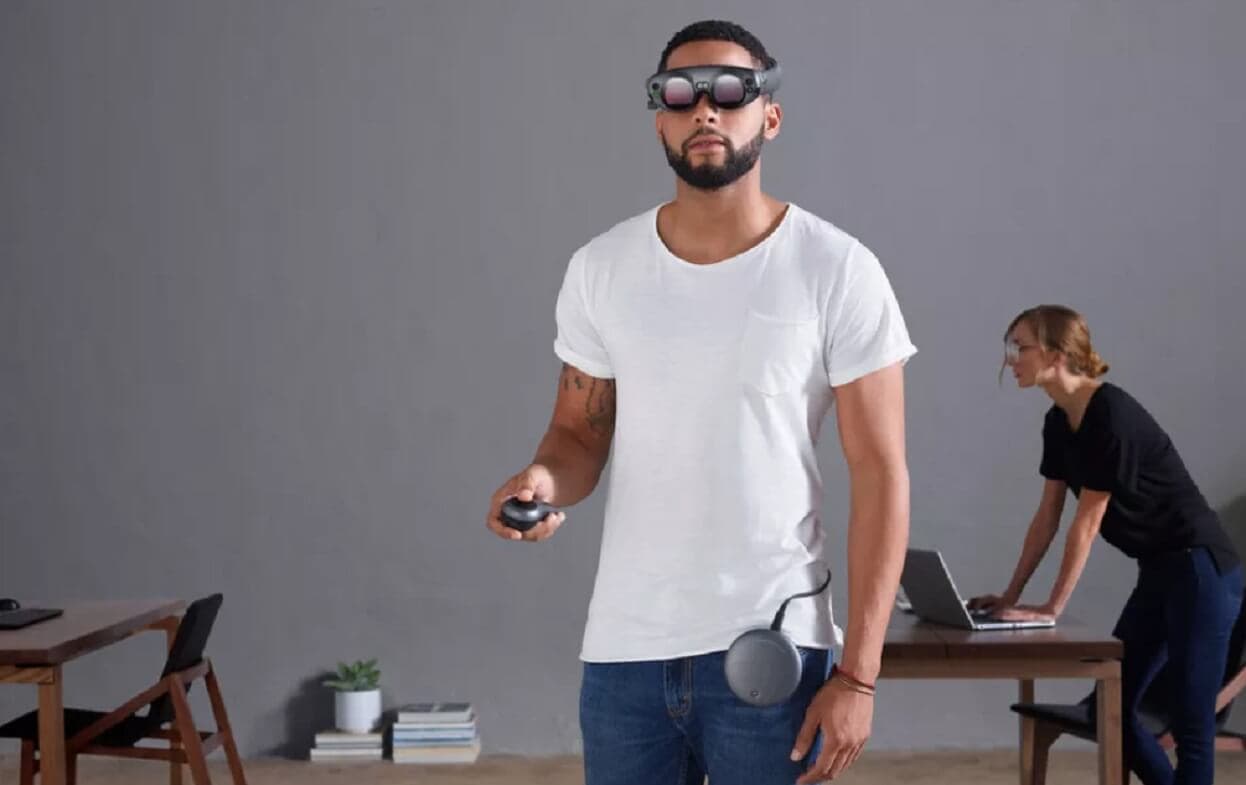 With two billion in funding and a facility deep in alligator country (Plantation, Florida), the secretive Magic Leap One has finally been released. Like Microsoft Hololens, the Magic Leap One is not cheap and appears to be aimed at a market segmentation that isn't parallel with most of the technology in your home. If you were looking for a Google Cardboard replacement, this isn't it.
On first impression, Magic Leap One appears to be a toy for wealthy technologists — sweater vest wearing pricks who always got picked on in college while they were sweating away in the computer lab and their peers were playing ultimate frisbee — to entertain guests with while they spike every Fresca in the parlor with MDMA.
The $2,295 price tag is pretty steep. While it's aimed at creators and developers, the software pack appears to be aimed at people who are bored with Candy Crush but not skilled or inspired enough to get into actual gaming. Further solidifying the fact that the Magic Leap One is not for the everyday user, it requires white glove service for set up. The service personally delivers the device and fits it to your face. It's like your cable repair person giving you a reach-around — not entirely necessary, but if you are already paying for it, may as well enjoy it.
The Magic Leap One headset looks like something out of an 80s science fiction movie, like the imager goggles worn by General Kala's agents in the control room. However, it appears to be another step forward in creating a less blocky headset. It also includes a controller and the permanently wired Lightpack, which you wear on your waist like a portable CD player. This CD player, which is not a CD player, rocks a Nvidia Tegra X2 chipset, 8GB of memory, 128GB of storage and a battery with about three hours of life.
If you want more tech specs, CNET has a good rundown. Meanwhile, The Verge went deep with Magic Leap, concluding that the device is an interesting piece of technology, but lacking in its content offering and practical applications. This is not the headset worn by the visitors to the Oasis in Ready Player One, this isn't even the sex headset worn by Lenina Huxley and John Spartan. This is the tech that might lead to those things. This is the Betamax of mixed reality headsets. Everything before it was reel-to-reel.
The Magic Leap One might be learning from the mistakes of Google Glass by providing a wider worldview of what the technology might lead to, but there's no reason to think a company like Apple won't come out with something that is not only more consumer friendly but further down the mixed reality rabbit hole. Until Magic Leap starts working with the porn industry — the one industry with the power to make or break a new media format — then it's just another mixed reality headset that rich assholes tell people they own while under-tipping at restaurants.
If your idea of a fun time is sitting on the couch, eating pizza rolls from your intelligent oven and diving into mediocre mixed reality apps because the mushrooms just kicked in and you've got three grand to spare, then maybe the Magic Leap One is the device you've been waiting for. But you're probably better off spending that money on a Surface Go and actually producing something. Mixed reality to this point is entertaining, sure, but it's not productive — and that's a problem.
Sure, the Magic Leap team is pushing this headset to creators and developers, but what is being developed besides silly visuals a few eye-tracking games? What connectivity apps and AI tools are there baked into the Magic Leap? Oh, there's a painting too and a multiple display tool. Be still my beating heart. The future is here. We can paint pretty pictures in mixed reality.
It's pretty apparent that the Magic Leap One is not a consumer product. It might give us a glimpse into the future of augmented and virtual reality products, but only a select few will get that glimpse. Once tech journalists grow weary of its existence, Magic Leap will have to work to create a version that can exist outside the bubble of disposable income and more toward mainstream adaptation.
Right now, it's akin to the first run of DVD players back in the late 90s, an expensive precursor replacing old technology while pushing innovation further. There is a highly connected world out there with wearables, but it's not going to be changed by one single expensive headset.
What do you think about the Magic Leap One? Is it something you would purchase? Let us know below.
For more tech news, make sure to check out:
Follow us on Flipboard, Google News, or Apple News