Review: Withings Body Comp Scale
The Withings Body Comp Scale gives you a deeper understanding of your body.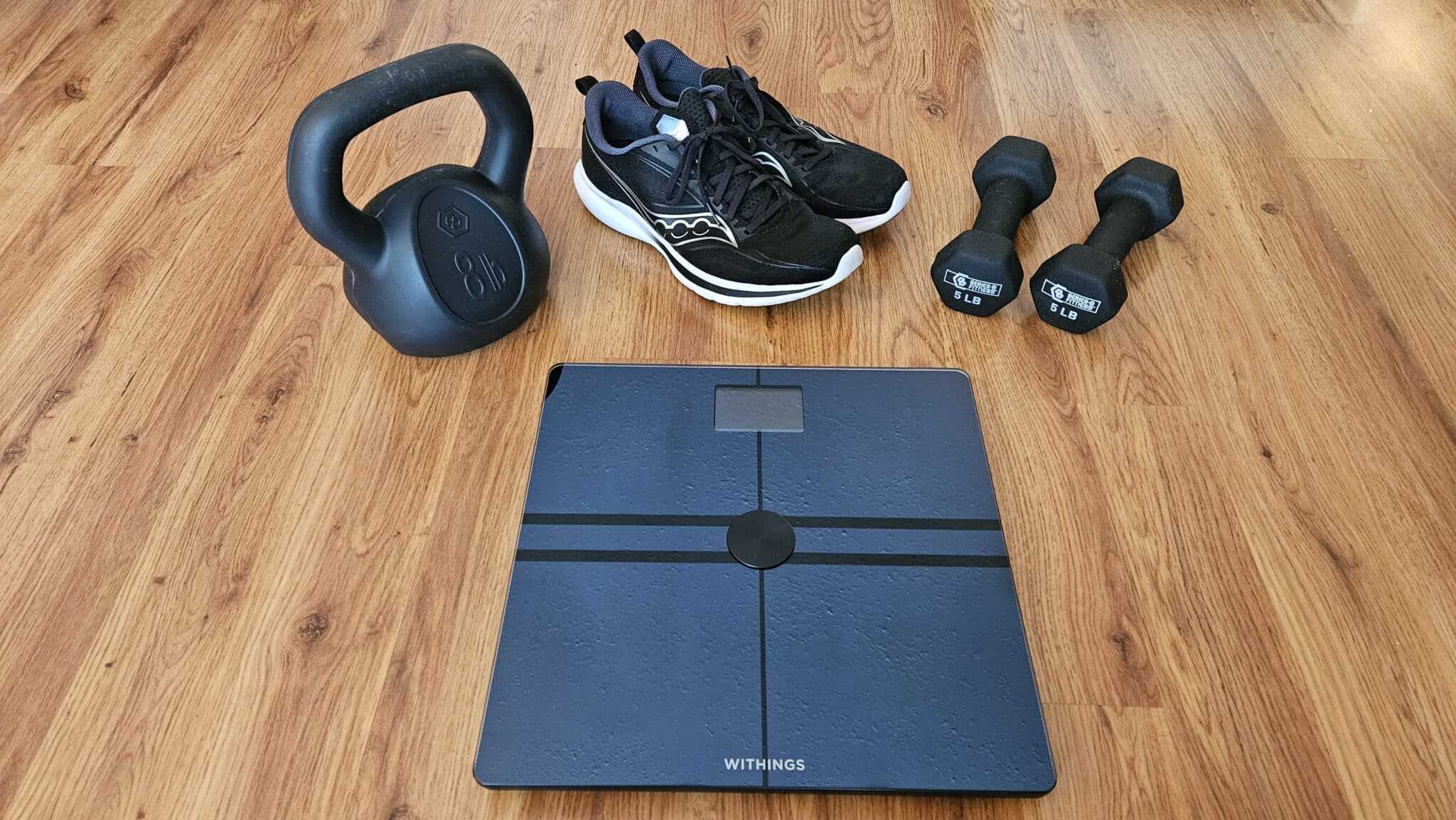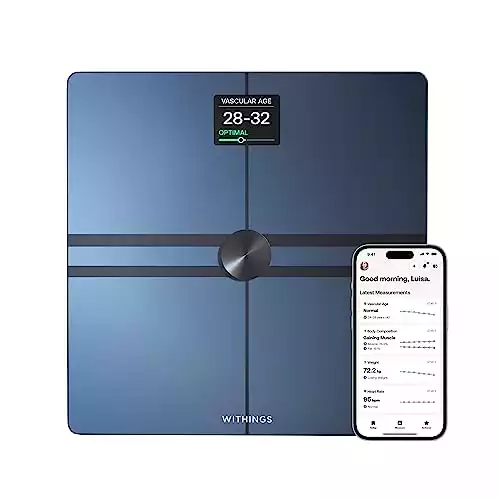 Withings Body Comp Scale
Quick Verdict: The Withings Body Comp Scale is a great smart scale for anyone who takes their health seriously. It's a pricey option but the level of detail this scale gives is second to none.
Pros:
Gives a comprehensive overview of your health

Health Mate is fantastic

Can keep you motivated when the weight isn't coming off
Cons:
It's expensive

Withings Body Smart Scale offers similar features for less
KnowTechie is supported by its audience, so if you buy something through our links, we may get a small share of the sale.
12/11/2023 06:30 am GMT
If you have shopped for or researched scales anytime in the past 15 years, you have likely come across various models from Withings. The company produces some of the best smart scales on the market with deep health tracking features for any budget.
The Withings Body Comp Scale we're looking at today takes the Body Cardio Scale and ratchets things up a few notches.
At $200, this scale isn't cheap, and that's fine, as it wasn't designed for those who want to track weight. Scales of this caliber aren't for everyone.
Instead, Withings targets those who understand and value the power of tracking health metrics over time.
Additionally, your weight can only give you a birds-eye view of what's happening. The Body Comp Scale gives you a more holistic view of your overall health.
Design
The Withings Body Comp Scale looks exactly like your standard run-of-the-mill smart scale, albeit very pretty.
The Body Comp is the perfect size at 12.8 x 12.8 x 1.1 inches. Its square shape isn't too bulky but leaves ample space to get on without fear of it tipping over.
The top of the scale is made from tempered glass and can hold individuals up to 440 pounds. Vertical and horizontal lines run from edge to edge across the top, breaking the look of the deviceinto four quadrants.
It's a subtle design but is effective at making it pleasing to the eye. You can also find the scale's 2.8-inch color LCD display near the device's top edge. With a resolution of 320 x 240, the display is large and easy to read.
Flipping the device over reveals a plastic underbelly and four feet. The Body Comp Scale was designed to be used on a hard surface, but Withings does include four additional feet that allow this scale to take measurements on a carpeted surface.
The bottom also houses four AAA batteries needed to make this scale run. It is available in either black or white.
Setup
To get the most out of the Withings Body Comp Scale, you will have to download the Withings Health Mate app and create a profile.
Using your profile allows the scale to seamlessly transfer your weight and body composition data directly to the app on your Apple or Android device.
The scale doesn't necessarily force you to download the app or create a profile, but it severely limits the device if you don't.
Without the app or shape, you will be limited to a fancy, expensive, dumb scale that can only track your weight. To track any body composition, the scale needs to recognize who is on it, and the only way to do that is by creating a profile.
The scale pairs with your device in two ways. The first and more convenient method is to connect the scale to your Wi-Fi network.
This allows the scale to automatically send the results directly to your online profile. Your phone doesn't have to be near you for this to happen, making it super convenient.
If, for some reason, you prefer to keep the scale off of your network, it can connect directly to your phone via Bluetooth. Just know you'll need your phone near you to transfer results.
Luckily, if you forget your device, the scale can store up to 16 readings if it can't sync at that moment.
Withings Body Comp Scale Performance
The Body Comp Scale can track many biometrics beyond your weight, BMI, and weight trends. You also get heart rate and vascular age, important for your overall health.
It can also give you a complete body analysis by tracking your fat and water mass, visceral fat, muscle and bone mass, extracellular and intracellular water, BMR (Basal Metabolic Rate), and Metabolic Age.
This tracking happens in about 10 seconds and, more importantly, is consistent. We couldn't verify the measurements, but after a month of monitoring, they looked what we expected.
The consistently accurate results allow you to track your progress, with the four weight sensors offering within .11 pounds of precision.
I began exercising at the onset of getting this scale, and while my weight hasn't budged much, it has been fantastic to see my visceral fat and fat mass decreasing while my muscle mass has increased.
If I had a traditional scale, I would have been disheartened by my lack of progress, but the insight I got from this scale has allowed me to peek deeper into my health journey and show I am making progress.
The scale can track all this by sending a small electrical signal through your feet and then calculating how long it takes to return. You don't feel anything, and if I hadn't read up on it, I would have just accepted it as magic. 
To test the scale's accuracy, I stood on it, let it do its thing, and then got off. I then got on again and went through the cycle all over again.
No matter how often I repeated that process, the results were always the same. The clinically validated Body Comp Scale has been the most consistent scale I have ever used.
Health Mate App
All the metrics in the world won't do you any good if you don't have a coherent way to view them. Luckily, the Health Mate app is well-designed and easy to use. You can also view your data on the web.
Loading the app drops you on your home screen, where you can see your latest measurements. There's also a Measure tab, which gives you access to your health data.
Selecting a measurement opens a new and more detailed window for that specific measurement. Choosing the weight tile gives you complete insight into your overall weight.
You can get a breakdown of your weight over the past week, month, quarter, year, or all time. This is presented to you in an easy-to-read graph. Scrolling down gives your Body Mass Index, BMR, and metabolic age. 
Selecting the Body Composition tile opens a similar graph showing your muscle, fat, and skeletal mass. Scrolling down reveals your visceral fat, lean mass, and water mass.
There are additional tiles for your vascular age and electrodermal activity.
The Health Mate app isn't limited to just scales. Withings creates various health accessories and can aggregate your information into one easy-to-see location.
The Health Mate app can also integrate with Apple Health, Google Fit, Fitbit, Samsung Health, MyFitnessPal, and other applications.
Alternatives to the Withings Body Comp scale
Final Verdict 
The Withings Body Comp Scale has been an accurate and eye-opening journey into my overall health. Whether you are well into your health journey or just getting started, this scale can provide valuable insight into many facets of your body.
This is especially true if you are in the early stages of improving your fitness. 
The data that you can get from the Body Comp scale allows you to track your progress.
It also allows you to dive deeper into that data, so when the weight isn't dropping, you can still track your progress in other ways, such as monitoring your muscle and fat mass or visceral fat.
The Body Comp is an accurate and easy-to-use scale.
It is expensive, and the Withings Body Smart Scale offers many of the same features for a lot less, but if you want something that doesn't compromise on the data it can give you, you can't do much better than the Body Comp Scale.
It can be found through Withings or from various retailers such as Amazon or Best Buy.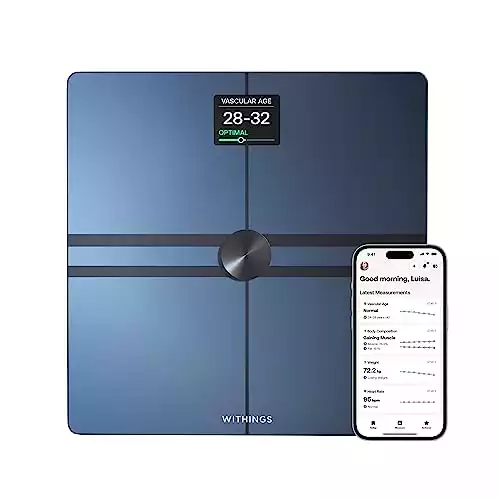 Withings Body Comp Scale
The Withings Body Comp Scale gives you a comprehensive look at your overall health. This scale digs much deeper than your typical smart scale by giving you access to health metrics like your muscle mass, fat mass, lean mass, and even your visceral fat.
KnowTechie is supported by its audience, so if you buy something through our links, we may get a small share of the sale.
12/11/2023 06:30 am GMT
Editors Recommendations:
Just a heads up, if you buy something through our links, we may get a small share of the sale. It's one of the ways we keep the lights on here. Click here for more.
Follow us on Flipboard, Google News, or Apple News