Elon Musk & Twitter: a definitive timeline
From his first Tweet to "Let that sink in" and beyond.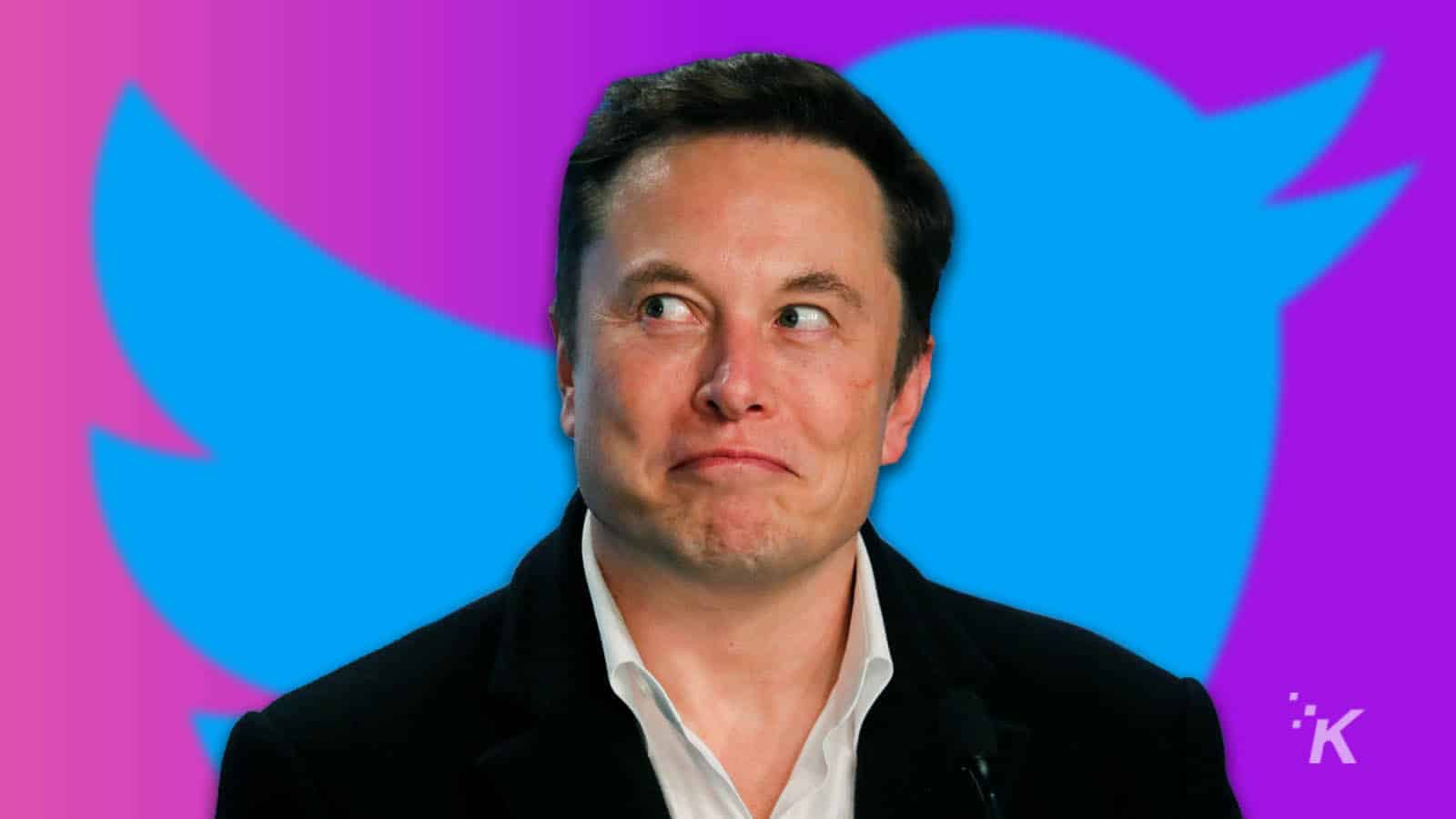 On October 27, 2022, entrepreneur and erstwhile richest man in the world, Elon Musk, made headlines by investing a staggering $44 billion of other people's money to acquire Twitter.
The popular micro-blogging social media platform has been struggling to turn a profit since 2019.
In principle, I don't believe anyone should own or run Twitter. It wants to be a public good at a protocol level, not a company. Solving for the problem of it being a company however, Elon is the singular solution I trust. I trust his mission to extend the light of consciousness.

— jack (@jack) April 26, 2022
In celebration of the one-year anniversary of Twitter founder Jack Dorsey publicly endorsing Elon Musk's initial takeover bid, we've decided to compile a definitive timeline of Elon Musk's relationship with Twitter.
Join us as we take a journey through the key moments that led to this significant milestone in the tech world.
Where it all began
Elon Musk created his Twitter account around June 2009 when he was roughly 38 years old.
A Wayback Machine archive from August 1, 2009, provides a glimpse into the early days of his account, revealing the first 20 accounts he followed.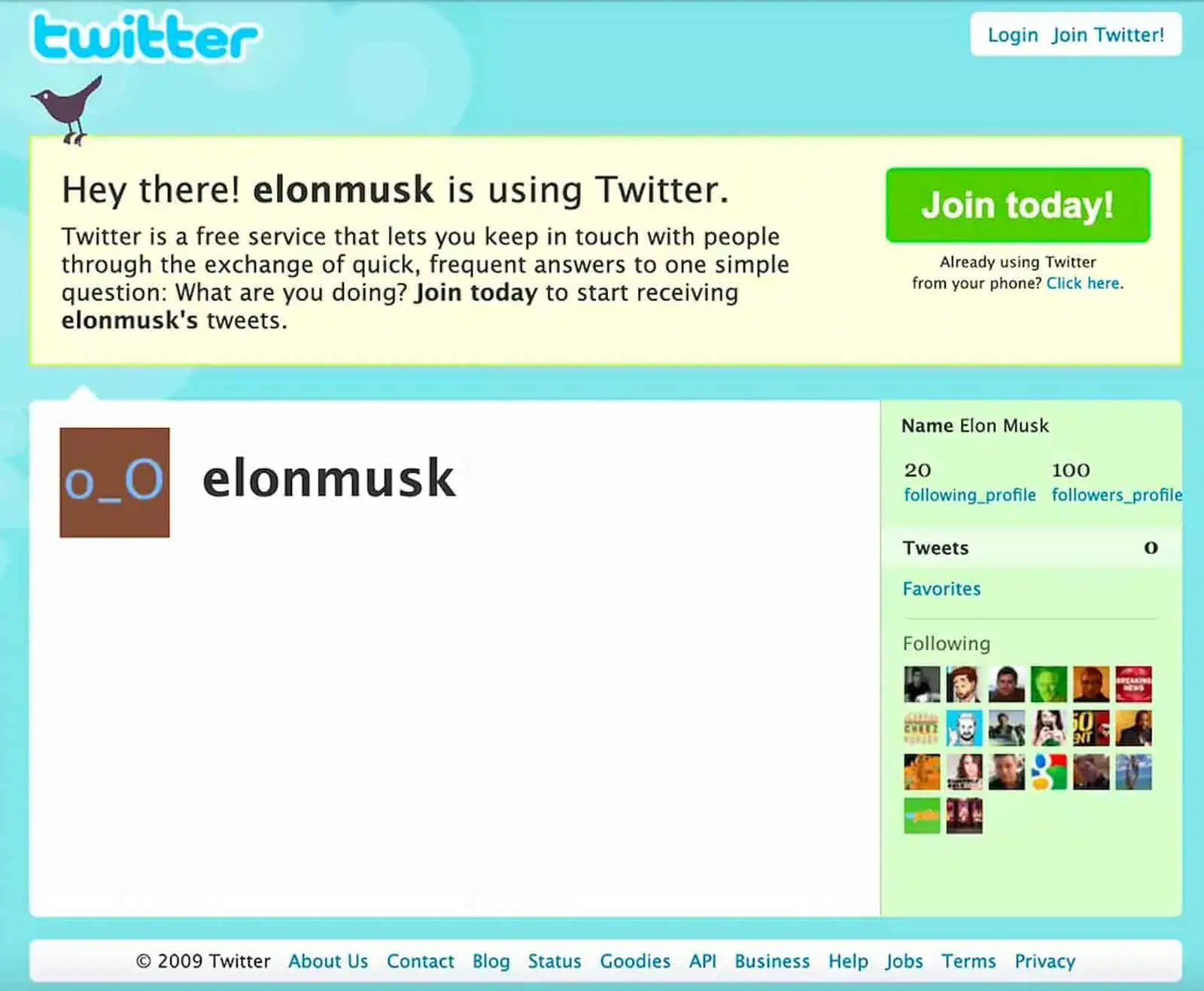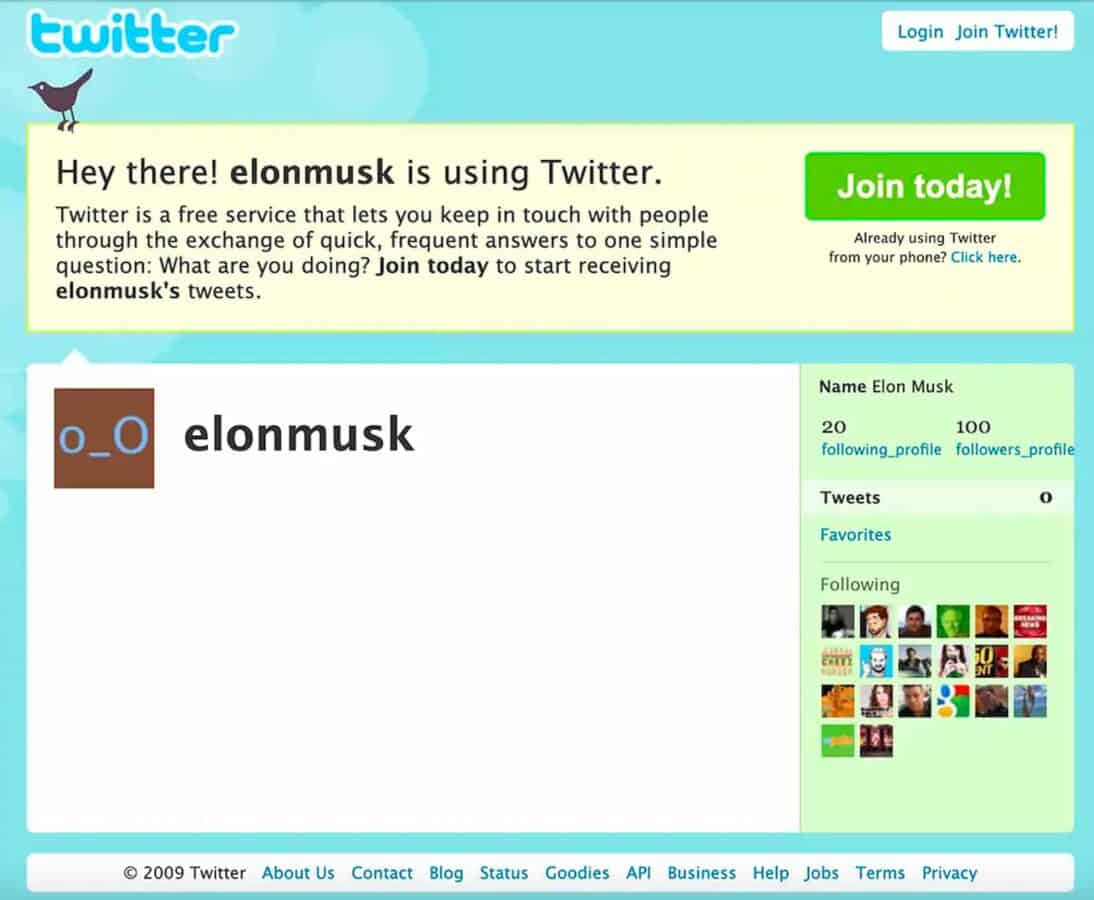 You can see see a mix of meme accounts, Star Trek actors, journalists, and a handful of others.
A few of these accounts may have been among the recommended ones, but even at this early stage, we can already see Elon's eclectic taste for curating his Twitter timeline.
The first 20 accounts Musk followed were: PeoplePETS, Wil Wheaton, Tony Hawk, Michael Ian Black, Google, Jack Gray, Kimberly Cole, Cake Wrecks, LeVar Burton, 50 Cent, Digital Royalty, Terry Moran, SomeEcards, I Can Has Cheezburger, BreakingNews, ReadWrite, Tim O'Reilly, Steven Johnson, Kevin Rose, and PoliticalNotes.
Elon's first Tweet
To Elon's credit – his first Tweet, dated June 4, 2010, is still live. Strangely it seems he has not yet muted notifications on this post, because as of 2021 he was still replying to the thread.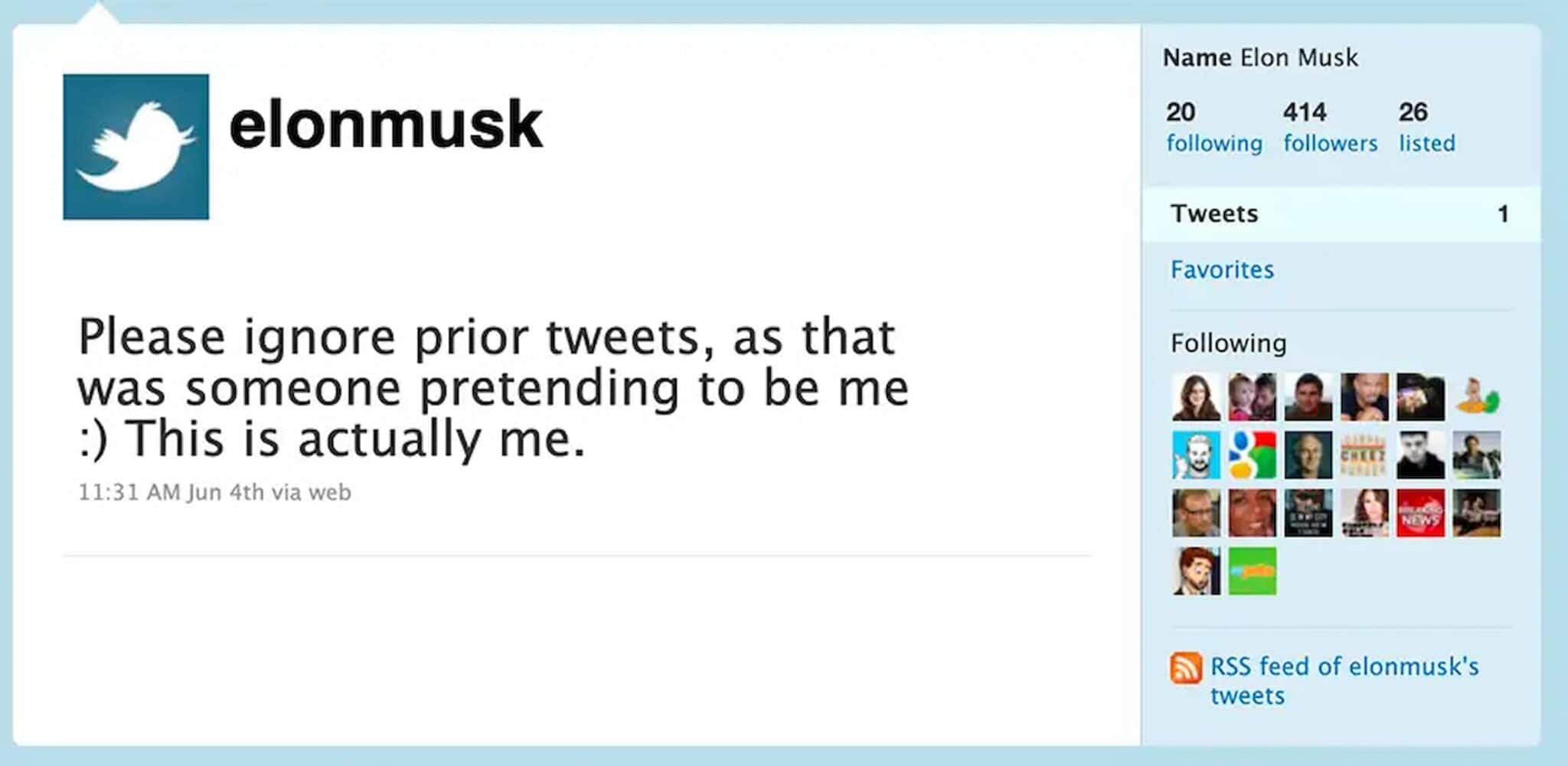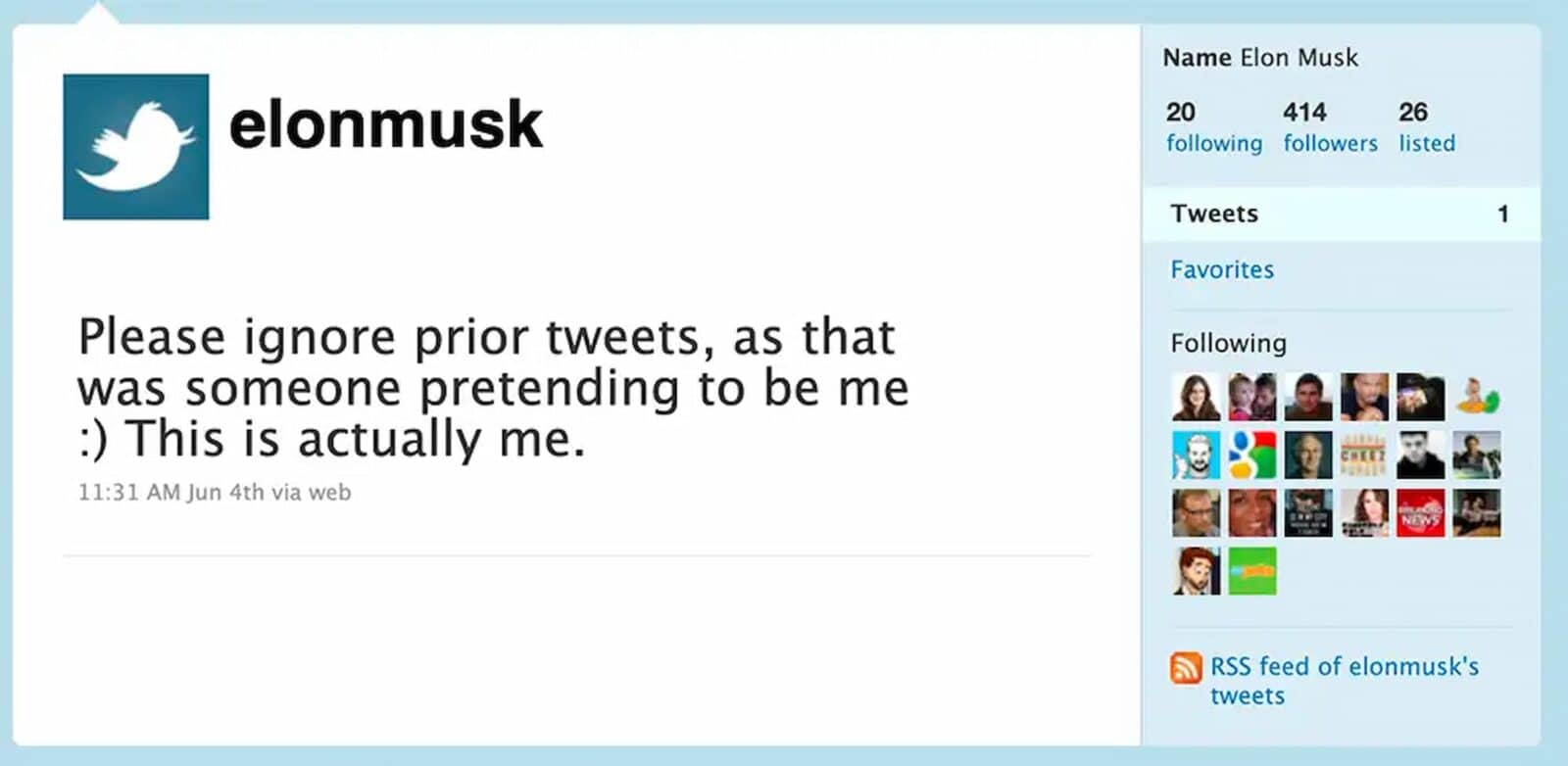 That's right, Elon Musk's first post on Twitter was about how someone had been impersonating him on Twitter. Surely impersonation on Twitter won't become a problem for him in the future (but I'm getting ahead of myself.)
It's also worth noting that he had a mere 414 followers at the time – truly a man of the people!
Elon's sense of "humor" solidifies
By June 9, 2013 – Elon had acquired a small army of followers but mercifully had only tweeted 713 times, a respectable rate of one new post every 1.5 days.
This is probably due to the fact that Twitter didn't launch threaded Tweets until late 2017.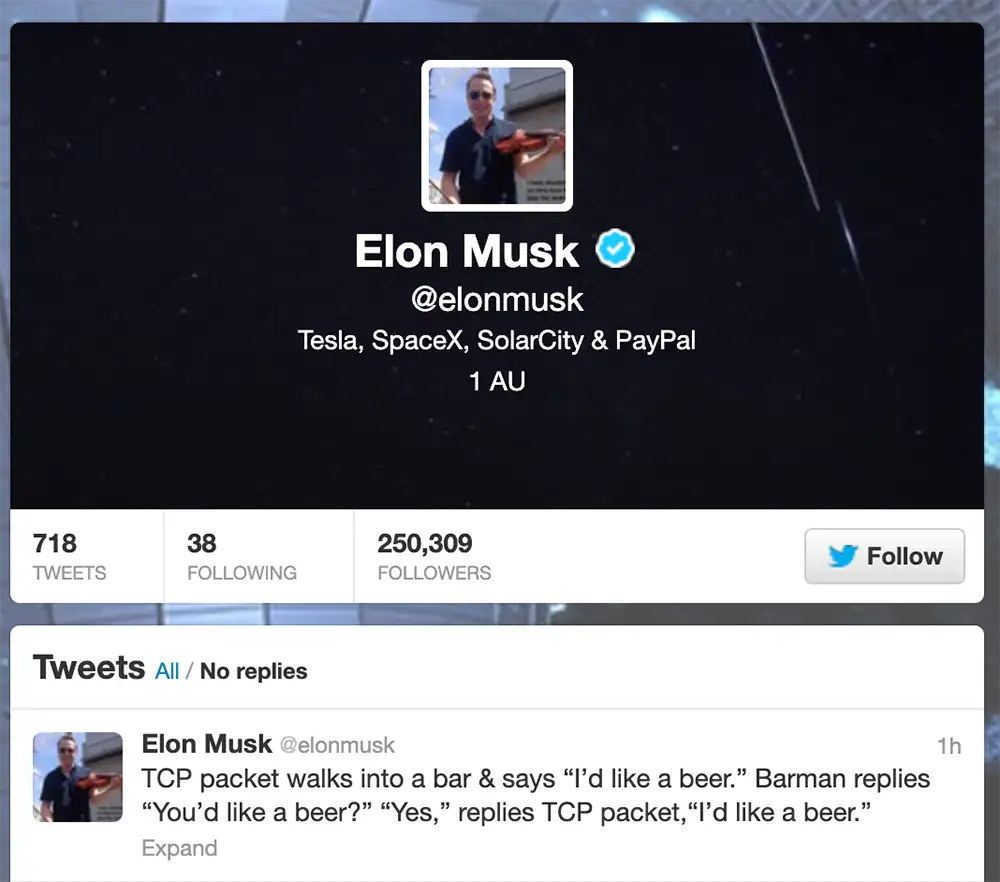 The joke itself is a CS101-level quip about Transmission Control Protocol, but it really lays the groundwork for his style of "comedy," which Rolling Stone brilliantly laid out in an exhaustively reported article.
A noteworthy thing about the June 2013 edition of @ElonMusk is his avatar. He's holding a violin, possibly for Epic Bacon reasons, but one can't be sure.
Musk has never Tweeted about the instrument. A reverse image search brings up this incredible AliExpress listing: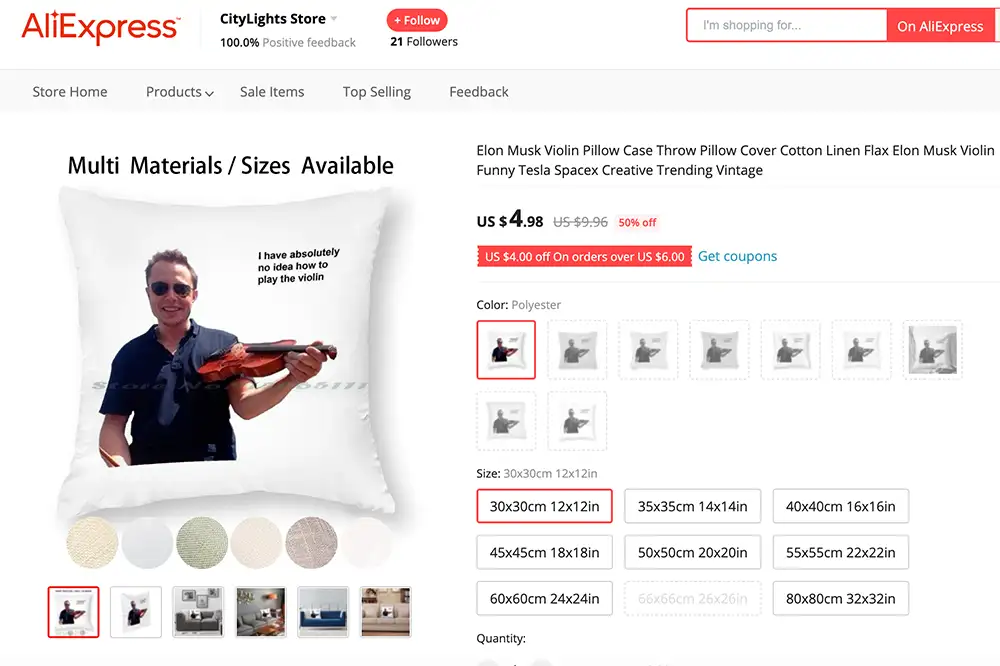 Elon hits a milli
Somewhere around October 9, 2014, Elon Musk achieved an auspicious milestone.
He joined an elite rank of users in acquiring his millionth follower. Not that you asked, but according to the Guinness Book of Records, the first to reach "two commas" was Ashton Kutcher in 2009.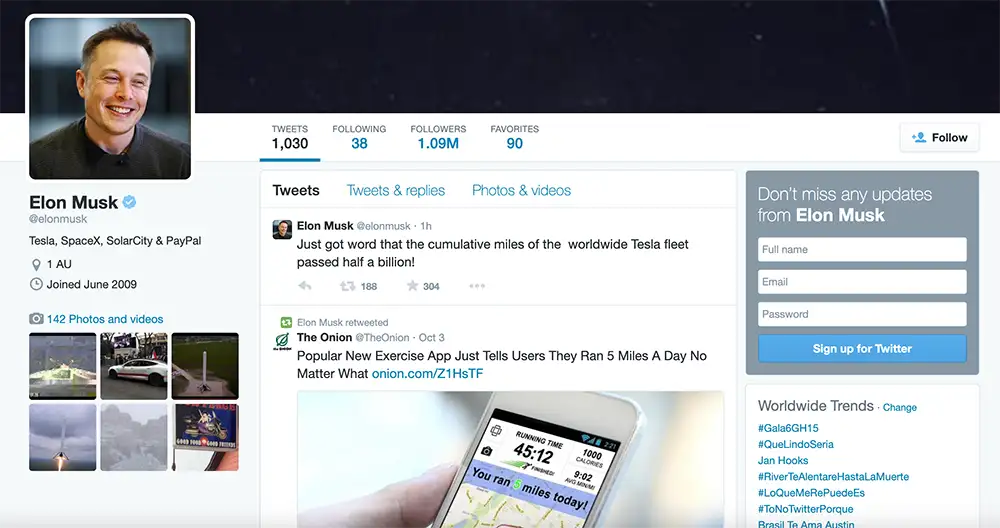 At first glance, it appears that Elon Musk has turned over a new leaf. His avatar now features a professional headshot, and his most recent post celebrates a significant milestone: Tesla vehicles have cumulatively driven 500 million miles worldwide.
But then you scroll down to his two prior timeline tweets, which are still live and…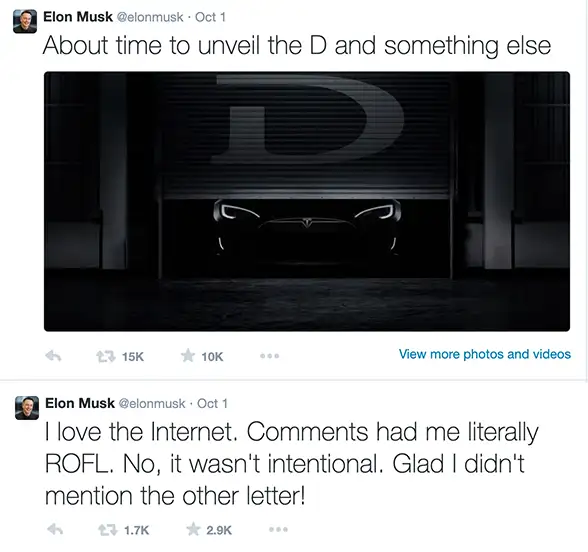 Elon's 🤣🤣🤣 era
The next few years saw Musk's influence grow as he took reply-guying and simping to a new level while building his companies (and personal wealth.)
The period from October 2014 to March 2022 also saw his follower count balloon to 75.8M.
If you're in the mood to stare into the abyss, you'll get a pretty good sense for Musk's posting style in this era by scrolling through the hundreds of times he replied to a Tweet using just the "🤣" emoji.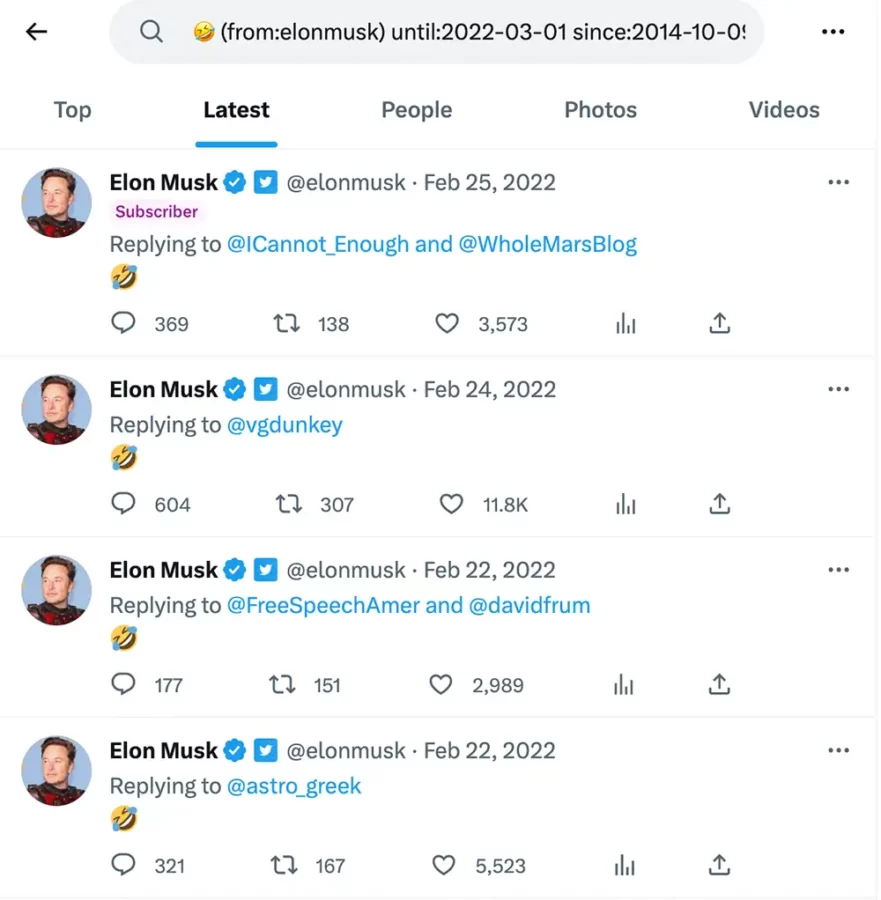 One very important thing did happen during this period. On May 7, 2018, Elon tweeted "Rococo Basilisk" in reference to the Roko's Basilisk thought experiment, and as a result he started dating Grimes.
The inciting incident
On March 20, 2022 Far Right Christian "satire" site The Babylon Bee got put into a 12-hour timeout after sharing a transphobic article about Dr. Rachel Levine, the U.S. Assistant Secretary of Health.
Babylon Bee editor Seth Dillon refused to remove the Tweet and eventually, Twitter "permanently" banned the account.
What does this have to do with Elon Musk, you might ask?
Well, during Musk's eventual Twitter purchase in October 2022, text conversations between the soon-to-be "Head Twit" and his ex-wife Talulah Riley came to light.
Turns out that on March 24, 2022 the English Actress texted her billionaire ex to encourage him to "buy Twitter and delete it" because "America is going INSANE" as proven out by the satire account not being allowed to post hate speech on Twitter.
That same week, on March 26, 2022, the @WSBChairman account challenged Elon to buy Twitter and change the logo to Doge – which he eventually did in April 2023.
The foreplay
What started as idle speculation quickly snowballed into Elon's initial pitch to Twitter's investors. On April 4th, Musk purchased 9.2% of Twitter's stock, 73.5 million shares, for about $3B and Tweeted:
One day later, April 5, 2022, then-CEO of Twitter Parag Agrawal announced the purchase would net Musk a board seat.
Setting the tone for the next few months, on April 10, 2022, Agrawal announced that Musk would not be joining the board.
The proposal
On April 14, 2022 – a mere 20 days after Riley texted Musk, Elon posted that he had, in fact, made an offer to purchase Twitter.
Musk was offering $54.20 per share (get it… 420, like the weed number?), representing a $43.4B all-cash purchase.
He began posting threads about free speech and how an Elon Musk-run Twitter would be an open forum of discourse and conversation, even involving his haters:
Twitter's board initially resisted the bid, planning to invoke a "poison pill" to stop the takeover, but eventually Musk was the one showing doubts.
On May 13, 2022, he said the deal was "temporarily on hold" because Elon didn't believe Twitter's claim that spam/fake accounts "do indeed represent less than 5% of users."
He would know, because as we wrote at the time, nearly 23% of Elon's 93M followers were phony.
Elon's claims that bots and/or fake spam accounts are one of the main functional problems with Twitter have continued to today, as evidenced by this recent tweet touting Twitter Blue's features.
That sinking feeling
Over the next few months there was a steady back-and-forth. Elon continued to rant about bot armies and fake accounts and Twitter called out his stall tactics.
On July 12, 2022, Twitter sued Musk to force him to finalize the deal.
On October 26, 2022, Twitter HQ in San Francisco received an unexpected plumbing upgrade. Elon Musk announced that he has purchased the social media platform in the most normal way possible.
Oh wait, no he didn't. He walked into the company he had just pledged to purchase for $44B with a damn sink. A whole ass sink.
That porcelain washtub was more prescient than we thought at the time – in the six months since Elon bought the social platform, we've watched Twitter's valuation, reputation, and functionality all "sink" considerably.
The reign of King Musk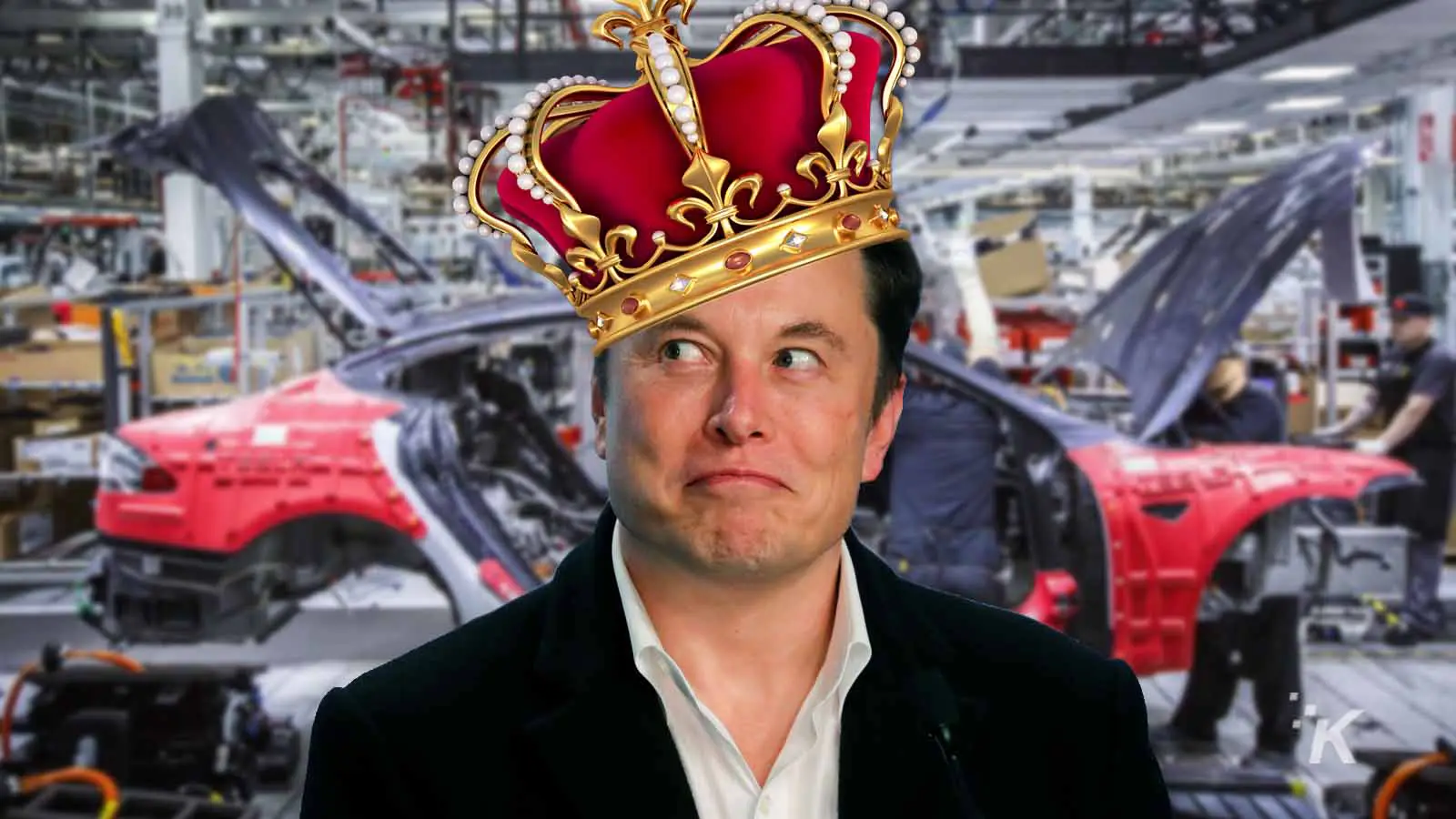 So that brings us, roughly, up to speed with how we got to this point. I'm going to lightning-round a few of Elon's "accomplishments" since taking over Twitter.
So that's most of it, as far as I could find. I'm sure I missed a lot of really good (bad) stuff.
Either way, there you have it: a comprehensive timeline of Elon Musk's time on (and at) Twitter. I'm going to go take a long shower and think about what led me to this moment and wonder if it was all worth it.
Have any thoughts on this? Drop us a line below in the comments, or carry the discussion over to our Twitter or Facebook.
Editors' Recommendations:
Follow us on Flipboard, Google News, or Apple News