The best tech gift ideas under $50 that don't suck
Gifting tech this holiday season is cool, but it doesn't have to break the bank.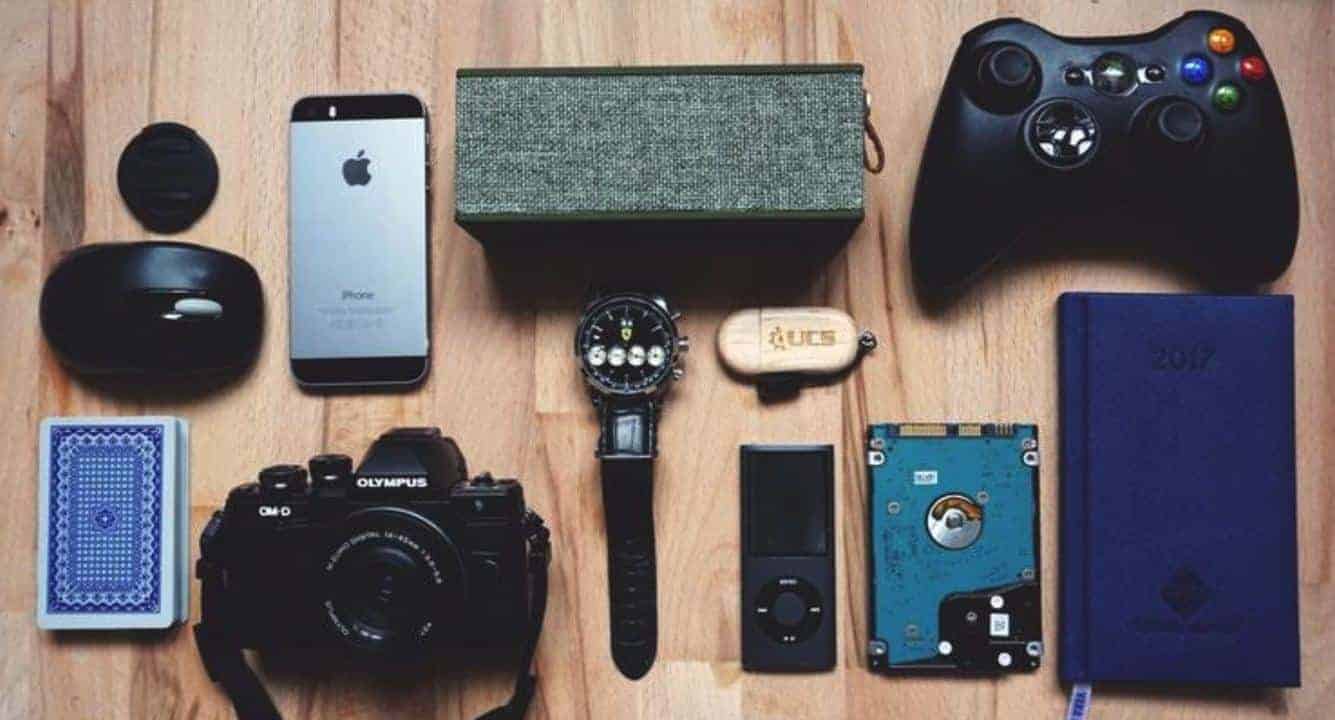 Holiday gifting can quickly get expensive when you remember you have to also include your cousin's second child or that neighbor that sometimes shovels your driveway. That's okay if you've got deep pockets, but if you want to give gadgets as gifts, the cost can quickly get out of hand.
How do you say "I like you more than a token effort" with your gift without bankrupting yourself in the process? Well, that's what we're here for. We'll help you take some of the financial sting out of this year's celebrations with our best tech under $50 guide.
Whether it's for your distant cousin you see once a year or the dreaded mother-in-law, we're confident that you'll find something on this list worth giving. Here we go.
Echo Dot
The Echo Dot is one of Amazon's main gadgets when it comes to Alexa-powered smart speakers. The small speaker typically runs at around $50 and is a great entry option for those looking to jump into the world of smart speakers.
Considering most people use smart speakers for music, potential buyers should be happy to know that Amazon states it has improved the sound quality, adding that the new version is 70% louder than the original two models.
Give the gift of Alexa this holiday season with the insanely affordable Echo Dot. The 3rd generation device comes in just a hair under that $50 target and brings trivia, music and a growing library of home automation skills to any room.
Price: $49.99 | Amazon
13W Universal Foldable Solar Charger
Alright, let's face it, having to charge your smartphone or any other type of gadget while you're away from a reliable power source is extremely stress-inducing. You know, it sucks. Not to mention, being that person who constantly has to ask someone for a charger or cable can get quite annoying.
If you need power but aren't anywhere near a wall socket for a while – check out this foldable solar charger. For $39.99 you get a charger that can put out 13W so you can charge your smartphones or tablets while out in the wilderness.
We haven't had the chance to try one out yet, but judging from all the positive Amazon user reviews, it's a sure bet. Here's what one reviewer had to say about it:
Excellent device for off-grid use. In full sun, this will charge my iPhone from under 20% to 100% in a few hours. It is light and easy to set up. It comes with several carabiners so that you can attach it to your pack. Worth the money. I have been using it now for several months. I am very happy with it!!
Price: $39.99 | Amazon
Google Home Mini
If they'd rather ask Google what's what, give the gift of a Google Home Mini, also $49 with free shipping. I've got these all over my house and regularly use them to set timers when cooking, traffic conditions and the weather report for the following day.
You can get them in Chalk, Charcoal and Coral colors, depending if you want them to blend into your decor or stick out like a sore thumb.
Price: $49 with free shipping | Google Store
Wyze Cam v2
Give the gift of home security with the Wyze Cam v2. The awesome 1080p camera has motion tracking capabilities, free cloud storage, and a cute design that'll fit in any home.
We reviewed one just after launch, calling it "the best security camera you can buy (for $20)." Heck, it's even able to go toe-to-toe with cameras costing 10x that amount. Since then, Wyze has added Alexa support, making your connected home, well, more connected.
Your home security is priceless, but the camera you use for it doesn't have to be.
Price: $27.98 (They are $19.99 on Wyze's own site but then you have to pay for shipping) | Amazon
Roku Premiere and Premiere+
The holiday season is a great time to watch old favorites or find a new favorite to binge-watch. Roku has some of the best streaming devices on the market. Both the Premiere and Premiere+ have quad-core processors for smooth decoding, 4K playback in HDR and access to 500,000+ movies and TV episodes to explore.
Both models are the same base unit, with the Premiere+ adding more features to the included remote such as Voice Search and volume controls.
Price: $39.99 (for the Premiere) | Amazon |Price: $49.99 (for the Premiere+) | Walmart
Amazon Fire Stick
If you know your recipient is an Amazon Prime member, you might want to consider the latest Amazon Fire Stick streaming player instead of the Roku. They're similarly specced, with 4K content streaming and a huge content library. With the Fire Stick being linked to your Amazon account, it really is the simplest way to enjoy all the perks of Prime membership.
Amazon's voice assistant Alexa is baked in, so you won't have to lift a finger to find something to watch – something all-too-important in that post-holiday meal carb coma.
Price: Currently on sale for $34.99 | Amazon
Archeer Wireless Bluetooth headphones
Wireless Bluetooth headphones are hit or miss these days. It seems like every company and its mother seems to be pushing out a new model on a daily basis. Either they're really good or they're just simply really bad – it's honestly hard choosing a reliable decent pair.
Well, this option from Archeer is a solid bet. We're currently in the process of reviewing them, but given the time we've had with them, we're confident in saying these suckers are a worthy buy and would make a great gift, especially at the $44 price point.
They feature an impressive 45 hours of battery life, they fold in half so you can store them essentially anywhere, and as an added bonus, they feature speakers on the outside of the headsets so you can listen to music without having to constantly wear them.
So far, we're really liking them and can almost bet that you or someone you know will too.
Price: $43.99 | Amazon
Aixmeet case for Nintendo Switch
You might know someone who either has or will be getting, the popular Nintendo Switch. Nintendo's latest console could be a bit fragile due to the large screen, so a protective case like this one from Aixmeet is a good accessory to gift.
We recently reviewed it while it was still in crowdfunding, and were impressed with how well the case handled the docking of Joy-Cons.
At $29.99, it'll hopefully save a repair bill or two.
Price: $29.99 | Amazon
Charmast 26,800 mAh power bank
Ah, the humble power bank. No holiday season would be complete without an expensive present going unused due to power issues. Growing up it was the alkaline AA battery that was often missing. Nowadays power requirements are higher so a larger battery like this Charmast 26,800 mAh battery bank is almost a necessity.
With multiple outputs including USB-C, it's even powerful enough to recharge your Nintendo Switch or a MacBook. We were impressed by both its hardiness and the fact it can quickly charge four devices at once.
It was $49.99 when reviewed, since then it's been updated and the newer version is $59.
Price: $59 | Amazon
RHA M390 Universal Earbuds
RHA make some of the classiest earbuds out there, and this $30 set of MA390 universals continues that tradition. Clear highs, decent bass, and RHA's signature aluminum housings all come together for a sound that can't be beat at this price.
What's more, the inline control works with both Android and iOS so you don't need to know which device you're buying for. Unless of course their phone doesn't have a headphone jack, but we have a solution for that too in a minute.
Price: $29.95 | Amazon
FiiO Bluetooth DAC/Amp
Ah yes, the disappearing headphone jack, dying relic of a simpler age. The trend in mobile devices to remove the 3.5mm headphone jack for waterproofing and space-saving might be annoying, but it's not going away.
To keep using your beloved wired headphones with your next phone you could pick up this FiiO Bluetooth DAC/Amp and save the wires from oblivion.
We reviewed this earlier this year and were impressed by the quality of the sound. For $45, it'll work out cheaper than a good pair of Bluetooth headphones too.
Price: $44.49 | Amazon
Amazon Fire 7
One of the best tablets on the market is the Amazon Fire 7″. The IPS display is bright and fairly color accurate. The latest version has improved battery life for binge-watching your shows, which is just as well because there are millions of movies, shows, and other media types to choose from in Amazon's library. If you're a Prime member you get access to a huge amount of free content.
The $49.99 version has a 1.3 GHz quad-core processor for speedy streaming, which is good because the 8GB internal storage will fill up quickly. Don't worry, it's got a microSD card so you can expand storage up to 256GB.
Price: $49.99 | Amazon
Kingston microSD card
Adding storage to devices has never been cheaper and it makes is one of the more solid tech gift ideas.
We reviewed this Kingston Canvas Go microSD card earlier this year and found it was speedy and reliable. With Kingston's lifetime warranty, it's almost a steal at $24 for 64GB.
Go on, grab two – you can never have enough storage space.
Price: $24 | Amazon
Eachine E10C mini quadcopter
If you know someone jonesing after a drone but a Mavic is out of reach – this little Eachine drone might scratch the itch.
For $39.99 you get a mini-drone that's both fun and fairly tough to break. We had positive things to say for its durability earlier this year and also for the amount of fun it was to fly. Just you know, be careful around ceiling fans.
Price: $39.99 | Amazon
Soundpeats A2 headphones
For $38 you can get one of the best low-cost Bluetooth over-ear headphones we've used this year and is one of the best tech gift ideas for 2018.
They're also usable with a cable just in case the 20-hr battery runs out on you. With a one-touch bass boost and comfy oversized memory foam pads, this set of cans is a winner. It's also equipped with a microphone for calls when in Bluetooth mode.
Price: $38 | Amazon
Tile Mate and Pro Bluetooth trackers
Both the Tile Pro ($35) and Tile Mate ($25) are great stocking stuffers as single items that are perfect for your absent-minded friends. Both will let you keep track of your keys, or let you find your phone by double pressing the button to make your phone ring.
If lost, you can harness the power of the community and crowdsource the search. Both models also have removable batteries with a 1-year lifespan. You can also call on Alexa or Google Assistant to find your stuff, and the Tile app will always remember the last place you put the tracker.
The only real difference between the two is that the Tile Pro has twice the usable range as the Mate, at 300 feet.
Price: $25 (Tile Mate) | Amazon
Price: $35 (Tile Pro) | Amazon
For the adults in the room
Give the gift of clouds this holiday season with a vape for your favorite smoker.
Either the discrete Saber portable vaporizer pen which retails at $44.99 or the Steamcloud Mini 2.0 at $39.99 would both get them grinning once open. Just don't give this one in front of the kids, eh?
What suggestions do you have for tech gifts? Let us know down below in the comments or carry the discussion over to our Twitter or Facebook.
Editors' Recommendations: