The winners and losers of E3 2018
There were a lot more games and companies that were at E3, but anyone paying attention should be familiar with all of these.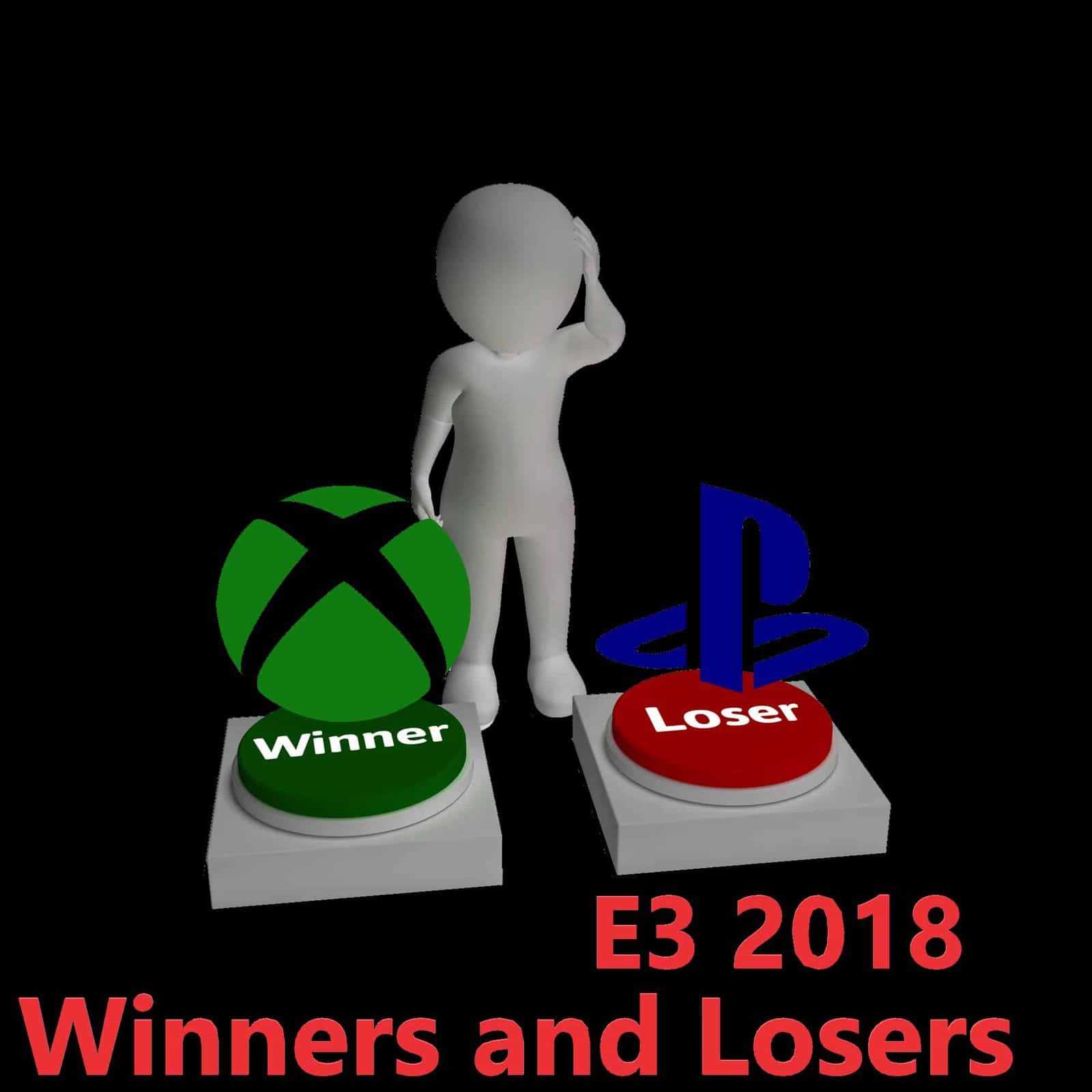 As of last week, the biggest gaming press show has wrapped up, and there have been lots of victories and defeats. There were pre-E3 press conferences, tons of games, products on the show floor and the return of a few old games to get everyone buzzing. There was controversy and missed shots, slam dunks, and huge victories. So with all that out there, who were the biggest winners at E3 this year?
WINNER: XBOX
Xbox actually had the most impressive press conference this year. They committed to first-party titles with plenty of exclusives, spent more time showing off games than chatting about silliness, and even Phil Spencer went onto Giant Bomb to have a fantastic interview about gaming itself.
It was refreshing to see that for all their flubs and blunders over the last few years, Team Xbox gets it and will go out of their way to try to do right by gamers. They showed a ton of games, many of which were the talk of the show. Ubisoft came in second with their show, but they lacked the total rapid-fire in your face announcements that Xbox did. Maybe I'll need to grab a Gold subscription again after a long year. Plus, who doesn't want to play their games on any connected devices?
LOSER: SONY
Oh, how the mighty have fallen. Sony didn't have the worst press conference, that distinction would go to EA (more on that later), but as the current king of the hill, Sony really screwed the pooch.
Their show focused on a handful of games, with only breaks for musical intermissions. Games that needed explanations didn't get them, and it really felt like a rehash of years past, with flashy visuals to take away from the fact they didn't bring much. The games they showed were fantastic, except Death Stranding, because you can only tease so much before the audience gets tired of it.
Sony's biggest issue at the show though was a sense of comfort in their part. They didn't need to make any waves because they already left the competition behind them. Unfortunately, with the huge Fortnite controversy where they are blocking Epic accounts that were linked to PlayStation to play Fortnite on the Nintendo Switch, all they did this show is look like a bunch of assholes.
WINNER: FromSoftware
Announcing three games at the show, FromSoftware was on the tips of everyone's tongues with their big game, Sekiro: Shadows Die Twice. Looking like a Soulsborne game set in feudal Japan, it kept the gritty feel of Dark Souls but with plenty of room to be its own game. FromSoftware's second game, Déraciné, is an art-house VR game for the PSVR. It looks almost Mist-like, and it'll be interesting to see what sort of surprises are in it. Unfortunately, it is a VR game, so two and a half people will play it. Finally, FromSoftware also has Metalwolf Chaos XD coming out. Have you ever dreamt of playing a game as an over the top facsimile of George Bush who pilots a mech armed to the teeth against the vice-president (not Cheney)? No, well, holy shit this game is balls to the wall and all sorts of crazy. I can't wait to take it for a spin with English menus.
LOSER: EA
EA really didn't do anything to bring excitement to their camp at this show. They showed but didn't show, FIFA. They rolled some really vanilla gameplay for Anthem. Battlefield V looks a lot like Battlefield 2, but this time there's a battle royale mode. They got a little attention with some indie-efforts but ultimately seemed like they only put a show on because they had rented out space for a few extra years. Nothing they announced seemed enough to garner a whole show over it and would probably have gotten more discussion as a part of Sony, Xbox or Nintendo's shows. Their presenters looked confused and awkward. This was a no-win scenario for them.
WINNER: Capcom
Going into E3, Capcom was an afterthought. Mega Man had been relegated to half-hearted anthology collections. Marvel Vs. Capcom bombed hard last year and Street Fighter was their only claim for relevance outside of a wildly successful Monster Hunter World. They went to E3 and made so much noise without really causing focus on their brand; it was exactly what a studio should be doing at E3.
At Xbox, Capcom announced Devil May Cry 5, which is a sequel to Devil May Cry 4. That may seem obvious, but 4 came out a decade ago, and there was DMC in between. It looks amazing. During Sony's press conference, they announced a remake of one of the best games of all time, Resident Evil 2. It looked great, but you can read my thoughts on it here. Right before the show, they officially announced Mega Man 11, with some nifty new features that we never expected to see on the normal Blue Bomber. They did good.
LOSER: Square Enix
Can you put an entire show on the back of a game that is fun, but not a high-demand release? Nah. Can you wow your audience with an over-saturated brand? Nope. How about an announcement that a game that everyone expected was coming out was coming out? That's a joke, right? How about esoteric trailers for games that don't explain anything about the game and barely even explain what kind of games they are?
Yeah, Square Enix didn't do too well here. Just Cause 4 was a neat little surprise that had been revealed at Xbox's show, but the new trailer went a little further in-depth. Shadow of the Tomb Raider looked like more of the same, while everyone kept talking about how Lara was going to become the hero we know in this one. I mean, she killed an ancient being with godlike powers, saved a lost civilization and thwarted a religious military power, what's she going to do now, save the world? The answer is yes.
Square Enix showed off a launch announcement trailer for Dragon's Quest XI, but we already knew this game was coming, there wasn't any surprise there. How about something Final Fantasy? Well, there's going to be a crossover in Monster%20Hunter%20World…%20Finally,%20they%20showed%20a%20variant%20of%20the%20same%20Kingdom%20Hearts%20trailer%20that%20featured%20the%20voice%20acting%20over%20music.%20Action%20sequences%20are%20not%20exciting%20when%20grunts%20and%20yells%20don't%20sync%20up%20to%20sound%20effects.%20I%20didn't%20expect%20much%20and%20got%20even%20less.
WINNER:%20Devolver%20Digital
https://www.youtube.com/watch?v=_4ytFiRVMwgIf%20you%20didn't%20see%20their%20absolutely%20manic%20press%20conference,%20I%20recommend%20you%20do.%20It's%20basically%20the%20anti-E3%20presser,%20but%20it%20also%20kicked%20off%20an%20interesting%20storyline%20that%20will%20continue%20next%20year.%20Yeah,%20the%20games%20they%20announced%20on%20the%20stream%20were%20worth%20talking%20about,%20with%20the%20quirky%20My%20Friend,%20Pedro,%20and%20SCUM%20making%20some%20waves.%20However,%20no%20one%20would%20expect%20Metal%20Wolf%20Chaos%20XD%20to%20be%20announced%20at%20the%20end%20of%20their%20stream.%20That%20game%20is%20legendary%20in%20the%20same%20way%20<a%20href=">Evil Dead is. It was the cherry on the top of E3.
LOSER: PC Games Show
I thought last year was a weird show. Maybe it is because PC games don't really need their own show, but it seemed oddly thrown together. Team 17 did a good job of trying to showcase their games, but it seemed like everyone was there simply because they didn't have anything else to do at that moment. I personally think it may be time to wrap this show up, all that anyone seems to watch it for these days are just the memes.
WINNER: Super Smash Bros Ultimate
It's bigger and better than anyone could imagine! All 63 characters that have appeared in Smash Bros up until now, plus Squidling and Ridley? Amazing! Reworked units from the ground up so that everyone is viable? Yeah, not too shabby. Balancing characters so they can all be played online? The Smash community must be crying tears of joy at that news. This seems to be the most fleshed out version of Smash that we've ever seen and the fact that the online aspect is a priority this time says a lot. Will it be getting a story mode this time? Probably not, but we can dream!
WINNER: Fortnite
If you didn't watch it, you were the extreme minority on Tuesday night as everyone got together for the Fortnite Pro/Am Classic. Breaking a twitch viewing record, stream favorites like Ali-A, Ninja, Courage, and Myth teamed up with Marshmello, Xavier Woods, Paul George and Joel McHale for a 50v50 charity tournament. It was a fun time and showed how professional gamers have become. Ninja and Marshmello won the tournament and Ninja was absolutely swamped by fans. Then, Fortnite also was launched on the Nintendo Switch. While that parade was rained on a little bit by Sony, the game gained two million additional players, to bring the total player base to 125 million players and growing. In the future, all PCs and consoles will be simply called Fortnite Machines.
HONORABLE MENTION: Bethesda
Bethesda certainly had a showcase that showed off games that will be coming out. Fallout 76 was officially unveiled, which was interesting, but many players seem quite apprehensive over the fact that this appears to be a pure survival game. That genre already dried up quite a bit, so expectations are a bit… reserved at this point.
Some sequels were also teased, so if you like seeing title cards or extremely vague teaser trailers, this was a show for you. The production team wasn't on their toes, and they left the RAGE 2 team hanging. Speaking of which, RAGE 2 is probably going to be a great substitute for Borderlands. I wonder how this will impact the eventual Borderlands 3?
There were a lot more games and companies that were at E3, but anyone paying attention should be familiar with all of these. I'm still sorting through all of my notes, but we will have some reviews, news on new products and games and maybe even a few interviews coming up. Stay tuned and also let us know how salty you are that we said something mean about Sony. They deserved it.
Who do you think won and lost E3 this year? Let us know your thoughts down below in the comments! 
Follow us on Flipboard, Google News, or Apple News